Undergraduate Program Overview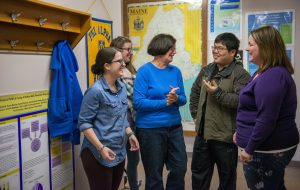 The University of Maine has offered undergraduate education in social work and social welfare since the early 1950's. In 1972, UM began offering the Bachelor's in Social Work degree, with the initial accreditation of the program in 1979.  The BSW Program has been continuously accredited by the Council on Social Work Education since 1979. The BSW has grown to an average enrollment of over 135 undergraduate students. The BSW program features:
Small, individualized classes
A nationally recognized faculty with expertise in social work with children and families, mental health, healthcare, aging, poverty, international social work, school social work, and persons with disabilities.
Excellent opportunities for student involvement in School service activities and governance through the Social Work Student Organization.
Recognition of academic excellence through the Eta Zeta Chapter of Phi Alpha, the Social Work Honor Society.
A diverse student group representing many ages, interests, and backgrounds.
Courses offered on the Orono Campus and at the Hutchinson Center in Belfast.
Apply to the Bachelor of Science in Social Work (BSW)
Accreditation. The BSW program of the School of Social Work is accredited by the Council on Social Work Education. Each BSW graduate is qualified to take the examination for certification as a Licensed Social Worker in the state of Maine and in other states that license baccalaureate social workers.
Curriculum. The UM School of Social Work educates social workers from a generalist perspective of social work practice. The undergraduate curriculum in Social Work builds upon a solid liberal arts foundation with courses in human behavior and the social environment, social welfare policies and issues, social work research, social work practice, and field instruction. BSW Program Guide.
Field Practicum. During the junior and senior years, students complete field experiences and internships in agencies such as child protective services, medical social work, geriatric social work, community mental health, teen parent programs, and community services. The field practica are an integral part of the BSW education program and provide each student with the opportunity to apply classroom learning to "hands on" social work practice.
Career Opportunities
Employment. Many opportunities for social workers are available in Maine and throughout the United States. According to the U.S. Bureau of Labor Statistics, over the next ten years the number of social work jobs is expected to increase faster than the average for all occupations. BSW graduates are employed in public settings such as the Maine Department of Health and Human Services, and in private, non-profit organizations – youth-serving agencies, nursing homes, day care centers, hospitals, adoption agencies, community centers, and mental health programs.
Graduates work with people of all ages and with a wide variety of problems and issues: children, elders, families, persons with mental illness, children living in foster care, families receiving hospice care.
Graduate Study.  BSW graduates qualify for "advanced standing" in the Master of Social Work program of the University of Maine and at many graduate programs of Social Work nationwide. In most programs, admission to "advanced standing" means that the student may complete the MSW program in less than the traditional two years. The BSW degree is also good preparation for graduate study in psychology, human development, family studies, counselor education, criminal justice, law, and public administration.