The University of Maine's School of Social Work Recognizes Two Outstanding Alumni and VA Maine Healthcare as the Outstanding Field Agency Partner
Angela Fileccia (MSW 2001) was selected for the 2021 Outstanding Alumna Award, which was presented at our virtual Awards Recognition on April 23, 2021.  Angela is the Director of Healthy Life Resources with Northern Light Acadia Healthcare.  The importance of her work has been underscored these past 15 months of the COVID-19 pandemic, during which she has been called on to provide community education regarding resiliency, self-care, and wellness.  Angela has contributed to a number of local media reports on the pandemic's impact on behavioral health and provided training sessions to community organizations throughout the State, regarding strategies to stay well in these challenging times.  Angela serves on the Board of Social Work Licensure and is the Co-chair of the Northern Light Acadia Hospital Ethics Committee.  Angela clearly meets the Outstanding Alumni Award criteria of being a positive role model in the community, consistently going above and beyond in her social roles, and demonstrating enthusiasm and dedication to the field of social work.
Jody Stevenson was selected for the 2021 Outstanding Field Instructor Award, which was presented at our virtual Awards Recognition on April 23, 2021.  Jody is an alumna of the University of Maine School of Social Work's BSW (1995) and MSW (2004) programs.  She has had a rich social work career spanning three decades.  Prior to joining Community Care in 1996, she worked with homeless youth at the Shaw House Homeless Youth Shelter.  At Community Care, she has held a number of positions including Case Manager, Group Home Manager, Program Director, and Development Director.  In her current role, she both facilitates the development of new programs and oversees the internship program that has benefited so many of our undergraduate and graduate students over the years.  At the Awards Recognition, one of her current students testified to the very positive impact Jody has had on her professional development.  The School has come to count on Jody's openness to consistently provide a variety of placement opportunities at Community Care, her willingness to take students even in challenging times such as the current pandemic, and her skilled supervision of our students completing field placements under her watch.
VA Maine Healthcare System was selected for recognition as our Field Agency Partner of the Year – 2021.  We give special thanks to the social workers and other VA staff who have facilitated, assisted and supervised our students in their placements, leading to the high quality experience that students have had with the VA Maine Healthcare System:  Lee Lyford, Joleen Lilley, Tammy Holman, Josephine Stevens, Kirk Grant, Teresa Clark, Michelle Jolicoeur, Donna Higgins, and Scott Hutcherson
The Field Department has put out the inaugural issue of the "Field Flyer". See link below for news on new and retired field faculty, spotlights of current students in Field, and more.
School of Social Work 2021 Field Newsletter:
---
Renewed Focus on Diversity, Equity and Inclusion (DEI) at the School of Social Work
Social justice is a cornerstone of the social work profession and taken very seriously at the UMaine School of Social Work.  In 2021, we are pledging a renewed commitment to diversity, equity and inclusion (DEI) at the School.  Initial activities include:
A committee made up of faculty and students (with the tentative name of the Social Justice and Equity Committee) was inaugurated in March 2021. It is charged with guiding the School's DEI initiatives.
Faculty teaching in each sequence area (practice, field, research, human behavior in the social environment, policy) will hold regular meetings to examine the adequacy of DEI integration in all required courses.
Over the next 12 months, DEI-based trainings will be offered by:

The Field Department, for Field Instructors
The Center on Aging, through their annual Clinical Geriatrics Colloquium
The School's focus on social justice and awareness of oppression and privilege will be emphasized in MSW application materials and incorporated into new student orientations
---
Interested in beginning your social work education at the University of Maine? We want to hear from you today!
At the University of Maine School of Social Work, we prepare proficient and ethical social work professionals committed to social change in a variety of organizations, specializations, and professional roles.
We provide the highest quality education for both beginning and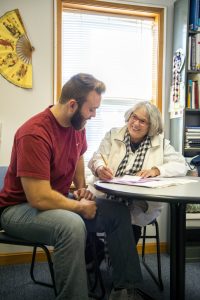 advanced professional social work practice. We educate at the Baccalaureate and Master's level in an atmosphere of individualized learning, respect for individual rights, and a celebration of diversity.
Graduates from the School of Social Work go on to serve as social work clinicians, program planners, administrators, and community change agents in a wide range of public and private settings and systems. As a member of our diverse and dedicated community of students, faculty, field instructors, and alumni, you will transform your commitment to improving the quality of life for people into professional knowledge and skills. You will be poised for a successful and personally rewarding career promoting social change by providing services to individuals, families, groups, communities and organizations.
_______________________________________________________________________