School of Social Work Welcomes Kayla Rodriguez, LCSW as Distance Program Coordinator
Kayla Rodriguez, LCSW, joins the School of Social Work on October 1,
2020, as the new Distance Program Coordinator.  Leah Maxwell, who has served in that position for the past four years, will be taking the reins of the Field Department as the Field Director, with Nancy Kelly's retirement.  Kayla will coordinate the Online-Blended MSW Program, in collaboration with the MSW Coordinator, and become a member of our three-person Field Team.
Kayla comes to us from Denver Colorado where she has been working for the last four years in the University of Denver's Health and Counseling Center as both a counselor and coordinator of advocacy services.  Kayla received her MSW from the University of Denver and her BSW from Colorado State University. Her practice experience includes micro, mezzo and macro level settings and interventions. We are excited to welcome her to both the state of Maine and the University of Maine School of Social Work.
Jaksa named 2020 recipient of Outstanding Teaching Award
The Outstanding Teaching Award honors faculty who demonstrate their commitment to teaching and ability to deliver an excellent undergraduate learning experience. It is among the most prestigious faculty awards bestowed by the College of Natural Sciences, Forestry, and Agriculture.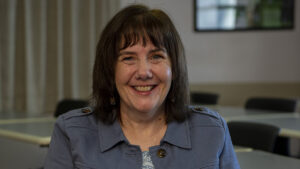 With an open door, heart and mind, Kelly Jaksa models the social work values she teaches her students.
The lecturer and coordinator of the Bachelor of Social Work program describes teaching as an extension of her identity as a social worker.
"For me, social work and teaching are a privilege," Jaksa said. "There is nothing more rewarding than seeing the sparkle in a student's eyes when they experience that we are providers of hope for the unique people we work with to thrive and grow while overcoming profound challenges."
Her authenticity and empathy have proven irresistible to students. Although Jaksa is assigned 50 student advisees each year, she functionally mentors far more.
"She puts students first and has always maintained an open-door policy," said Sandra Butler, director of the School of Social Work.  "Her receptivity to working with students displaying mental health issues is particularly noteworthy given that such efforts can be intellectually and emotionally exhausting and time consuming. Her advising efforts are carried out selflessly and skillfully."
Jaksa balances attending to these students with a heavy course load that attests to her versatility as an instructor. She teaches foundational social work courses for both the graduate and undergraduate programs. Graduate students encounter her again in their final year, as they hone their advanced practice and clinical skills.
Jaksa draws from over 14 years of clinical experience in community and healthcare settings to craft experiential learning exercises in her courses. Her pedagogy, unfailingly framed by her compassion, helps students cultivate their social work practice skills and ignites their enthusiasm for a career centered on helping others.
"Her experiences stand as examples of putting theory into practice and how we should all remain open and humbled by the privilege of being entrusted with the stories of our clients," said Andrea Steward, a former student.
"Beyond the knowledge, passion, and wisdom imparted by Kelly, she created an environment where students were encouraged to make mistakes, express themselves, embrace their creativity, and in turn cultivating growth within them." 
---

Please welcome Dr. Jennifer Crittenden, who joins the School of Social Work this summer as an Assistant Professor. Jen has a long history with the University of Maine (UM) and the School of Social Work. She received her Bachelor's in Psychology from UM, graduating with highest honors from the Honors College in 2003. She completed our MSW program two years later and has since served as an invaluable field instructor, part-time faculty member, and member of our MSW Admissions Committee. She received her Interdisciplinary PhD in Gerontology from UM in 2019, with dissertation research examining the influence of role conflict on satisfaction and retention of older volunteers. Jen has been affiliated with the UM Center on Aging since receiving her MSW, holding a number of positions, including the most recent of Associate Director. She has garnered hundreds of thousands of dollars in external funding support, both for her own research and that of the Center's many collaborations around the State. In 2019 she was awarded $147,000 by the Corporation for National and Community Service to continue her dissertation research. We are so happy to welcome Jen to the School of Social Work on a full-time basis.
---
School of Social Work Welcomes New BSW Assistant Field Coordinator, Robin Whitney (MSW, University of Maine 2010) will join the faculty at the School of Social Work on July 1, 2020 as our new BSW Assistant Field Coordinator. Robin has deep practice experience in child welfare. She worked for the Maine Department of Health and Human (DHHS) Services for 30 years, first as an eligibility specialist, and then in child protection since 1999. Her final position with DHHS was as the Child Welfare Program Administrator at the Bangor office, supervising 80 child protective workers. She has served as a Field Instructor for countless students and was the recipient of the School of Social Work Alumni of the Year Award in 2019. Robin will be an integral part of the School's Field Team, with primary responsibility for BSW students. She will be the instructor of SWK 395, Junior Field. We are very excited to have her join the School of Social Work community.
---
Interested in beginning your social work education at the University of Maine? We want to hear from you today!
At the University of Maine School of Social Work, we prepare proficient and ethical social work professionals committed to social change in a variety of organizations, specializations, and professional roles.
We provide the highest quality education for both beginning and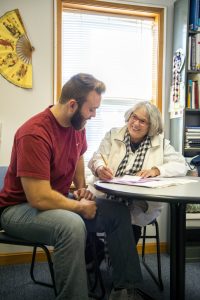 advanced professional social work practice. We educate at the Baccalaureate and Master's level in an atmosphere of individualized learning, respect for individual rights, and a celebration of diversity.
Graduates from the School of Social Work go on to serve as social work clinicians, program planners, administrators, and community change agents in a wide range of public and private settings and systems. As a member of our diverse and dedicated community of students, faculty, field instructors, and alumni, you will transform your commitment to improving the quality of life for people into professional knowledge and skills. You will be poised for a successful and personally rewarding career promoting social change by providing services to individuals, families, groups, communities and organizations.
_______________________________________________________________________