"

Important survey on student debt – WE NEED YOUR HELP!
To our current BSW & MSW students, as well as UMaine School of Social Work alumni and other practicing social workers in Maine:
The Maine Chapter of NASW is surveying Maine social workers and social work students to gather information on student debt (and estimated student debt).  The information gathered will help with advocacy toward trying to reduce that debt for social workers.
If you have borrowed money to get your degree, please consider taking this 10-minute survey.
We are very ex
cited that one of our alumni, Danielle Blair, and a current MSW student, Kessie Silas, have been the leaders in putting together this survey to do this important advocacy work for social workers!  We thank them!
Please spread the word to other social workers in Maine that you know.  The more voices we hear from, the more effective we can be!
---
MSW Graduation Ceremony 2022 (please click the link below)
BSW Graduation Ceremony 2022 (please click the link below)
Important Note to Graduates
It appears that graduates of our program with student debt are eligible to apply for the recently announced Maine Health Care Provider Load Repayment Pilot Program.  We area not sure how many awards will be available, but do know the competition will be open to a number of health professionals.  Applications are due September 1, 2022.  Please follow this link for more information about the program and the application process.
https://www.famemaine.com/affording-education/pay-for-school/repaying-student-loans/maine-health-care-provider-loan-repayment-pilot-program/
The School plans to partner with NASW and other Schools of Social Work in the upcoming year to work on expanding the opportunities for loan forgiveness.
---
Three Members of the School of Social Work recognized
Three members of the School of Social Work's faculty and staff were this year's recipients of two awards given by the College of Natural Sciences, Forestry and Agriculture (NSFA).  NSFA is the College within which the School of Social Work resides.  There are many units, so to have three of our own receive awards this year reflects well on our amazing staff and faculty!
---
Robin Arnold
Robin "Sasha" Arnold was selected for one of four NSFA Outstanding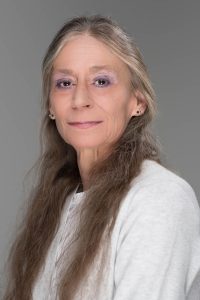 Staff awards that were given this year; this is the inaugural year for this award and we are so pleased that Sasha was honored for her extraordinary service to the School and the University.  Sasha has been the Administrative Specialist for Finances at the School of Social Work (SSW) for over 15 years.  Prior to joining the SSW, she worked in several other units on campus (including the School of Marine Sciences and the Division of Lifelong Learning), starting her career at UMaine in 1986.  At the SSW she is our go-to person for so many things: budget issues, building issues, website additions and revisions, event preparations, oversight of student and older workers, hardware and software questions, and the list goes on and on.  Sasha gives meaning to the phrase lifelong learner.  She completed her certificate in Maine Studies in 2009; earned her BS is Earth and Climate Sciences, with high honors, in 2011; and will be earning her MS in Earth and Climate Sciences this summer, completing her thesis "Holocene Lake-Level Changes at Sebasticook Lake, Newport, Maine".  She was a Margaret Chase Smith Policy Center Public Policy Scholar from 2005 to 2007.
In addition to juggling full-time work and being a superb student, Sasha has provided enormous service to the University over her career.  Some noteworthy examples of this service include serving 12 years on the Classified Employee Advisory Council (2000-2012), for which she was president for her final six years; serving on the President's Council on Women for eight years (2000-2008); being a member of the Maryann Hartman Award Selection Committee for seven years (2000-2007); and serving on the Search Committee for UM's president from 2005 to 2006.  Sasha's compassion for others is demonstrated by her inspirational efforts as the co-founder of the University of Maine BlackBear Exchange, at which members of the UMaine community, who experience food insecurity, can access assistance.  Sasha is so deserving of this award in recognition of her many decades of high-quality work and generous service at the School of Social Work and throughout the University.
---
Dr. Lenard Kaye
Dr. Lenard Kaye, Professor at the School of Social Work and Director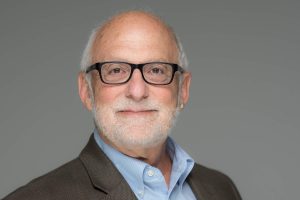 of the University of Maine Center on Aging, is the 2022 recipient of the NSFA Outstanding Faculty Service Award.  This award recognizes Len's years of public service related to the health and wellbeing of older adults at our university, throughout Maine, across the country, and internationally.  Dr. Kaye has devoted his professional career to educating practitioners and the public regarding the needs and experiences of older adults and, in the last two decades, to developing programming to positively impact the lives of thousands of older adults in Maine.  Some examples of his outstanding service include his leadership in the Maine Gerontological Association, his initiation of the annual UMaine Clinical Geriatrics Colloquium in 2005, his work to have the University of Maine designated as an Age Friendly University, and his creation of the online Health Connection Chats for older adults during the first year of the pandemic.
Dr. Kaye's scholarship and active participation in professional organizations has impacted many thousands of practitioners, nationally and internationally, over the course of his career.  The Center on Aging has conducted countless applied research projects under Dr. Kaye's direction that have resulted in tools to assess older adult wellbeing; examples of these tools include screening for elder abuse and, among family caregivers, for depression.  Len notes that he and his colleagues at the Center "have made it standard practice to translate research findings and discoveries into digestible and understandable guidelines and best practices for healthy living and effective older adult programming."  In his 20 years at the University of Maine, Len has had an extraordinary impact on our state regarding how we think about, interact with, and assist older adults.  He is most deserving of this award.
---
Leah Maxwell, our Director of Field Education, also received one of
the inaugural NSFA Outstanding Staff Awards this year.  Leah earned both her BSW and MSW from the UMaine School of Social Work and, after many years of social work practice, she returned to the SSW to teach as a part-time instructor in 2010.  Leah joined the SSW as a permanent member of our team in 2017 when she was hired as our MSW Distance Program Coordinator, and was promoted to Field Director in 2020, when Nancy Kelly retired.  One criterion for this NSFA award is dedication to customer service in all interactions, both on and off campus.  The profession of social work is based on a dedication to serving others, and Leah Maxwell is a consummate social worker.  In her practice career, Leah assisted some of Maine's most vulnerable individuals—those dealing with mental health crises, struggling with the effects of trauma, or living with substance use addictions.  In her current role as Field Director, she is responsible for all our social work students' field preparation, arguably the most important part of their education.  Leah is conscientious, caring and very skilled in connecting students with field placements that advance their education and move them toward their professional goals.  Her fine service is also evident in her work with our partner agencies and the field instructors who supervise our students in their field placements. 
Another criterion for the award is commitment to service beyond position expectations.  There are few who could meet this criterion better than Leah.  She sits on nearly every School of Social Work committee and is an active participant in all of them.  Leah is also involved in several statewide committees, such as the Advisory Board of a University of Maine System initiative, out of the Muskie School of Public Policy at the University of Southern Maine, to create a child welfare field instruction unit at the Maine Department of Health and Human Services; this initiative also includes the University of Maine at Augusta, the University of Maine at Machias, and the University of Maine at Presque Isle.  In addition to her service through committee membership, Leah generously goes beyond the expectations of her job on a daily basis and in countless ways that contribute substantially to the functioning of the SSW.  We are pleased that Leah is being recognized for her outstanding teaching, advising and guidance to our students; her skillful communication and collaboration with field agencies; and all that she provides to her School of Social Work colleagues.
---
Interested in beginning your social work education at the University of Maine? We want to hear from you today!
At the University of Maine School of Social Work, we prepare proficient and ethical social work professionals committed to social change in a variety of organizations, specializations, and professional roles.
We provide the highest quality education for both beginning and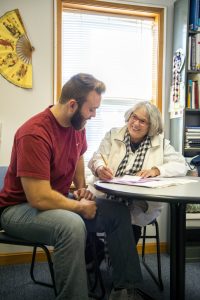 advanced professional social work practice. We educate at the Baccalaureate and Master's level in an atmosphere of individualized learning, respect for individual rights, and a celebration of diversity.
Graduates from the School of Social Work go on to serve as social work clinicians, program planners, administrators, and community change agents in a wide range of public and private settings and systems. As a member of our diverse and dedicated community of students, faculty, field instructors, and alumni, you will transform your commitment to improving the quality of life for people into professional knowledge and skills. You will be poised for a successful and personally rewarding career promoting social change by providing services to individuals, families, groups, communities and organizations.