The Field Department has put out the inaugural issue of the "Field Flyer". See link below for news on new and retired field faculty, spotlights of current students in Field, and more.
School of Social Work 2021 Field Newsletter:
---
Renewed Focus on Diversity, Equity and Inclusion (DEI) at the School of Social Work
Social justice is a cornerstone of the social work profession and taken very seriously at the UMaine School of Social Work.  In 2021, we are pledging a renewed commitment to diversity, equity and inclusion (DEI) at the School.  Initial activities include:
A committee made up of faculty and students (with the tentative name of the Social Justice and Equity Committee) was inaugurated in March 2021. It is charged with guiding the School's DEI initiatives.
Faculty teaching in each sequence area (practice, field, research, human behavior in the social environment, policy) will hold regular meetings to examine the adequacy of DEI integration in all required courses.
Over the next 12 months, DEI-based trainings will be offered by:

The Field Department, for Field Instructors
The Center on Aging, through their annual Clinical Geriatrics Colloquium
The School's focus on social justice and awareness of oppression and privilege will be emphasized in MSW application materials and incorporated into new student orientations
---
Interested in beginning your social work education at the University of Maine? We want to hear from you today!
At the University of Maine School of Social Work, we prepare proficient and ethical social work professionals committed to social change in a variety of organizations, specializations, and professional roles.
We provide the highest quality education for both beginning and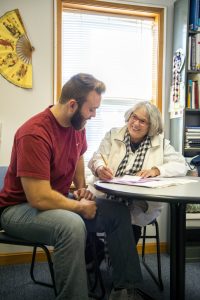 advanced professional social work practice. We educate at the Baccalaureate and Master's level in an atmosphere of individualized learning, respect for individual rights, and a celebration of diversity.
Graduates from the School of Social Work go on to serve as social work clinicians, program planners, administrators, and community change agents in a wide range of public and private settings and systems. As a member of our diverse and dedicated community of students, faculty, field instructors, and alumni, you will transform your commitment to improving the quality of life for people into professional knowledge and skills. You will be poised for a successful and personally rewarding career promoting social change by providing services to individuals, families, groups, communities and organizations.
_______________________________________________________________________