NASW Support
NASW is providing leadership and advocacy concerning the disparities in the social work licensing exams developed by ASWB.  On February 3rd, they released a strong statement against the exams, and in it they address the impact of this position on their support of the Interstate Compact Legislation and their commitment to efforts about licensing going forward.  
Our School of Social Work at the University of Maine is supportive of this position and continues to participate in efforts to address these problems and harm that has been caused to social workers of color, older adult social workers and social workers who have a language other than English as their first language.
If you are interested in joining the related advocacy work, please contact Christopher McLaughlin, the email cmclaughlin.naswme@socialworkers.org for more information.
NASW Supports Efforts to Promote Diversity within the Profession by opposing Association of Social Work Boards (ASWB) Social Work Exams
February 3, 2023
The National Association of Social Workers (NASW) declares opposition to ASWB social work licensing exams after reviewing ASWB data showing significant disparities in pass rates for prospective social workers of color, older adults, and those who speak English as a second language. NASW is prepared to oppose the Social Work Interstate Compact Legislation being developed by the Council of State Governments (CSG) if the bill is not substantially improved, including the removal of provisions which codify the ASWB exams. NASW is eager to work with CSG to develop multi-state social work practice legislation.
 In an August 2022 statement after the release of the ASWB data, NASW committed to working closely with its partners to propose innovative solutions that reduce harm and increase diverse representation at all levels of social work practice. These efforts will initially target removal of non-independent social work practice exams which may be biased, and support efforts to strengthen competency measures. NASW looks forward to working with its partners to implement these strategic initiatives and to promoting the diversity and well-being of the social work profession, and the health and well-being of the populations social workers serve.
---
Important Note to Graduates
It appears that graduates of our program with student debt are eligible to apply for the recently announced Maine Health Care Provider Load Repayment Pilot Program.  We area not sure how many awards will be available, but do know the competition will be open to a number of health professionals.  Applications are due September 1, 2022.  Please follow this link for more information about the program and the application process.
https://www.famemaine.com/affording-education/pay-for-school/repaying-student-loans/maine-health-care-provider-loan-repayment-pilot-program/
The School plans to partner with NASW and other Schools of Social Work in the upcoming year to work on expanding the opportunities for loan forgiveness.
---
Interested in beginning your social work education at the University of Maine? We want to hear from you today!
At the University of Maine School of Social Work, we prepare proficient and ethical social work professionals committed to social change in a variety of organizations, specializations, and professional roles.
We provide the highest quality education for both beginning and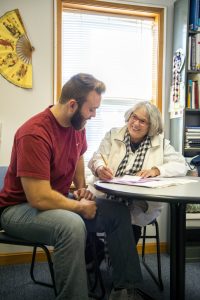 advanced professional social work practice. We educate at the Baccalaureate and Master's level in an atmosphere of individualized learning, respect for individual rights, and a celebration of diversity.
Graduates from the School of Social Work go on to serve as social work clinicians, program planners, administrators, and community change agents in a wide range of public and private settings and systems. As a member of our diverse and dedicated community of students, faculty, field instructors, and alumni, you will transform your commitment to improving the quality of life for people into professional knowledge and skills. You will be poised for a successful and personally rewarding career promoting social change by providing services to individuals, families, groups, communities and organizations.