About the School of Social Work
Recognition
The University of Maine School of Social Work recognizes that it is located on Marsh Island in the homeland of Penobscot people, where issues of water and territorial rights, and encroachment upon sacred sites, are ongoing. Penobscot homeland is connected to other Wabanaki Tribal Nations—the Passamaquoddy, Maliseet, and Micmac—through kinship, alliances, and diplomacy.  The School of Social Work recognizes that the Wabanaki Tribal Nations are distinct, sovereign, legal and political entities with their own powers of self-governance and self-determination.
Overview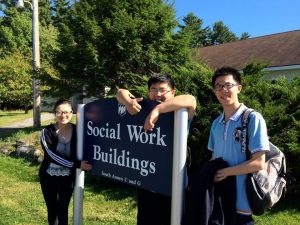 The School of Social Work at the University of Maine offers fully accredited BSW and MSW degree programs, which are both firmly rooted in the philosophical approach of the generalist perspective of social work practice. The degree programs are specifically designed to provide students with a well-integrated academic and practical education. The size of the School is ideal for undergraduate and masters level study, featuring greater student-faculty interaction and a highly individualized field practicum, which facilitates maximum personal growth and learning.
In the bachelors program (BSW), students prepare to be generalist practitioners by applying multi-level, multi-method approaches to the resolution of the problems of persons in their environments. In the masters program (MSW), students are educated as advanced generalist practitioners, who are prepared to work across multiple systems (individuals, families, small groups, organizations, and communities) in social work roles such as administrators, clinicians, and supervisors.
History
The University of Maine has provided undergraduate education in social work and social welfare since the 1950′s and began offering the BA degree in Social Work in 1972. The BSW program was granted initial accreditation from the Council on Social Work Education (CSWE) in 1979 and has remained fully accredited through 2027. The graduate program leading to the Master of Social Work degree was approved by the Board of Trustees in 1987. Accreditation for the MSW program has been continuous since first granted by CSWE in 1991 and is fully accredited through 2027. The school has grown from approximately 50 undergraduate students in 1987 to about 135 undergraduate and 135 graduate students in the present day.