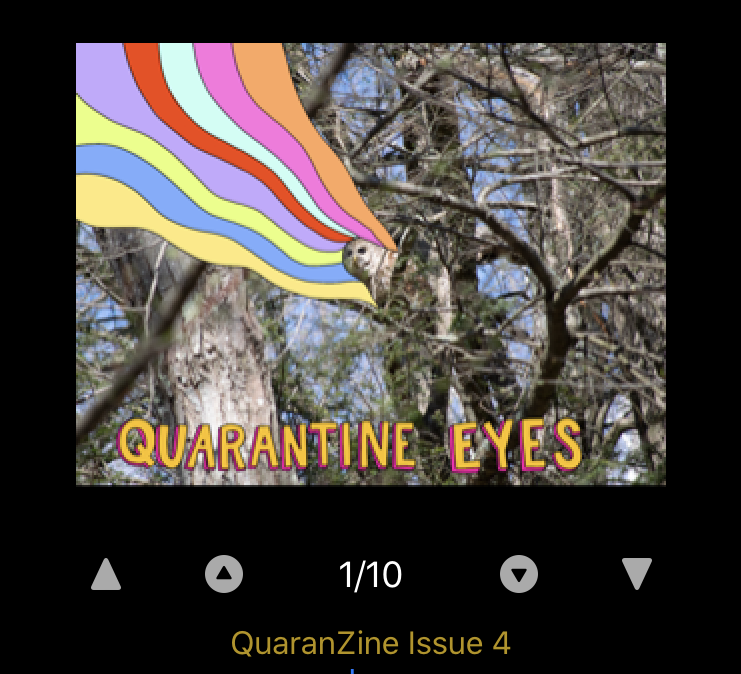 New Media students craft Covid19 stories
COVID-19 came suddenly and with a wallop, forcing classes to operate remotely, canceling sports events, and leaving campuses empty last spring. Fortunately, New Media faculty and students have already been experimenting with digital tools for collaboration, like e-portfolios, web-based F2F classes, videoconferencing and discussion platforms like Slack.
These tools can now assist students and  help universities continue to deliver courses and connect researchers during the national lockdown.
Apart from scheduling video conferences with Zoom, recording lectures in Kaltura, generating peer-to peer discussion via Slack, and posting e-portfolio assignments in WordPress, New Media faculty and students have found unusual ways to document this historic pandemic using the tools of digital storytelling.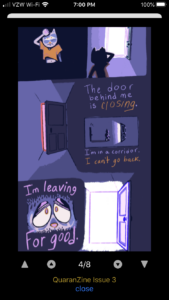 Students in Joline Blais' digital narrative class, for example, transitioned their final story project into "coronavirus diaries" and also found ways to publish their work.  In collaboration with Los Angeles-based senior Still Water researcher Craig Dietrich, faculty and students published their work in an unusual venue called QuaranZine.
QuaranZine is a magazine in the form of an iPhone app whose releases correspond to editions. Described as "half app, half zine," QuaranZine issues appear every few weeks and are designed as a way to way for artists to reach audiences stuck at home. The app features a curated selection of comic strips, poems, short stories, and other artistic contributions, many of which respond directly to conditions under the pandemic.
When ready, next issues will automatically download into the app as long as 'auto-update' is kept active for QuaranZine.
When the pandemic hit, senior Liwen Chen transformed his New Media capstone into a WordPress portal for crowdsourcing student stories about COVID-19. He collected stories form other New Media students, including those from Joline's digital narrative class, and Arron Boothroyd's video class to produce coronacapsule.net.
You can download the QuaranZine app and learn more about New Media capstones from the past year.
Above: QuaranZine contributions by Emma Hodge and Arthur Hubbard; QuaranZine home screen by Craig Dietrich.