Maybe you're a local business looking to cultivate homegrown talent. Or you're a New Media graduate who's worked your way into a comfortable job or launched a profitable startup. Or you're a recent graduate who knows that sometimes a $20 Arduino is all you need to finish your capstone. There are many ways to contribute to the New Media program, and small contributions can go far on student budgets.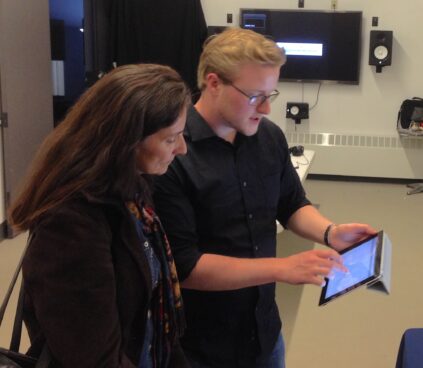 Offer an internship
Are you looking for more qualified workers for your business? The New Media program stresses hands-on learning with real-world problems, so if your organization can offer an internship we're happy to share that good news with our students. Some of our majors have found rewarding internships as far away as Los Angeles and as close as Orono; others have the skills and enthusiasm but lack the necessary connections.
If you want to help cultivate the next generation of creative professionals–and possibly recruit future employees in the process–shoot us an email with the type of qualifications and aptitudes you're looking for, along with the season (school year or summer), number of weekly hours, pay (if any), and whether remote work is an option. We'll evaluate suitable candidates and send them your way.
Fund a scholarship
Maine needs a workforce with digital skills to grow its future. A scholarship is an effective way to help bright and motivated students join the 21st-century workplace, especially those from rural, minority, or otherwise underrepresented communities. UMaine's Financial Aid office can set up the scholarship, and the New Media faculty can identify students in need and handle the application process. You can endow the scholarship in your name, to honor someone's memory, or keep it anonymous. Regardless, you'll know the winner/s will be grateful for your making their New Media degree possible.
Chip in for Microgrants
Here's a story we hear a lot: "I just found a $50 sensor or a software plug-in or a camera lens for a project due at the end of the week, but I don't have the cash, and college-level grant applications require a four-page application and are only reviewed once a semester. What can I do?"
New Media microgrants to the rescue. These are small infusions of cash–between $50 to $500–to help students fill in the gap between what they can imagine and what they can afford. Applying is as easy as emailing a couple paragraphs to our administrative assistant, who circulates them to the faculty on a rolling basis. Once a quorum of faculty has decided its a worthwhile project, we buy the student the missing piece for their experimental project.
A hundred dollars added to New Media microgrants could buy two custom WordPress themes, three Raspberry Pi microcontrollers, or a handful of GPS trackers. Please consider donating to this crowdsourced fund.
Have other ideas for ways you could support our students? Call or email–we're open to suggestion and always looking for new ways to put new tools in our students' hands.
---
---