Fall 2017 Faculty Grant Awardees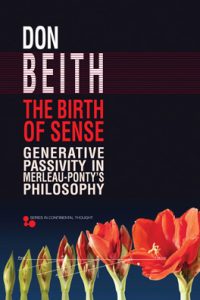 Affectivity and Imagination
Lecturer in Philosophy Don Beith combines resources from German Idealism and transcendental phenomenology to study the relationship between our affective, emotional lives and our imaginative faculties, habits, and possibilities. Following his new book The Birth of Sense, Beith's new research challenges contemporary assumptions in cognitive science, biology, and psychology by showing how our imaginative and affective lives are deeply intertwined. Funding from MHC will allow Beith to present his important research at National conferences.
Susan H. Brawley  (Marine Sciences)

Public lecture by Sylvia Earle.
Our friends over in Marine Sciences reached out for support to bring the accomplished marine biologist, Dr. Sylvia Earle to campus to give a large-scale public lecture at the Collins Center for the Arts. Noting that Earle is, in addition to a very accomplished scientist, a humanist—she has published children books as well as books about the strong link between humanity and the oceans—we were happy to support this outspoken ambassador for our oceans!
Susan Camp (Art)

Harvesting Identity
Susan Camp—who has been teaching printmaking and sculpture at the University of Maine since 2001—pairs up with artist /middle school educator Adele Drake to help middle school students and community members to grow gourds in moulds made from casts of their faces. By creating organic, three-dimensional self-portraits to be used as serving vessels in a celebratory meal, students, educators, and community members open a dialogue about identity, nutrition, and food issues in relation to agriculture, food insecurity, history and cultural traditions. We are proud to join the Maine Arts Commission in supporting this important work
Ryan Dippre (English, Director of College Composition)



Funds from McGillicuddy Humanities Center will go to support a series of "Dine and Discuss" meetings for the Maine Council for English Language Arts (MCELA). These meetings will help Maine's K-12 teachers keep up to date with pedagogical best practices and support community conversations.
Philip B. Edelman (Music and Music Education)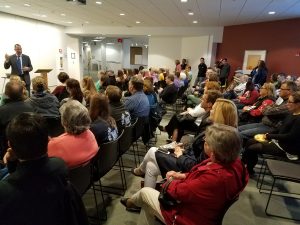 Professor Edelman's MHC pre-performance lecture.
Assistant Professor of Music Education Philip B. Edelman's research is working to raise UMaine's profile in the field of music education, as he contributes to current practices in the fields of music education, pre-service teacher training, and music perception and cognition. With support from the School of Performing Arts and the McGillicuddy Humanities Center he will be traveling to Atlanta to present not one by three research projects at the 2018 conference of the National Association for Music Education.
Michael Howard (Philosophy)

Image credit to: Marc van der Chijs.
National coordinator for the US Basic Income Guarantee Network and co-editor of the international journal, Basic Income Studies, UMaine Philosophy professor Michael Howard continues to deepen his expertise on the increasingly compelling idea of a "universal basic income." Last year he presented his research in Sweden with our support, this year he's heading to Ontario to the North American Basic Income Guarantee Congress where he will chair sessions, introduce speakers, and speak on automation and basic income.
Zachary Rockwell Ludington (Modern Languages and Classics)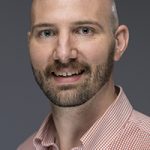 Modern Typography at Rare Book School
Ludington is an expert on the modernist avant-garde in Spain—specifically the poet-printers of the Generation of 1927 and Ultraism. Yet to deepen his understanding of the way these innovative writers used typography to make collages, violate "the Gutenbergian grid," and mix various typefaces in a single poem, this summer he will travel to Charlottesville, VA to study "The History of 19th and 20th Century Typography" through the Rare Book School.
Susan Pinette (Modern Languages and Classic, Franco-American Programs)

The Story of Workers, Trees, and Communities.
Partnering with the Maine Folklife Center, community partners Claire Bolduc and Mark Hardison, New Media and others, this project will host a reunion of the Maine Woodsmen Association—a now defunct group that led an unprecedented strike in October 1975, shutting down the state's paper industry for an entire two weeks. Many of the people involved in this labor action are now in their 70s and 80s. The reunion will serve as a "digitization day," with the goal of gathering stories and materials relevant to the strike. Pinette and community partners, along with UMaine students, then plane to build a bilingual, sustainable online portal of primary source materials relevant to the study of the Maine Woodsmen's Association. The website will host videos, transcribed notebooks, and digitized scrapbooks documenting this landmark moment, in hopes of encouraging scholarship on borderlands, labor, ethnicity, literary studies, French, and linguistics.
Liam Riordan (History)

 Faculty Reading and Writing Group
Interdisciplinarity and collaboration are central to the Humanities. To that end, former Center director Liam Riordan has recruited faculty across several disciplines to read and discuss James C. Scott's 2017 Yale UP book Against the Grain: A Deep History of the Earliest States—which explores how the human move from a hunter gatherer to an agricultural existence may have been predicated on subjugation and the control of reproduction. Faculty participants plan to author and share short writings that come out of this common reading experience.
Judith Rosenbaum (Communications and Journalism)

Social Media, Digital Culture, and Politics: Reaching Across Borders
Assistant Professor Rosenbaum—a new member of the Communications and Journalism faculty—is already an important scholar in the study of social media. If your curious about the impact of Facebook and Twitter on our culture, you may want to add her brand new book, Constructing digital cultures: Tweets, trends, race, and gender, to your Amazon shopping cart! With the aid of funds from the MHC Rosenbaum will travel to the Netherlands, where she did her doctoral work, to share her findings with faculty, graduate students, and interested members from the community through a series of symposia and research meetings dedicated to her work.
Philip Silver (Music)
James Simon – A Collaboration Concert in Amsterdam, Holland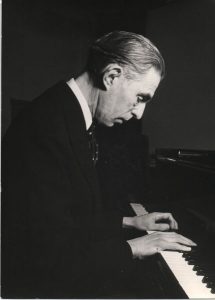 Photo from Prof. David Bloch on the "Music and the Holocaust" website.
Through a concert performance—scheduled for March 12, 2018—Professor Silver will continue his effort to bring the works of composers whose lives and careers were catastrophically affected by Nazi racial policies to public attention. This concert of the music of Berlin-born composer, pianist, and lecturer James Simon, will be an historic event: the first devoted solely to his works. Trapped in Holland after the Nazi invasion, Simon survived under increasingly dire conditions. In early April 1944 he was arrested and sent to Terezin Concentration Camp north of Prague. Then, on October 12, 1944 Simon was transported to Auschwitz and murdered upon arrival. According to an article published in a German emigre newspaper in New York, a witness stated that while in the cattle car on the journey to "the East" he was seen, sitting on his suitcase, scribbling musical ideas on a piece of paper.
William S. Yellow Robe, Jr.  and Margaret Lukens (English, Theatre, Native American Programs)
Native Tribal Theatre and Native Tribal Playwriting Development
Tan Katotsanin—a Penobscot word being applied to the development and support of Native American Tribal Theatre Drama in Maine and the University of Maine communities. In order to facilitate this ongoing process, Yellow Robe and Lukens plan to invite working professional Native Tribal theatre artists to the region to share their expertise and experience. In April, Madeline Sayet, Mohegan playwright, director, and Shakespeare scholar, will visit and conduct workshops with students and local playwrights in the Penobscot community. She will also give a presentation the University of Maine community.