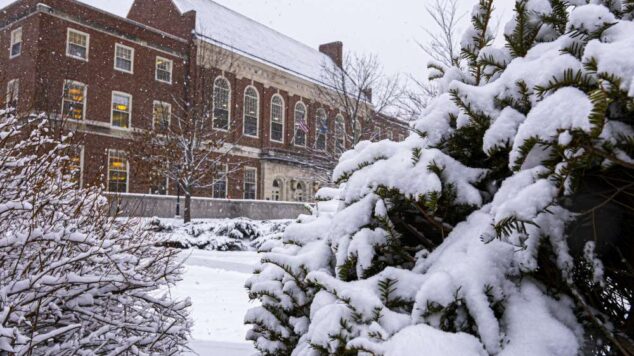 Get Outside, Stay On Campus
Self-sustainability is important to make sure that you're taking care of yourself. It's important for your work, your enjoyment, and your own mental health. The winter blues are a very real thing and can affect the way that we do activities and our quality of work. The cold temperatures outside and the sun going down early in the day can cause seasonal depression, which includes symptoms like having to sleep too much, feeling listless and losing energy, and losing interest in things you once enjoyed. The tiredness can be hard to get over, but getting outside and being active can encourage happier moments and increase motivation. It can be hard to figure out what to do to get yourself outside, but there are several things you can do on campus to get out of your room. 
Our campus has a number of trails that are for cross country skiing, winter hiking, or snowshoeing. Even if you don't own your own skis, you can still get involved by renting equipment at the Mainebound facility. The Mainebound facility rents for the day or for the week, the facility is reasonably priced and open Monday through Friday. The trails on campus are kept well and see 35,000-50,000 visitors a year. These trails go all over campus and the Old Town area, all are multi-use and two ways. The trail map is linked here. 
Mainebound offers a number of lead winter campus activities, including trips and clinics. Clinics are where you can learn a skill from an expert. The skills can be a skill such as a backcountry cooking avalanche rescue skills, or climbing and bouldering. The trips consist of winter camping, cross country skiing, and more. These trips do have a minimal fee for rental supplies, and more information on dates can be found here. 
One of the best things that is completely free on campus is the public skating availability of ice skating at the Alfond Stadium. Every Tuesday and Wednesday this semester at 12:45 PM, the Alfond Stadium is open to the public for a skate. If you're a member of the University of Maine System with a Mainecard, your skating time and your rental skates are free! This is a perfect opportunity to wind down in the middle of the day and enjoy a winter sport.
This time of year can be difficult, motivation is at an all-time low, and getting active is one of the best ways to get your mental health more stable. The University of Maine always has several activities going on with the Center of Student Involvement and all the outdoor activities you can get into, there is something for everyone on our campus.