Come Work for GCI!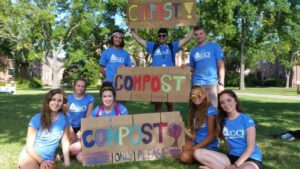 At the start of each year, we look to hire motivated, reliable individuals to join our Green Campus Initiative team! The University of Maine's office of Green Campus Initiative (GCI) serves to educate students about sustainability-related initiatives that pertain to campus housing and dining facilities as well as other Auxiliary Services operations. Through the support of Auxiliary Services, this office employs students and supports volunteers to carry out its educational mission. 
Our staff works at a number of events throughout the year including New Student Orientation, Welcome Weekend, Move-in Day, the President's Welcome Dinner, Maine Day, and all Zero Waste Barbecues.  At these events, GCI provides compost and recycling education as well as hands-on labor.   
In addition to event staffing, GCI student employees may be assigned a variety of other tasks which could include:
Creating and/or distributing sustainability-related publications
Creating and administering interactive programs for campus community members
Creating proposals for new sustainable programs
The ideal candidates will be reliable and self-motivated with proven abilities to produce results with little supervision.  Please note, we expect one year of commitment as a minimum. 
This opportunity would start at the end of August and run until the end of the spring semester. Check out CareerLink for more details and how to apply. 
Please spread the word and like UMaine Green Campus Initiative on Facebook and Instagram to get our updates.