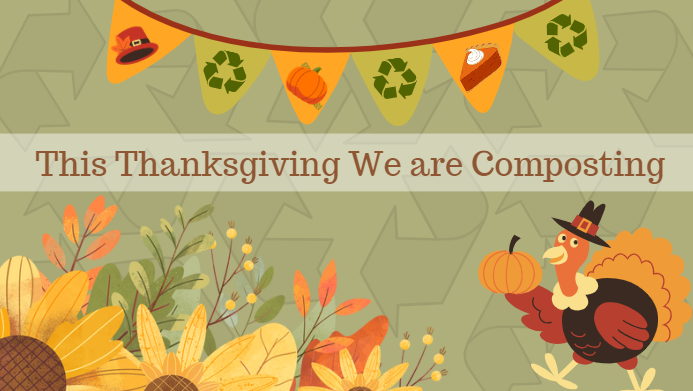 This Thanksgiving We are Composting: Lets Give Back to Nature
November is here and the month of giving begins again. Now is the time of year when you get together with your family and friends. This is an opportunity to appreciate what you have, who is in your life, and your time well spent amongst those that you love. Thanksgiving is just around the corner. While many of you will be giving thanks, let's not forget about that delicious food sitting on the dining table. Turkey, mashed potatoes, cranberry sauce, stuffing, and squash, oh my! All the staples of Thanksgiving dinner, but don't feel stuffed yet because there is still dessert. Look at the pumpkin and apple pie, and are those cookies shaped like turkeys? You may be asking yourself "what am I going to do with all of this food?" or maybe even, "how did I make this much again?" Your Thanksgiving dinner can be sustainable in a few simple ways, leaving for an easy cleanup and less leftovers to eat for the next week. 
Composting is a great way to get rid of some of your leftovers. Almost every part of Thanksgiving dinner is compostable, except for the meat. However, the veggies from your side dishes, the fruit from your pies and cakes, and all the egg shells from baking are easily compostable. The EPA gives some great tips on how to compost. The basics to any compost bin are leaves or pieces of wood and the nutrients that come from the composted food. This all can be done in a bin and can either be used as fertilizer or could be given to a community garden. 
You don't just need to compost in order to have a sustainable holiday. From the very beginning of meal preparation you can have the goal to buy less and cook less. This means that you aren't wasting as much food on leftovers that will go bad or excess food that nobody will eat. Forbes Home Magazine gives some great examples of how to be sustainable for Thanksgiving. Using reusable containers and cookware, having a smaller array of food, and having lots of leftovers if that's your thing. These can all be really simple changes that benefit you and the environment. Leftovers can be made into sandwiches, casserole dishes, or sent home with family and friends. For some other ideas for this holiday check out some of the ideas from The Smithsonian Magazine and Bon Appetit. To keep up to date with GCI, follow us on our social media pages!