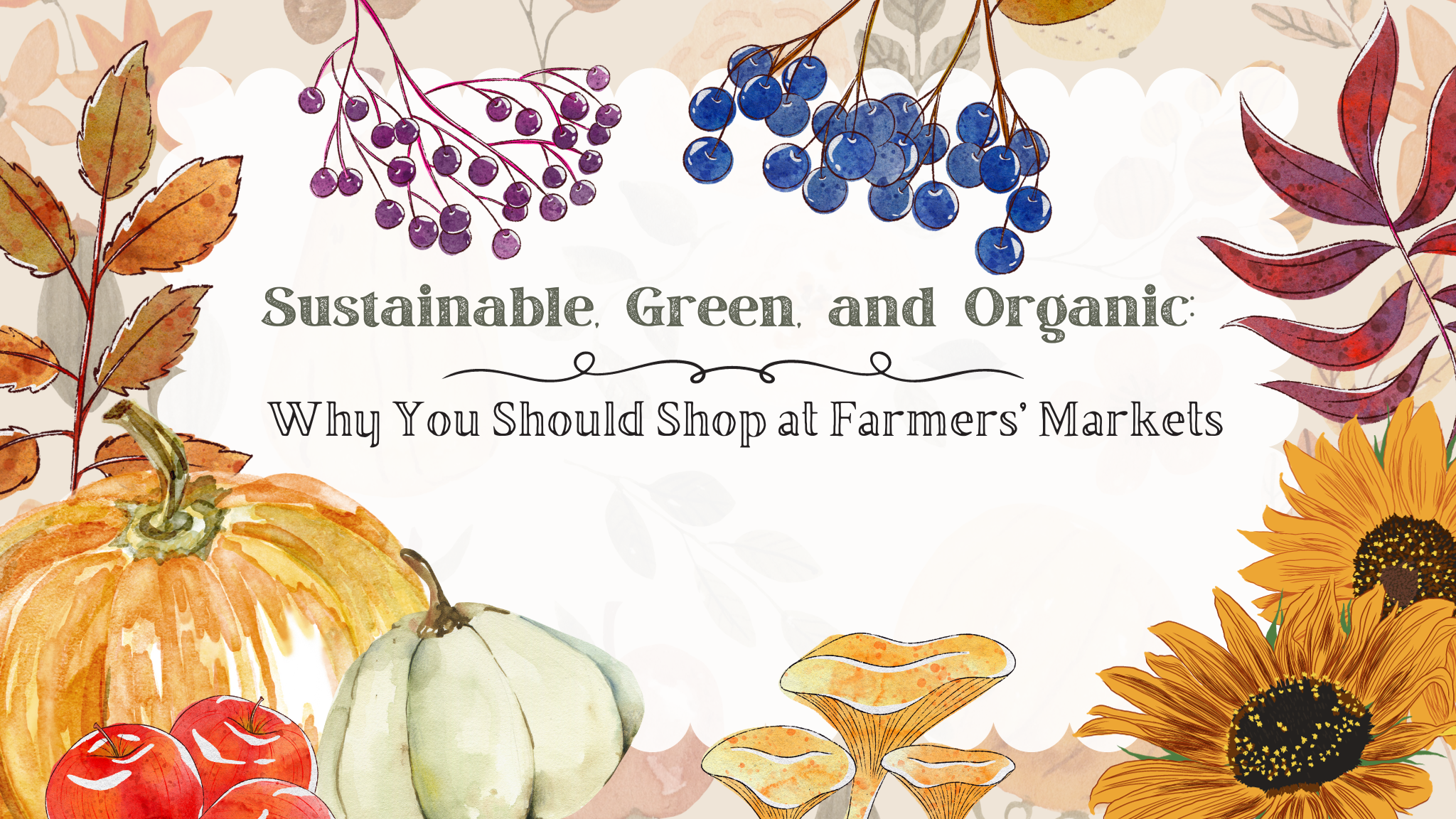 Sustainable, Green, and Organic: Why You Should Shop at Farmers Markets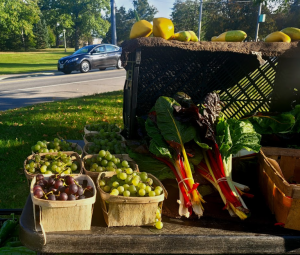 A breeze rustles through the trees sending leaves of all different colors flying about. The sky has a few clouds and the air is perfectly crisp. The temperatures are slowly transitioning from the summer sweltering heat to the coolness of fall. This is the time of year that is perfect to go to a farmers' market. Farmers' markets are an assemblage of local farmers, bakers, beekeepers and other entrepreneurs. These people come together to sell their products and goods to their community. These events are a great opportunity to spend time with your friends outside, and shop in a sustainable way that will help support your local community!
How are farmers' markets sustainable?  Most farmers' markets have vendors that sell their own freshly produced goods. Meaning that everything they sell they also bake, grow, or cultivate themselves at their farms, in their kitchens, or in their homes. Farmers work to produce fresh and healthy food often grown environmentally friendly to sell to their community. Pesticides or artificial fertilizers are often used less or used in a more manageable fashion. Interestingly, some farmers even integrate their crops with other crops to fend off pests. The Farmers Market Coalition says that farmers' markets "create a space where the focus of food is on quality and farming practices rather than price alone". They are places where the food is good, healthy, and you're creating a connection within your community.  
In addition to producing fresh food, Farmers' markets are sustainable in many more ways. They also may help reduce the costs of transportation, for both the consumer and producer. Buying food from farmers markets is good for the environment, because the food doesn't travel far from where it is cultivated or produced. This means greenhouse gas emissions are lessened because the produce isn't traveling across the country or state. As stated by Columbia Climate School, "The most basic argument for why local food is better for the environment is that it travels a shorter distance to get to you, so it produces fewer greenhouse emissions from truck exhaust or jet fuel". The food and other goods are only traveling as far as one town to the next. 
Shopping at farmers markets also allows you to get what is currently in season. You may find items that might not be sold at the supermarket. According to a USDA post titled, Top Reasons to Shop at a Farmers Market, "Farmers markets feature what's at the peak of season in your region, so you can often find your favorites, along with new items that will stretch your culinary imagination". This makes these weekly events a great opportunity to expand your taste pallet, try new foods and consider new ingredients. Spices, various fruits, vegetables, homemade jams, breads, pastries, flowers can often all be found at farmers markets.
The Orono Farmers Market is a great place to go whether you're a student, faculty member, or local member of the community. Their website states that, "Every purchase at the market supports the market's human-scale producers-you make a real difference each time you support a local farmer". Farmers markets are a great way to connect with your local community. You can go with friends, family, or maybe you'll meet new people there! The Orono Farmers Market is every Tuesday from 2 pm to 5:30 pm (until Halloween). As well as on Saturdays from 8 am to 12 pm (until Thanksgiving) from the months of May to the middle of November. There is also a winter market on Saturdays from 9 am to 12 pm. This market starts in December and goes until April.
What's really great about the Orono Farmers' Market is that everything is grown, made, baked, and so on, by the vendors themselves. The products aren't resale; they are all freshly produced and made by the vendors. So go check it out for fun, to support your local community, and for just a weekend activity. To keep up to date with the Orono Farmers Market, check out their Facebook page or their website. For more updates, announcements, and events from Green Campus Initiative follow the Instagram and Facebook pages!