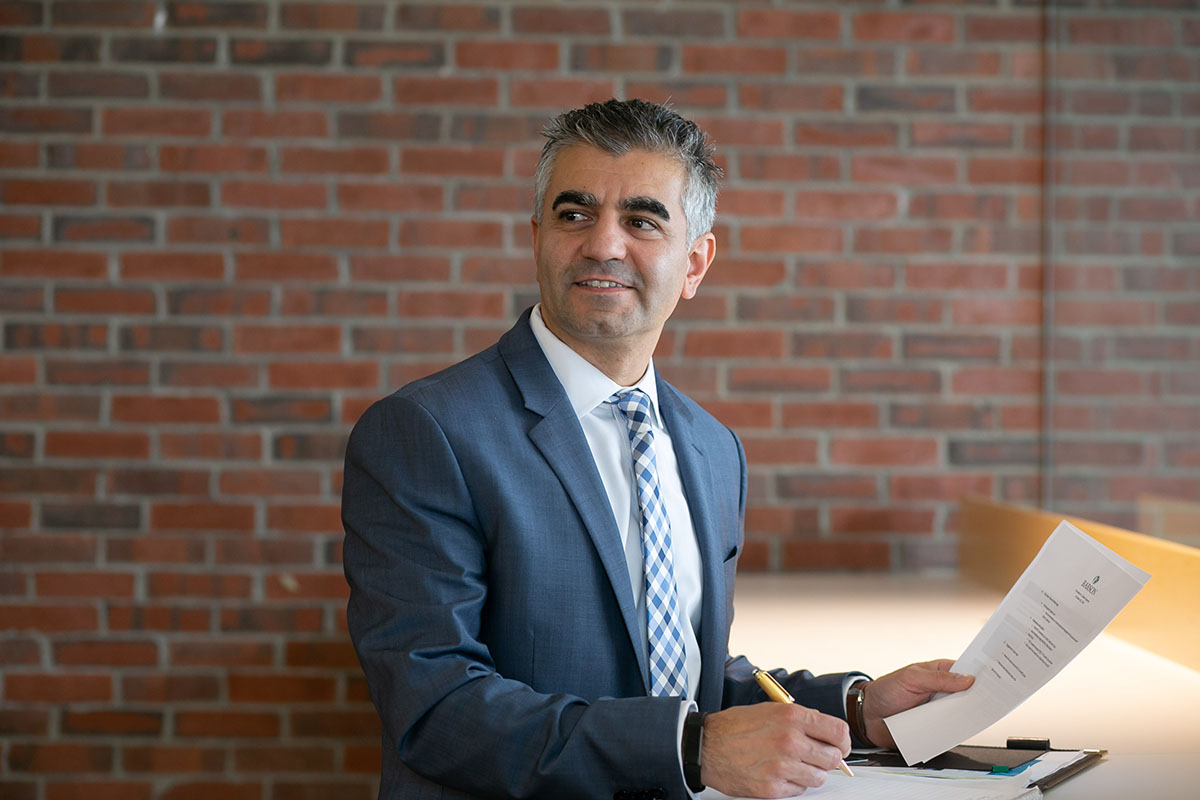 Amir Reza honored with inaugural Sue Estler distinguished alumnus award
Twenty years after earning his master's degree at the University of Maine, Amir Reza has been selected as the inaugural recipient of the Dr. Sue Estler Distinguished Higher Education Alumnus Award from the College of Education and Human Development graduate program in higher education.
Reza grew up on four continents. Born in Tehran, he moved to Switzerland at the age of 12, then relocated to Niger in West Africa, where he learned to speak English. He moved to the United States when he was 14 and settled with relatives in New England, where he's lived ever since.
At UMaine, Reza earned a bachelor's degree in international affairs in 1996 and a master's degree in student development in higher education in 2000.
Estler, who died in 2019, was a faculty member in the program, as well as a longtime Equal Opportunity director at UMaine. A tireless advocate for equity and inclusion, and a leader for LGBTQ+ rights in Maine and beyond, Estler taught several courses, including history of higher education, higher education policy and politics, and organizational theory for higher education.
When Reza was notified of the award he says, "I immediately thought of my fond memories of Sue, and how much she meant to our cohort, the way in which she modeled for us what it means to be an educator."
Reza remembers Estler as approachable and down-to-earth. In the higher education and law course, Reza says Estler covered affirmative action and the Family Educational Rights and Privacy Act (FERPA), which he utilizes today.
Reza is dean of Babson Academy for the Advancement of Global Entrepreneurial Learning and dean of global education at Babson College, a private school in Massachusetts that specializes in business and entrepreneurship education.
He oversees internationalization efforts at Babson and programs offered for universities, faculty and students around the world to advance entrepreneurship education.
Reza began working at Babson while finishing his master's degree at UMaine. He was presenting his master's research at a NAFSA: Association of International Educators conference when he received the job offer.
Director of the higher education program Gerald Work, then a faculty member in educational leadership, encouraged Reza to take the job.
"I would come up to Orono and do homework on weekends," says Reza. "They helped me schedule all my classes on Monday, and then Monday night I would drive down to Boston, crash on a friend's couch, and go to work Tuesday through Friday. Then Friday night I was driving back to Orono. That was the last semester of my master's program."
UMaine director of international programs Orlina Boteva, who nominated Reza for the award, says he embodies many of the same qualities as Estler.
"I will always remember Sue as kind, caring and always taking the time to mentor me and talk about ethics, career paths and leadership," Boteva says. "Amir learned these lessons from Sue very well. He has taken time from his busy life over the years to mentor me, guide me, and help me navigate challenging professional situations. I often turn to him for advice."
In 2015, Reza earned a Ph.D. in higher education administration from Boston College. His areas of expertise include international higher education, intercultural development, and international exchange and student mobility. In 2109, he co-authored the book, "Careers in International Education: A Guide for New Professionals."
Reza traces his interests back to his time in Maine. He worked as activities coordinator for the UMaine Intensive English Institute, leading trips across the state for international students and scholars that took short courses offered by IEI.
"I must have led about 90 trips to Acadia National Park," he says.
Reza chose UMaine because it offered a special scholarship for international students, and because it seemed like a tight-knit campus that, while small, still offered a comprehensive public-school education.
Reza also has fond memories of James Leck, now deceased, who worked in international programs at UMaine, as well as former faculty members Phil Pratt, who taught a statistics course during his master's program, and Bahman Baktiari, a professor in political science and a fellow Iranian who he connected with during his undergraduate years.
"Without those profound experiences of the community and education at UMaine, I would not have been able to achieve my goals and my dream of being an educator that engages with people around the globe and tries to create bridges."
Contact: Casey Kelly, casey.kelly@maine.edu