Our Mission
To provide students the language support and cultural knowledge needed to be successful in achieving their educational and career goals.
Summer 2023
Arrival Day: June 1
Orientation: June 2
Classes Start: June 5
Classes End: July 28
Fall A 2023
Arrival Day: August 22
Orientation: August 23-25
Classes Start: August 28
Classes End: October 20
Fall B 2023
Arrival Day: October 19
Orientation: October 20
Classes Start: October 23
Classes End: December 15
Spring A 2024
Arrival Day: January 09
Orientation: January 10-12
Classes Start: January 16
Classes End: March 08
Spring B 2024
Arrival Day: March 14
Orientation: March 15
Classes Start: March 18
Classes End: May 03
---
Academic Programs
This program offers 18-20 hours of English instruction a week paired with social and cultural activities. Each IEI session is 8 weeks which provides you, the learner with up to 160 hours to improve your English language skills. To maximize learning, we recommend that students apply for two IEI sessions which is one full university semester. 
The Maine Bridge program is for students who have received conditional admission to the University of Maine. It is available for both undergraduate and graduate students. Students who have achieved 71 TOEFL (IBT) or 5.5 IELTS can enroll in UMaine academic classes and continue taking IEI classes part-time.
Learn more about the IEI Bridge Scholarship
All of our courses are offered with hybrid instruction to integrate learners who are attending IEI from somewhere else in Maine, another U.S. state, or from another country.  Students who have enrolled as an F-1 visa holder are required to attend all of their IEI classes in person. 
We offer custom short-term program to suit the needs and budget of your school, business or organization featuring custom curriculum, flexible schedule, customizable cultural activities, and partnerships with other departments at the University of Maine.
New program offered by the Intensive English Institute (IEI) to UMaine students and Orono and Old Town community members. Designed for non-native speakers of English. Improve your listening and speaking communication skills.
This is a workshop-style course for graduate students who are non-native English speakers designed to focus on writing and editing with individualized grammar instruction to improve written English composition.
IEI Scholarship
All international applicants to the Intensive English Institute may be considered at the time of application for this international scholarship valued up to US$2,000 per academic year. Students who are conditionally admitted to UMaine are also eligible for this scholarship.
University of Maine System employees and their dependents can take IEI classes and use the employee dependent tuition waiver benefits to cover the cost. Contact us at um.iei@maine.edu for more information.
UMaine graduate students can use assistantship or fellowship funding to take IEI courses, if approved by their advisor.
---
Campus Life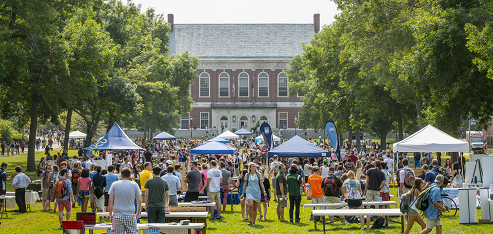 The University of Maine campus offers comfortable  housing and healthy meals. Students can apply for housing and a dining plan once admitted. Students exercise in the New Balance Recreation Center and participate in many campus activities.
Cultural trips

At IEI, we want students to integrate their knowledge of the English language into more than just an academic setting.
To achieve this goal, we offer students trips around Maine to learn about the history and culture of the State.
Students will have the opportunity to apply their communication skills in real time while creating lasting memories and friendships with their classmates.