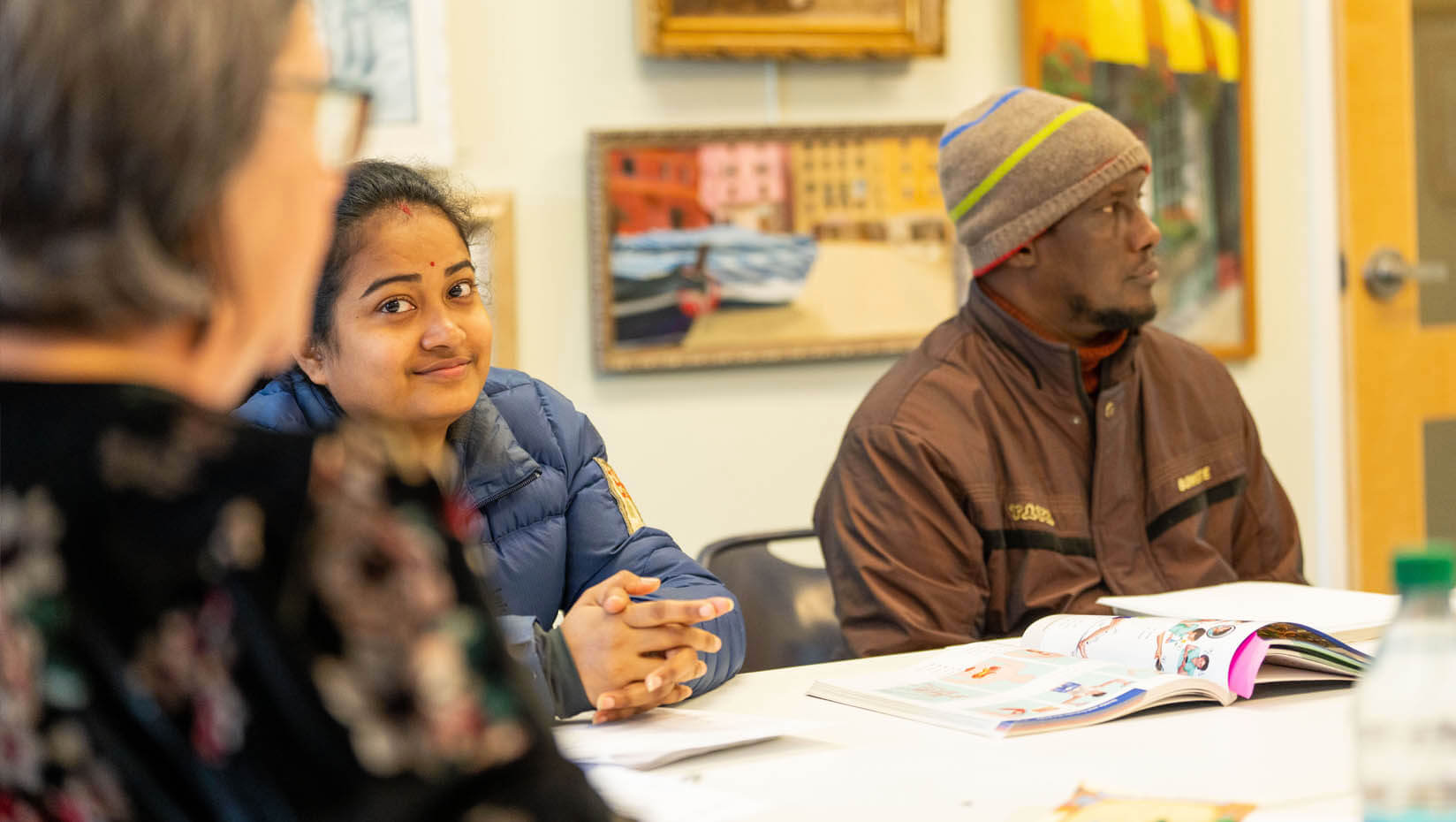 Orono, UMaine partner to offer Community English classes to meet needs, provide support
This spring, 18 students from 12 countries have taken advantage of a new weekly class meeting at the University of Maine and in Orono. And more are joining. The learners, who range in age from their early 20s to senior citizens, each with varied multilingual fluency, gather for the free pilot program called Community English, offered by the Town of Orono and UMaine's Intensive English Institute (IEI).
The new class, which runs Feb. 15–May 3 and alternates locations between Orono Public Library and the UMaine Memorial Union, was developed to meet the needs of community members who could benefit from information, conversational language development opportunities versus traditional, rigorous IEI instruction, says Orlina Boteva, director of UMaine's Office of International Program, which oversees IEI.
"The Community English class is filling an educational gap in our community," says Erin-Kate Sousa, a UMaine IEI senior instructor. "Currently, there is no free group English language support offered in the Orono area. Language skills are critical for new community members to build friendships, complete daily tasks like shopping and using public transportation. Additionally, this in-person class builds community."
The class is taught by Kristen Wedin, an IEI adjunct instructor and retired teacher who is active in Literacy Volunteers of Bangor. Her background and training in literacy education provide a strong foundation for teaching English acquisition.
"Kristen has a passion to help immigrants improve their skills in oral and written language, giving them tools to communicate with people in their adopted community, and, ultimately, to promote happiness and a sense of belonging," Boteva says.
When asked about their personal goals for attending Community English, students overwhelmingly indicate that they wish to become better at speaking and understanding spoken English, Wedin says. They receive instruction in both, as well as ample time to practice, while also learning about American customs. Any student who also wishes to become more proficient at written English is also given the opportunity to submit homework in writing, and several students have taken advantage of this.
The Town of Orono was interested in partnering with the Office of International Programs to offer an opportunity to support the community, says Meghan Mazzella, Orono Parks and Recreation manager. "The town has a long-standing relationship with OIP and was excited when this opportunity was brought to our attention," Mazzella says. "We are interested in continuing this program in an effort to meet community needs and to support our robust relationship with the University of Maine."
This initiative also fits well with the state of Maine's efforts to train and educate its workforce, and UMaine's role in being a place that is welcoming and inclusive of all levels of learning and training, Boteva says. As Maine welcomes more immigrants from around the world, it is important to provide basic language training so they can more easily integrate in the Orono local community.
"We hope this course will be a gateway for those who wish to pursue other professional or educational goals, whether that means being able to advance in the job market or continue language education at the Intensive English Institute," says Sousa. "The IEI core program, which is an intensive English language immersion program, is designed to help learners professionalize their language skills and/or continue their education at an institution of higher learning."
More information about IEI courses is available at umaine.edu/iei.
Contact: Margaret Nagle, nagle@maine.edu