Staff
 Staff  Associate
As the Staff Associate for Student Life, I work with  Commuter & Non Traditional Student Programs (CNTSP)  You can often find me in  the Commuter Lounge, in the Wade Center on the ground floor of Memorial Union.  My primary responsibility is to provide support and advocacy  for  commuters and nontraditional students at UMaine.
I have  worked in Student Affairs at  UMaine for 35 years, and I know the campus well, which helps me connect students to other resources.  I really enjoy meeting and working with  commuter and  nontraditional  students  and helping them be successful  here at UMaine.
I have been a doctoral student, a wife, and a mom while also working full time,  so like many of you, I wear multiple hats in my life. I am committed to helping commuters and  nontraditional students fit  the student role in with  their many  other life roles and  make the most of their University of Maine experience.
Barbara Smith, Staff Associate, Ed.D.

E-Mail: BSmith@maine.edu
Phone: 207-581-1734       Fax: 207-581-1737
Office : 162A across from the Commuter Lounge  or stop by the Commuter Lounge, Wade Center, Ground floor  of Memorial Union
To contact the CNTSP office email:  UM.CNTSP@Maine.edu
Commuter Assistants
The Comm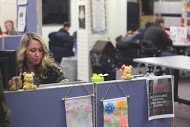 uter Lounge is staffed by student workers on week days when classes are in session.  Commuter Assistants are  generally returning commuter students who are knowledgeable about the campus and the local communities.  Many are nontraditional students who have their own experiences juggling their many commitments with academics.
Amy,  Jared,  Chantel, Becca, Harmony, Humam  and Kaitlyn  are the Commuter Assistants for 2018-19   Be sure to look for any of these folks when you visit  the Commuter Lounge.
Most Commuter Assistants are work-study employees. It's a fun and relaxed place to work. Hiring generally occurs in April or late August for the up-coming academic year. Contact CNTSP if you are interested in being a Commuter Assistant.
Other Resources
If you are  considering applying to the University of  Maine as a Non traditional Student , consider  the admissions application  for Non traditional students.  each University of Maine Systems office has a designated "Concierge for Adult Students"  that can assist you in this application process
LearnHowToBecome.org is a  career resource with a mission to help students and aspiring professionals understand what it takes to land their perfect career.
Support for Adults Returning to College: How to Thrive When Going Back to School
https://www.learnhowtobecome.org/career-resource-center/adults-returning-to-college/