Commuter and Non-traditional Student Programs
Every first Friday of the month, starting at 8AM in the Commuter Lounge, we serve free coffee and bagels.This event is sponsored by both CANS (UM Student Government Board) and Tim Hortons.
This annual two-day event brings local property owners to campus to  provide information about off-campus housing.  Resource tables also provide information about renters insurance , lease review,  budgeting and home fire safety.
Commuter Student Week
This annual week-long event is  held early in October each year.  Activities include a free pizza lunch for commuter students and  lunch time sessions on topics such as winter driving, time management and renters' rights and responsibilities.
Nontraditional Student Week
Annual week-long event held during fall semester each year. This special week includes a Lunch 'N Learn series and the annual Bake-Off sponsored by the Non traditional Student Association (NSA).
Maine Day Project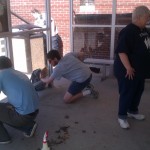 Commuter students  participate in Maine Day service to the campus by cleaning the bus stop.
Quiet Study Room
CNTSP provides a quiet study space in Memorial Union  each semester during the last week of classes and the week of finals.
Family Room / Lactation space
CNTSP  also  co sponsors a number of regular programs with the two student organizations (CANS & NSA) that represent commuter and non traditional students.  These include pancake breakfasts, Family movie and pizzas and more
Advisory Board
CNTSP organizes a  Nontraditional Student Programs Advisory Board of non-traditional students as well as faculty and staff who work closely with nontraditional students. This board meets several times each semester, reviews services and makes suggestions for programs and services that would assist UMaine nontraditional students. If you are interested in participating on the board, contact Barbara Smith on FirstClass or call (207) 581-1734.