The Maine Day Tradition
In 1935 President Arthur Hauck inaugurated MAINE DAY, a day set aside for "spring clean-up" of our campus. The entire campus community  – students, faculty, staff, and alumni – pitches in to spruce up the campus. Historically Maine Day is set on Wednesday of the last week of classes of the Spring semester.
Schedule
Service – 9 a.m.
Tool pick up for jobs will be on the Mall. If you and/or your group want to participate in Maine Day service, fill out our survey here: https://forms.gle/jmMqdPjN5K6Ay85b6
BBQ – 11 a.m. – 1 p.m.
Stop by one of our several BBQ locations to pick up your traditional Maine Day bbq! Location details will be announced based on if you are a residential, off-campus, or faculty/staff. 
Locations:
Hilltop (Residents of Somerset, Oxford, Gannett, Androscoggin, Cumberland, and DTAV/Patch Halls)
York (Residents of York, Kennebec. Aroostook, Balentine, Colvin, Estabrooke, Stodder, and Penobscot Halls)
Hauck Patio (Residents of Hart, Hancock, and Oak Halls, AND Off campus students AND faculty/staff)
Lawn Games – 1 – 4 p.m.
Join us on the Mall for safe and socially distanced lawn games, music, and grab'n go snacks! 
Black Bear Bash – 6 – 9 p.m.
This is the most anticipated event of the semester! Our bash will include safe and socially distanced events such as soccer darts, blacklight mini golf, Virtual Reality games, and more. Locations will vary all across campus and locations will be limited to no more than 45 students at each. Dinner will be provided by UMaine Student Government in the form of food trucks.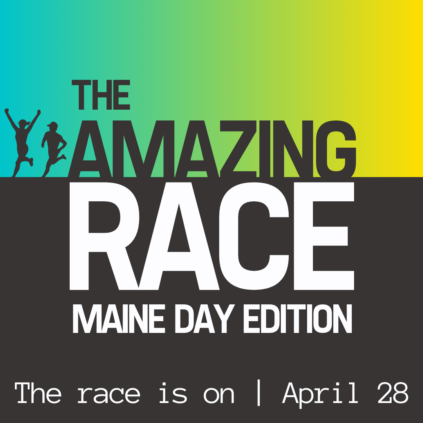 How Do I Participate?!
We're glad you asked! 
Remember to bring your Maine Card to our check-in tent near Fogler Library to sign in and get your meal tickets! Then check out our various games and food trucks as you make your way around campus!
We will provide a map so you can be sure to race around and hit all the best stops!
As always, masks are required at all times while you are on campus and at our events.
If you are in need of reasonable accommodations for any of our events, please email Benjamin Evans at um.getinvolved@maine.edu
Activities – 6-9 p.m.
Blacklight Mini Golf 
Location: Maine Bound Lot
Soccer Darts
Location: Stevens Lot
Virtual Reality
Location: Behind Fogler Library
Lawn Games
Location: Mall
Food Trucks- 6-9 p.m.
WildCow Creamery
Location: Maine Bound Lot
Pompeii Pizza
Location: Stevens Lot
YumBus
Location: Behind Fogler Library
Smokin' Phils Belly Bustin BBQ
Location: Mall
Last Modified April 27, 2021