Maine Day – May 1, 2019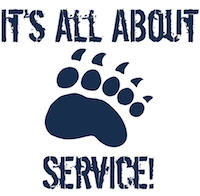 The Maine Day Tradition
In 1935 President Arthur Hauck inaugurated MAINE DAY, a day set aside for "spring clean-up" of our campus. Classes will be canceled on that day with the exception of classes which meet once per week, including laboratories. The entire campus community  – students, faculty, staff, and alumni – pitches in to spruce up the campus. Historically Maine Day is set on Wednesday of the last week of classes of the Spring semester.
The day kicks off with a campus parade, followed by service projects throughout the morning. A gigantic barbecue is held in the steam plant parking lot at lunchtime. In the afternoon student teams compete for the "ooze ball championship" – volleyball played in the mud, along with various other activities held by student organizations and Student Life Offices.
Click here for the Project and Volunteer Signup 
---
MAINE DAY PARADE
Student organizations, residence halls, fraternities/sororities, faculty, administrators and staff are invited to be a part of the parade. Line up will begin at 8:00 a.m. with a parade start at 8:30 a.m. It will begin at the Emera Astronomy Center, travel from Hilltop area down long road across campus behind Balentine to York hall and back to the campus mall.
This year, we are awarding trophies for the best campus department AND best student organization.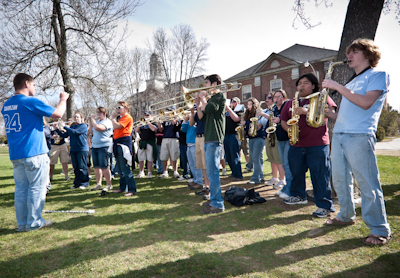 To register a float in the Maine day parade please follow the link below.
Registration for the parade is now closed. We will see you at the parade!
SERVICE PROJECTS AND BREAKFAST
At the end of the parade route on the campus mall, the staff of the Bodwell Center for Service and Volunteerism will be available to register students, faculty and staff for service projects. Material and equipment such as rakes and cleaning items will be available for service projects.
CELEBRATION AT THE RIVER: 12 – 2 p.m.
Join Dining Services, Student Life, and Student Organizations as we throw a bash by the river! The day will include a dunk tank, St. Baldricks, inflatables, and more!
Want your group to host a mini-event? Contact Cat Lamb at catherine.lamb@maine.edu
Kickin' Flicks Showing – Aquaman
*Look for the movie poster on the 2nd floor of the Union, or on the Wade Center TV!
Maine Day Fest, sponsored by UMSG
*Stay tuned for evening fun from UMaine Student Government!
Campus Community members are encouraged to pre-register as volunteers on the Maine Day website.
Funding for Maine Day is provided through the generous support of The University of Maine President's Office, the Division of Student Life, the Vice President for Administration and Finance, Facilities Management and Black Bear Dining. The committee also thanks the many volunteers, departments and programs that support Maine Day.