Specialist Interview Series
In order to share perspectives on how climate change is impacting different agricultural sectors in Maine, MECAN is collecting a series of Specialist Interviews. This is an ongoing effort and interviews may be added periodically; to recommend an interview please contact Erin Roche, erin.roche@maine.edu.
To read the text of each interview, click on the titles below. 
Farming in a New Weather Reality
This storytelling session highlighted farmer experiences adapting to changing weather or extreme weather events.  The event was organized by the University of Maine Climate & Ag Network and the Maine Sustainable Agriculture Society (MESAS), and held at the 2018 Maine Agricultural Trades Show, Augusta Civic Center on Tuesday, January 9, 2018.
Click the following link to read a summary of the session in the U.S.D.A's Northeast Climate Hub newsletter titled, "Farmer Storytelling Session Raises Awareness of Climate and Agriculture Issues in Maine."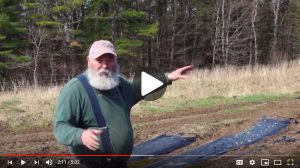 Spring 2017 Mini-Symposium
This mini-symposium was the third from the Maine Climate and Agriculture Network (umaine.edu/climate-ag). The spring 2017 mini-symposium featured short, 8-10 minute talks by some of UMaine's graduate and Honors students working on aspects of "agriculture and climate change", broadly defined in this context to encompass related topics in agriculture, aquaculture, and the environment. To view or download a copy of each presentation, click the presentation's title.
Click the following hyperlink to download a PDF of the Maine Climate and Agriculture Network 2017 Mini Symposium Flyer.
Weather-based crop management tools event
2019 Maine Ag Trades Show
Thursday January 17, 2019 in the Howard Room
One Certified Crop Advisor Credit Available for Each
Changing Weather for Maine Agriculture, Glen Koehler, (9:00am-10:00am)
One pesticide applicator recertification credit
This presentation looks at what temperature and precipitation trends from recent decades, what weather projections for the next 30 years tell us, and some strategies farmers can use to increase resilience to extreme weather.
Weather Tool Show and Tell, Sonja Birthisel & Erin Roche, (10:05am – 10:55am)
Learn about a variety of weather-based tools that may help you make more informed farm decisions. We will showcase a range of tools from the very basic to the more complex, then open the floor to your ideas and discussion.
Ag-Radar – Using Weather to Inform Pest Management, Glen Koehler, (11:00am-12:00pm)
One pesticide applicator recertification credit
Ag-Radar is a weather-based pest management tool for apple growers. Learn how this tool can help you interpret the effect of weather on your management decisions during the season, and to evaluate your spray program after the season to prepare for next year.
An Irrigation Primer, John Jemison & Mark Hutchinson, (1:00pm- 1:55pm)
Irrigation is a critical tool for protecting against drought stress. Learn to determine when it's the right time to irrigate, how much water is needed, and the best type of irrigation for your farm.
A Rainfall Index Insurance Program for Grassland, Erin Roche, (2:00pm – 3:00pm)
Learn about a crop insurance program that could be a valuable risk management tool to mitigate the effects of drier-than-normal weather on hay or grazing acres. Feel free to bring your own laptop to follow along.