Sculpture
Faculty: Greg Ondo, Associate Professor of Art
Technician: Sam Hoey

The Department of Art offers both the Liberal Arts based B.A. degree in Studio Art and the B.F.A. degree in Studio Art with a concentration in Sculpture.
The Sculpture program at the University of Maine, currently housed in the old Fire Station, embraces an active approach to learning. Our program benefits from an integrated and engaged departmental approach to studio that balances technical and conceptual practice as well as explorations with a wide range of traditional and contemporary media. Working in our open studio as well as in the woodshop, metal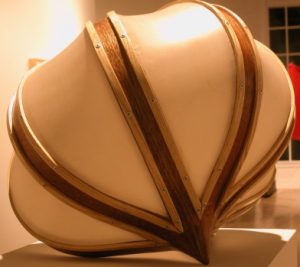 fabrication studio, or foundry, students not only learn the use of tools and materials, they are challenged to create forms of sculpture that reflect their contemporary world. More specifically, they are given the opportunity to investigate the creative and communicative possibilities of plaster sculpture, mold making, stone carving, clay studies, basic wood joinery, welding (arc, MIG, and TIG), forging, and aluminum and bronze casting. Our program emphasizes an object-based approach to creating sculpture and recognizes the interdisciplinary and evolving nature of contemporary sculpture. As a result, students are encouraged to work with traditional, installation-based, performance, new media, and collaborative forms.
Our students have options to participate in sculpture opportunities both on and off campus. Recent projects have included a summer course in conjunction with the Schoodic International Sculpture Program (SISS), in which students worked on-site with international sculptors to create large-scale public art forms from Maine granite. Find out more about the SISS with these links:  https://schoodicsculpture.org/