Student Opportunities
Department of Art/Zillman Art Museum Internship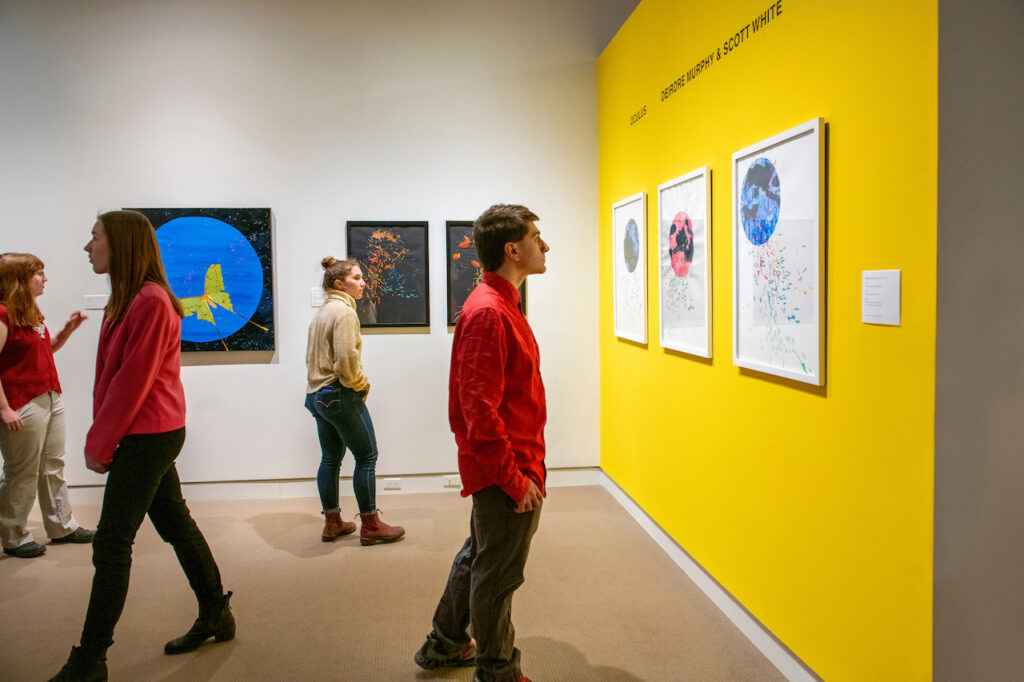 Description
The Department of Art and the Zillman Art Museum (the university's modern and contemporary art museum in downtown Bangor) offer up to two semester-long internships each academic year (one in the fall and another in the spring). Students choose whether to receive a stipend (up to $1,200/semester) or to receive academic credit for the internships (if a student opts for academic credit, he/she must pay applicable tuition). These museum internships are awarded at the Department of Art's annual award ceremony each April. The internships are competitive and a committee selects interns based on their academic record and a formal application.
The internship program is designed to benefit both the interns and the ZAM. With guidance from faculty and museum professionals, interns gain practical experience and professional training by working on various projects and exhibition programs; in turn, the ZAM benefits from the contributions made by interns. Because the museum is always tending to its permanent collection and current exhibitions, as well as planning or installing future exhibitions, interns have the opportunity to perform and learn from a variety of duties, including collection care, educational programming, and/or exhibition development.
To learn more about the Zillman Art Museum, please click here.
Internship Qualifications
Applicants must be students "in good standing" at the University of Maine majoring or minoring in Art Education, Art History, and/or Studio Art. Qualified students will carry a minimum GPA of 3.0. (If your GPA does not meet these standards, please enclose a letter with your application explaining any extenuating circumstances that might have affected it.)
In addition, qualified applicants will demonstrate the following:
A desire to further his/her educational and career goals by way of successful completion of an internship at the ZAM
Interest in an art museum career or related profession
Dedication to museum standards, ethics, and professionalism
A commitment to the mission of the University of Maine Museum of Art
Excellent writing, research, and oral presentation skills
Excellent interpersonal and collaboration skills
Professional and personal responsibility, including a willingness to be supervised and instructed by the ZAM staff
Internship Requirements
Whether receiving a stipend or academic credit for the internship, interns are required to work at least 120 hours per semester on museum-related duties. Museum interns have a mandatory research and writing requirement related to the permanent collection and/or changing exhibitions. This may include on-going collections research, as well as the preparation of wall text or educational gallery guides that accompany exhibitions. The precise weekly obligations must be worked out in a contract between the intern and their museum supervisor. During these hours, interns complete the objectives of specific projects and/or daily assignments. Each intern works closely with one or two primary supervisors/mentors but also has an opportunity to meet and work with other museum professionals. As mentioned above, the sorts of duties interns can anticipate working on include collections care, educational programming, and/or exhibition development.
Paid Internships and Internships for Credit
The program offers two kinds of internships—paid internships and internships for course credit. Students cannot use the internship for course credit and be paid for it. Applicants must indicate whether they prefer a paid internship or a credit internship. If a student opts for academic credit, he/she must pay applicable tuition.
Application Process
Please contact the Department of Art office (jeannie.bauer@maine.edu) for application materials.
Selection Process
A committee composed of faculty from the Department of Art and staff from the ZAM will review applications for the internship. The committee may request additional information from applicants. The committee will select an intern and then contact the student to confirm their availability. The intern(s) will be announced at the Department's April awards ceremony and the internship(s) will commence the following academic year.