Welcome to the Department of Art
The Department of Art at the University of Maine offers dynamic, interdisciplinary programs in a challenging and supportive environment for 120 majors, 150 minors, and numerous non-majors. These programs include the B.A. in Art History, Art Education, and Studio Art, as well as the B.F.A. in Studio Art, along with minors in Graphic Design, Studio Art, and Art History, all fully accredited by the National Association of Schools of Art and Design (NASAD). The Department balances a need for a strong foundation in the liberal arts and sciences with intensive study in the visual arts..
Featured Student: Delaney Burns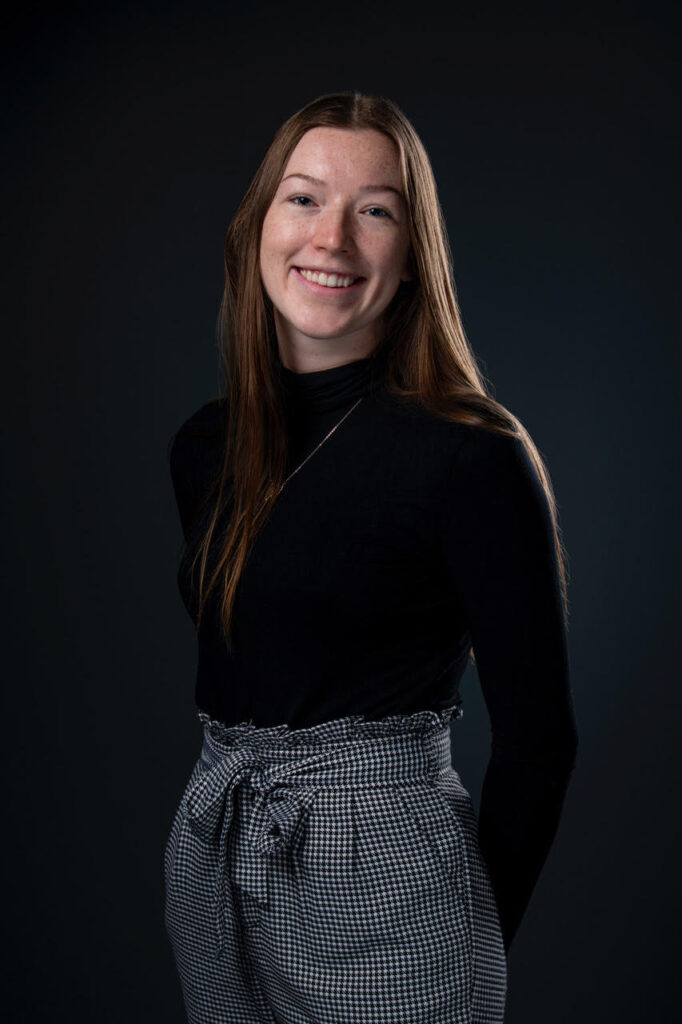 Delaney Burns is among a talented group of seniors graduating in May 2022. Delaney is an Honors student from Gorham, Maine, pursuing a dual degree: a BFA in Studio Art, with a printmaking concentration, and a BS in Marketing. She is also minoring in Art History and Graphic Design. 
Delaney has taken advantage of many of the opportunities available to Department of Art students, including serving as a curatorial intern at the university's Zillman Art Museum and as a Clement and Linda McGillicuddy Humanities Center undergraduate fellow. At the Zillman, Delaney curated an exhibition of prints titled Against the Grain: Selections from the Collection, and as a humanities center fellow she researched and created a series of large wood block prints of ancient bristlecone pine trees. The Pinus longaeva series is also the focus of her honors thesis.
The department's state-of-the-art printmaking studio has been an invaluable classroom and laboratory for Delaney, giving her the space and resources necessary to refine her techniques and aesthetic sensibilities. At UMaine she has combined her interests in art, art history, ecology, and science into an interdisciplinary research focus and creative practice, situating herself among other professional artists who work at the intersection of the imagination and our most pressing social and environmental crises. Delaney has a keen understanding of how art contributes to sustainability and biodiversity. Her large-scale prints of plants and trees are dramatic visualizations of nature's elegance.
Bristlecone 1, woodcut, 30 x 20 inches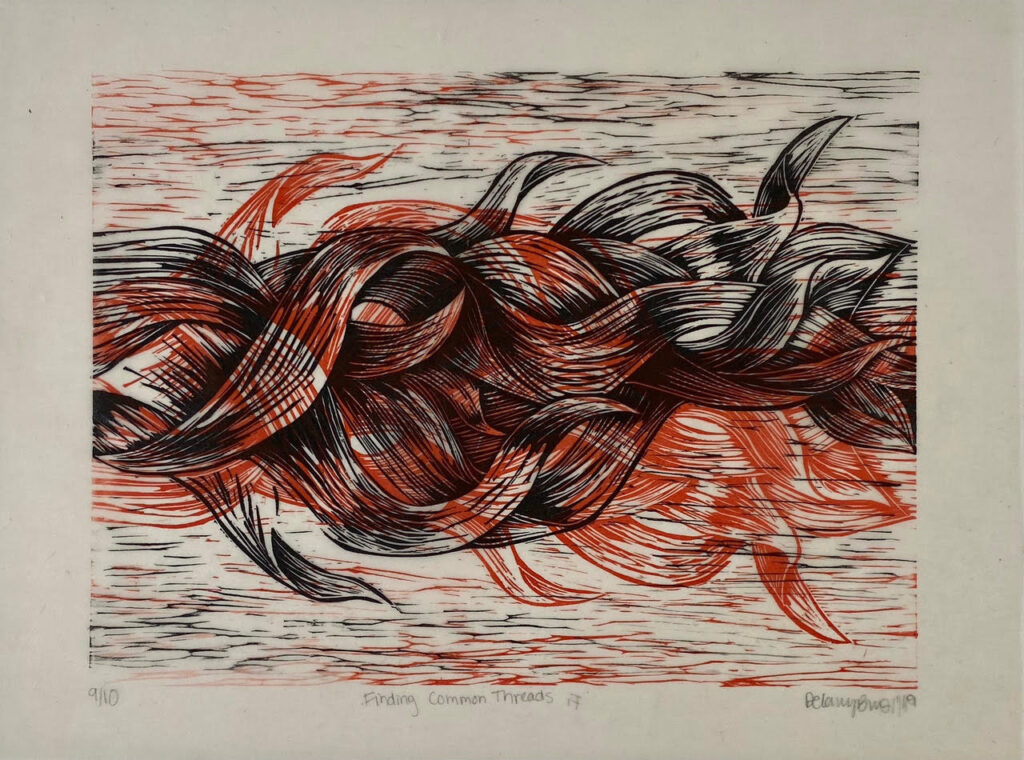 Finding Common Threads, woodcut on waxed paper, 9 x 12 inches
Calçotada, woodcut, 12 x 27 inches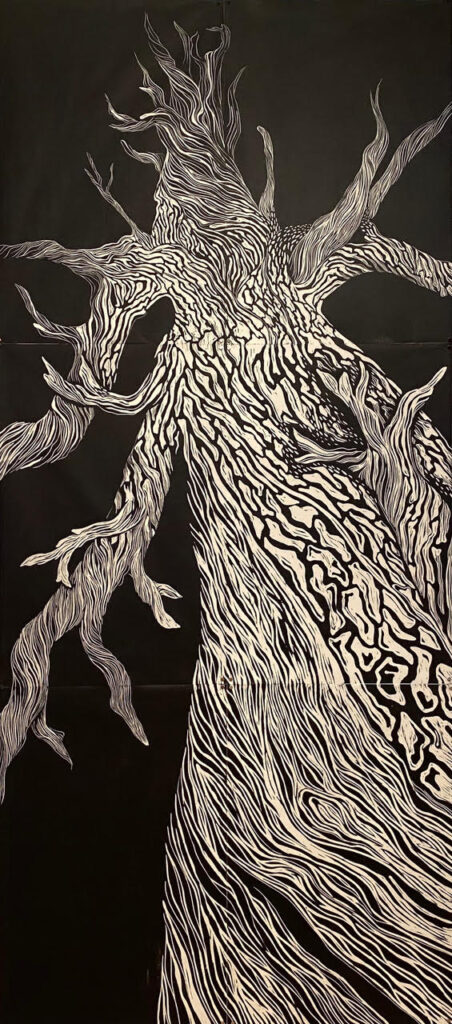 Pinus longaeva, woodcut, 90 x 40 inches
---
Annual Senior Exhibition
Each fall, BA and BFA students enrolled in the Studio Art Senior Capstone course work with their instructor and the Lord Hall Gallery director to mount an exhibition. The fall 2021 exhibition, Overture, featured paintings, prints, drawings, sculptures, digital artworks, and mixed media pieces by seniors in the capstone class led by professor of art James Linehan. As part of the class, the students plan and install the annual exhibition — from matting, framing, and hanging their works, to labeling and lighting the pieces. 
Read about some of the artists below: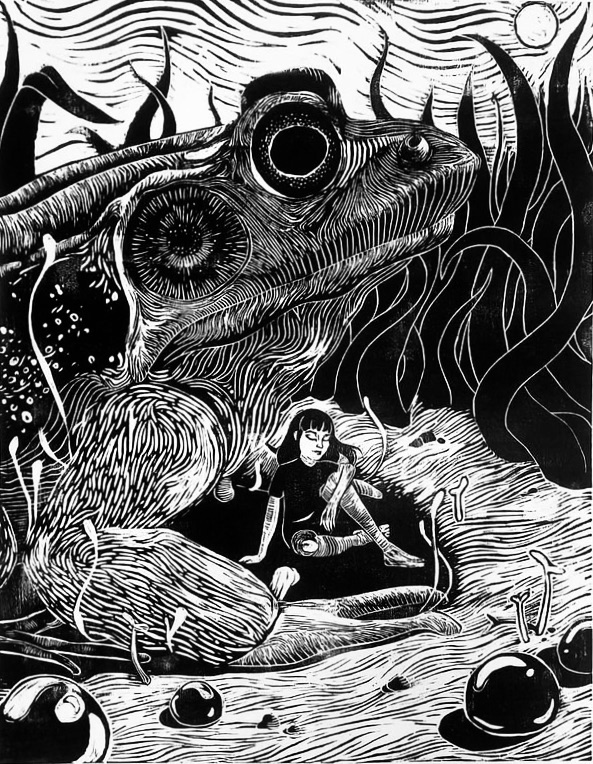 Sarah Lafontaine, Frog Champion
Sarah Lafontaine, from Greene, Maine, is a senior BFA student with a printmaking concentration and a Graphic Design minor. She describes herself as an "ink artist" who makes drawings and prints. She is drawn to naturally occurring patterns and strives for a fine level of detail that captures the otherworldly quality of organic forms.
Caleb Harper, untitled 
Caleb Harper, from Madison, Maine, is a senior BFA student with a cross-disciplinary concentration. He works in multiple mediums, including sculpture, painting, and drawing. "This last year has been great to experiment with new techniques and different subject matter to help build a stronger visual vocabulary," Harper says.
In Memoriam: Professor Emeritus of Art Michael Lewis Passes Away

The University of Maine community and the art world are mourning the loss of longtime UMaine professor emeritus of art Michael H. Lewis, who passed away June 27 after a long illness. He was 79.
Lewis was 25 when he joined UMaine's then three-member Art Department in 1966, led by founder Vincent Hartgen. Lewis, a Brooklyn, New York native, said in a 2016 interview prior to his retirement that he and his wife, May, came to Maine never intending to stay — they just never found a reason to leave.
Lewis was instrumental in helping set the foundation for UMaine's professional Department of Art as a vigorous place to learn from artists and scholars. During his time at UMaine, Lewis not only taught painting and drawing courses, but also mentored students and faculty alike, and served as department chair and associate dean. 
As an artist, he created an innovative, ever-evolving body of paintings and drawings exhibited in Maine and beyond. His paintings, including those in his signature turpentine wash, are in private collections and museums across the country and in far corners of the world.
Personally and professionally, Lewis pursued greater understanding of mysticism and spirituality. He used landscapes as a medium to explore and enlighten, reflecting the effect of Maine on his subconscious.
Painting and teaching were Lewis' parallel passions. He once described his role in the classroom for more than a half-century as that of a "provocateur," empowering students to stretch their imaginations. His message to generations of students he taught and mentored: Do what you love. Believe that your work will inspire others. Support creativity and keep making art. 
He touched the hearts and minds of countless people through his art and teaching. He will be deeply missed by his colleagues, students and family.
Current Exhibition

Check out some photos from previous exhibitions: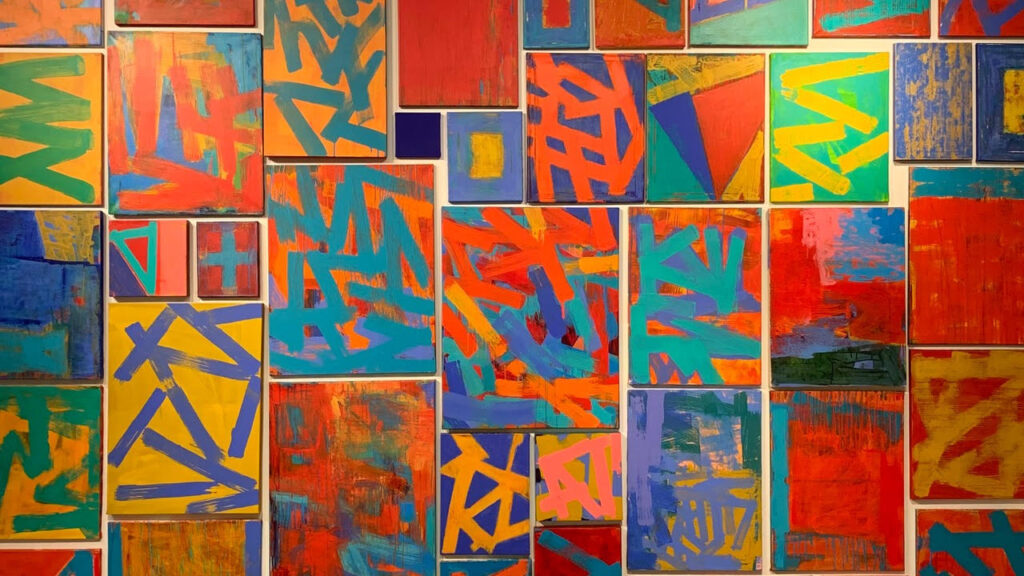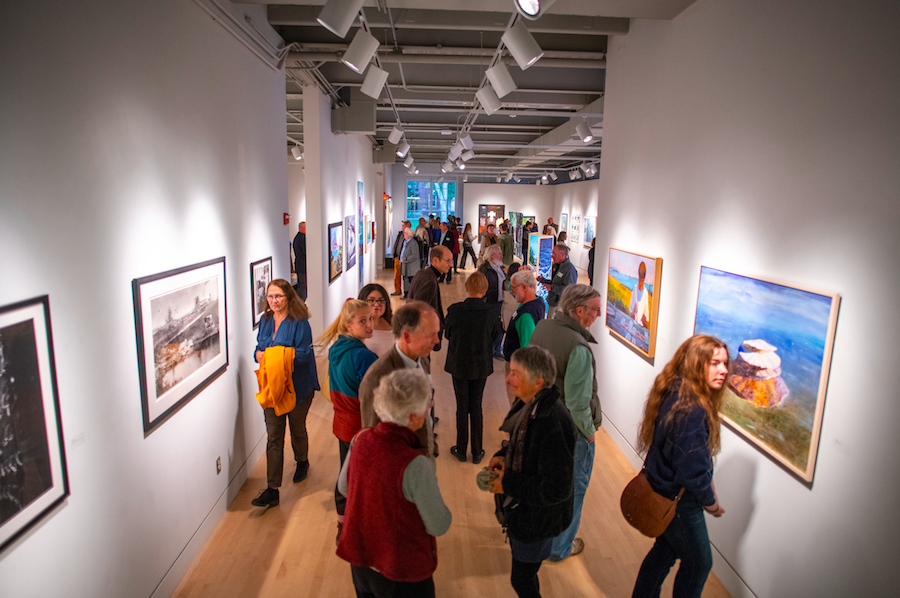 Click here to view previous exhibitions
Featured Museum: MoMA (Museum of Modern Art) in NY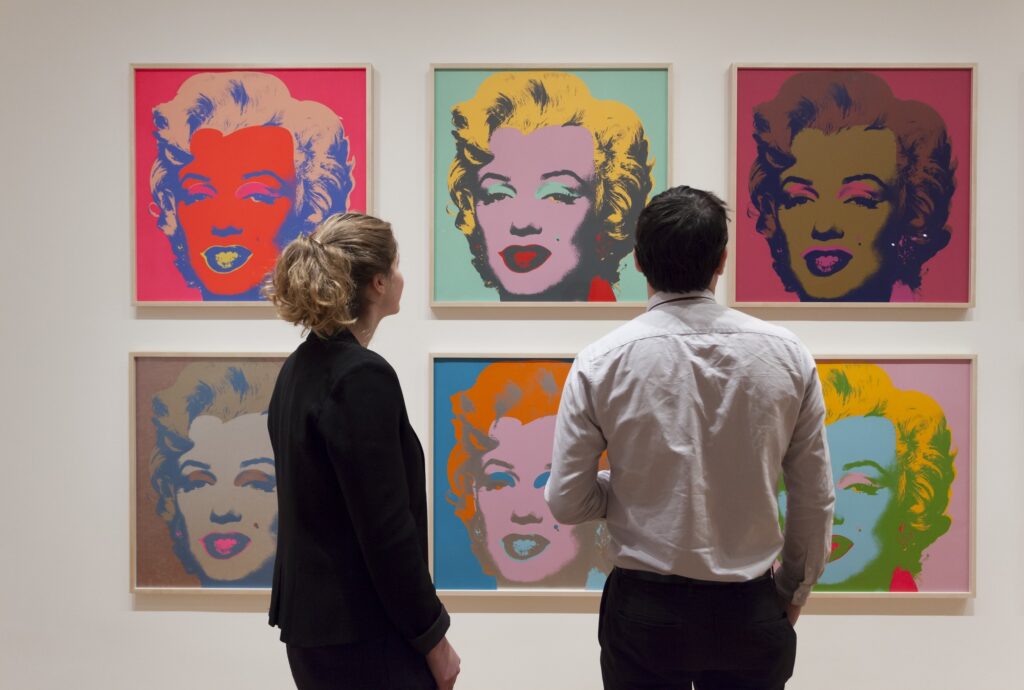 Andy Warhol, Marilyn Monroe, 1967
This museum houses works by Jackson Pollock, Pablo Picasso, Fridha Kahlo, Vincent Van Gogh, Andy Warhol, and many more! Check out their virtual view series of explorations with curators: https://www.moma.org/calendar/groups/58
Featured Artist: Henri Matisse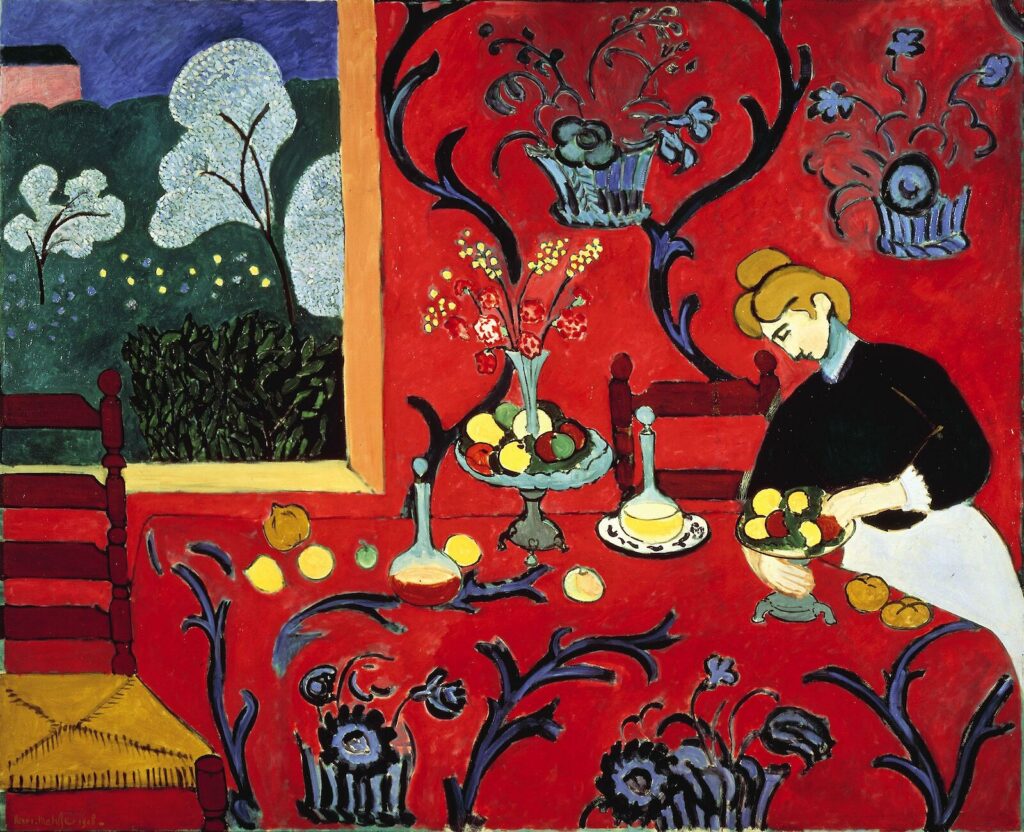 Henri Matisse, The Dessert: Harmony in Red, 1908
One of the undisputed masters of 20th century art, Matisse was a French artist, known for his use of color and his fluid and original draughtsmanship. He was a draughtsman, printmaker, and sculptor, but is known primarily as a painter. Matisse is commonly regarded, along with Picasso and Marcel Duchamp, as one of the three artists who helped to define the revolutionary developments in the plastic arts in the opening decades of the 20th century, responsible for significant developments in painting and sculpture. Although he was initially labeled a Fauve (wild beast), by the 1920s he was increasingly hailed as an upholder of the classical tradition in French painting. His mastery of the expressive language of color and drawing, displayed in a body of work spanning over a half-century, won him recognition as a leading figure in modern art. https://www.henrimatisse.org
Videos