Welcome to Lord Hall Gallery
Welcome to UMaine's Lord Hall Gallery. Along with the Department of Art, the gallery is located on the mall of the University of Maine in the historic Lord Hall. The gallery hosts six exhibitions each year featuring work by students, faculty, and guest artists.
The gallery is open weekdays, 9:00am-4:00pm.
For inquiries and proposal submissions please contact Diana Baumbach, Director of Galleries at diana.baumbach@maine.edu.
Previous Exhibitions
From the Studio: 2022 Annual Student Exhibition ran from April 8-29. The juried show featured paintings, drawings, prints, photographs, two- and three-dimensional work, sculpture, and ceramic work. Jurors were interim gallery director Susan Smith and former director and emerita professor of art Laurie Hicks. All the works are from current students enrolled in Studio Art classes at UMaine. The exhibition featured 150 works from over 300 submissions.
Gallery Opening
---
Current Exhibition
Bright Fathoms: Michel Droge in Collaboration with Dr. Beth Orcutt, Marine Scientist
August 29 – October 28, 2022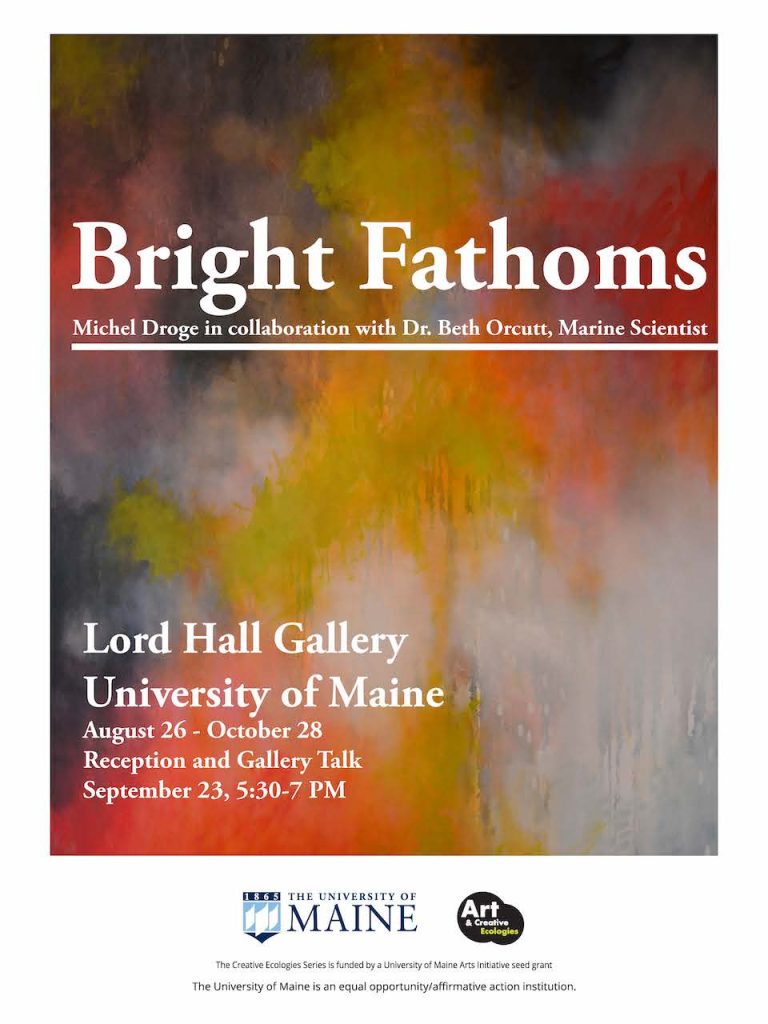 Michel Droge is a painter and printmaker whose work engages with the environment and ideas of multi-species, non-binary, and entangled life systems. Inspired by the landscape, mapping and environmental research, their large scale abstract paintings unravel existing grids and structures and make way for new ones that are emerging. In an effort to de-master the landscape they model a queer matrix in conversation with nineteenth century landscape schools and naturalists.
An element of Michel's practice is collaborative engagement with scientific researchers, conservation groups and communities including the Bigelow Laboratories, Eastport Health Care, and Maine Audubon, as well as ongoing collaboration with their partner and archaeologist Sarah Loftus.
Michel is the recipient of a Joan Mitchell Foundation award, a co-recipient of a Kindling Fund grant and three Maine Arts Commission grants. They have been awarded fellowships and residencies at Surfpoint, Ellis-Beauregard Foundation, Hewnoaks Residency, the Tides Institute, the Joseph Fiore Foundation, the Stephen Pace House and the Constance Saltonstall Foundation for the Arts.