Welcome to the University of Maine Writing Center!
First Visit?
Go to WCOnline to register for an account  with your maine.edu email. You can view our schedule and make appointments right online.
Whether it's creative writing, a presentation, literature review, or finding and citing sources, we can help.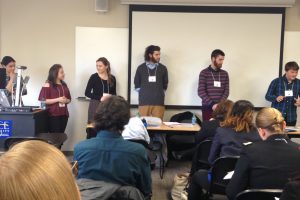 Come see us!
You can find us in 402 Neville Hall, evenings in Fogler library, and now online!
Find directions for online tutorials on our Online Writing Resources page.
Upcoming Events On Campus
---
---
Mission Statement
The Writing Center is committed to expanding our services and expertise, and to expanding the expertise of all writers. Our mission is to create longitudinal improvement in writing and communication through peer-to-peer collaboration. We provide undergraduates and graduates with professional development opportunities. We support faculty workload and awareness of current research trends in writing convention and assessment. 
General Info
Email Address: umwcenter@maine.edu (use this for any general questions or comments you may have)
Director: Paige Mitchell (581.3832)
Founder: Harvey Kail
Tutor Coordinators: Cara Morgan and Chris Hunter

ELL Specialists: Paige Mitchell, Zhen Zhang, and Sean Chung
---
Beyond a tutorial we provide: 
Tutoring in languages other than English (see About the Tutors for further details)
Online tutoring
Plagiarism, MLA, APA, and Grammar Workshops
PC Workstation with Internet access
Apple TV for presentations
A comfortable study environment with tutors ready to answer questions and give advice
A SafeZone trained environment