University of Maine Writing Center: Online Tutoring
Registrations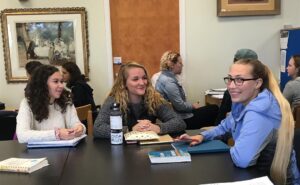 Science writing, creative writing, analytical writing. Presentations, literature reviews, finding and citing sources… we're on it.
Contact umwcenter@maine.edu for questions and accommodations.
Mission Statement
The UMaine Writing Center has supported face-to-face tutorials since 1978, and online tutorials since 2016! Our services are free and open to all members of the university community.
Our mission is to create a lasting and positive relationship between writers and their writing through peer-to-peer collaboration. We use a synchronous peer-tutoring model (i.e.: face-to-face consultations in real or virtual space).
Our UMaine student tutors are professionally trained to tutor across disciplines and genres in all of UMaine's Colleges. We support multiple genres in writing, reading, and public speaking. We support document design projects (websites, online portfolios, PowerPoint presentations, Linkedin accounts) see our About the Tutors page. We also support grants, proposals, resumes and research projects.
We are a Safe Zone certified learning space committed to empowering and energizing all writer's identities.
Writing Center Virtual Orientation - Fall 2020