MSW Program Overview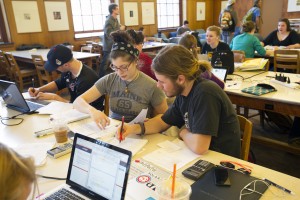 The University of Maine School of Social Work educates social workers from a generalist perspective of social work practice. Our MSW curriculum has been developed to both reflect and promote the advances in contemporary advanced social work practice. Our curriculum is designed to enable our graduates to undertake diverse and complex social problems and apply multi-level assessment, intervention, and evaluation strategies to the problems of persons in their environment. For example, students who work with older adults should be able to assess the differential psychosocial needs of physically healthy and frail elders, utilize diverse strategies to engage and support family caregivers, and communicate and advocate effectively with legislators, other healthcare practitioners, and community agencies for improved services for elders. In another example, graduates employed in community mental health agencies as clinical social workers need to have advanced skills in evidence-based mental health practice models and approaches for effective work with individuals, families, and small groups as well as understand how changes in healthcare policy impact clients' access to mental health services, and be able to advocate for repeal of regressive policies with legislators and other key stakeholders. Our advanced generalist curriculum is designed to prepare University of Maine MSW students to meet the complex needs of our rural state with the knowledge, values, and skills necessary to address interdependent "personal troubles and public issues" concurrently. The curriculum consists of foundation and specialized year courses, field practicum, and electives.
Additional Program Information can be found in the links below:
---
---
Generalist Year Curriculum

The Generalist Year courses present an orientation to social work practice and provides the necessary base upon which to build the more advanced body of knowledge, practice and skills offered in the Specialized Year field of practice. There is emphasis on social work as a diversified profession with many functions and a variety of approaches. The Generalist Year courses present content in human behavior and the social environment, social welfare policies and services, research, social work practice, and field practicum. The student thus completes the Generalist Year prepared to intervene at the individual, family, group, organization, and community levels.
Specialized Curriculum

The Specialized curriculum prepares graduates for specialized practice in one concentration area: advanced generalist social work practice. The Specialized curriculum includes advanced generalist social work practice courses, research and policy courses, specialized electives and one year of a specialized field practicum
Field Practicum

The field practicum is an integral part of the school's total education program and provides each student with the opportunity to apply concepts, principles and theories learned in the classroom to practice. The major focus in the field practicum is on the student's acquisition of practice knowledge, skills, values, and attitudes in working within a service setting. Students in the full program engage in two field practica: the Generalist year internship is 400 clock hours (approximately 16 hours per week) over the course of the academic year, plus a two hour weekly seminar. The Specialized year internship is 500 clock hours (approximately 20 hours per week) over the course of the academic year, plus a bi-weekly seminar. Summer block field placement is an alternative for selected specialized year students. Advanced standing students complete only the specialized year field practicum.
Electives

In addition to the required courses in the Generalist and Specialized year curriculum, the school has developed a number of elective courses to provide knowledge in a range of areas relevant to social work practice. Electives have included courses such as Adult and Child Psychopathology, Family Treatment in Social Work Practice, Social Work Practice with Groups; Social Work Practice with Children and Adolescents, Expressive Therapies in Social Work Practice, Grant Writing, Alcoholism and Substance Abuse, Group Work in Health and Mental Health Settings, and Gerontological Practice in Rural Communities. Electives are also available in other University departments.
Social Work Licensing

The University of Maine MSW Program prepares students to qualify for the State of Maine Board of Social Work Licensure LMSW level (Licensed Master Social Worker) upon graduation.  MSW students who complete specific clinical social work courses are eligible to apply for the LMSW-CC (Licensed Master Social Work – Conditional Clinical) upon graduation.  University of Maine MSW graduates who complete specific clinical social work courses and appropriate supervised work experience in a clinical setting for at least two years following graduation are eligible to apply for licensure at the LCSW (Licensed Clinical Social Worker) level.  A copy of the State of Maine licensing legislation and the regulations may be obtained from the Maine Board of Social Work Licensure.