UMaine and UMaine Machias Resources for Youth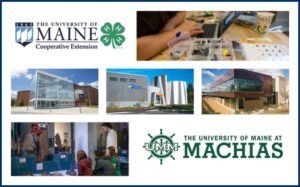 The University of Maine and University of Maine at Machias host youth on our campuses through classroom visits and special events.  While we are unable to do so at this time, we suggest the following learning resources:

---
Table of Contents
---
University of Maine Cooperative Extension conducts the state's most successful out-of-school youth educational program through 4-H.
For more than a century, 4-H has been a leader in positive youth development. 4-H provides hands-on educational and leadership programs for nearly 30,000 youth in Maine. 4-H emphasizes the importance of building the life skills needed to be successful adults.
With novel coronavirus closing schools across Maine for several weeks, the University of Maine Cooperative Extension 4-H has assembled this collection of helpful educational resources for parents and caregivers. From science to financial literacy, whether for toddlers or teenagers, we encourage you to take advantage of these activity books, guides, and other resources to help children remain engaged in educational experiences throughout their school closure.
This website has a variety of astronomy resources for all ages, links for teachers, and general information about our center.
The Hudson Museum's website features online resources, especially for teachers:
Virtual Tours
Consider Engineering: University of Maine Pulp & Paper Foundation
Consider Engineering is a challenging and rewarding four-day summer program for high school juniors to get a taste of college life and what it takes to be an engineer.
Virtual Aquaculture Education Workshops
Black Bear Tutors is collaborating with local schools and aftercare programs to offer virtual tutors for K-12 students during the ongoing COVID-19 pandemic.