Hudson Museum Hours
Monday to Friday from 9:00 a.m. to 4:00 p.m. 
Saturdays 11:00 a.m. to 4:00 p.m.
(September to May)
Closed Sundays and Holidays.
The Hudson Museum will be closed on Monday, January 20th and will reopen at 9:00 a.m. on Tuesday, January 21st.
Located in the Collins Center for the Arts at the University of Maine in Orono, at 2 Flagstaff Road, the Hudson Museum is free and open to the public.
Directions to the Hudson Museum in the Collins Center building can be found here.  You can also visit the campus map and look under either the Arts tab or the Libraries and Museums tab in the directory.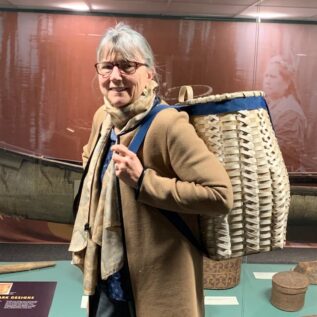 Margo Lukens is the winner of the 2019 Hudson Museum Friends raffle basket, made this year by Peter Neptune of the Passamaquoddy!