NSSE: National Survey of Student Engagement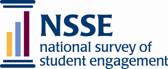 The University of Maine will be participating in the National Survey of Student Engagement this spring.  This survey, administered to first-year and senior students, seeks information on their participation in programs and activities, time and effort put into their studies, and their perceptions of various aspects of their experience at UMaine. Information from this important survey will be used to inform planning and measure key indicators relevant to the Strategic Vision and Values framework.
UMaine last administered the survey in spring 2017.  The response rates for first-years and seniors were 24% and 25%, respectively.   The results compared UMaine with other New England Public Universities. Some highlights from that comparison:
UMaine seniors rate significantly higher than comparison schools on the collaborative learning engagement indicators.  In contrast, first-year students rated lower on the supportive environment engagement indicators.

UMaine seniors participate in far more

High-Impact Practices (e.g., learning communities, service learning, research, internship, study abroad)

than seniors at the other schools (72% vs. 64%).

First-years and seniors reported more class preparation hours and pages of assigned writing than their peers.

The survey will open in February, with the first email prompt sent on February 17th and reminder prompts sent throughout February and March. Students who respond will be entered into a raffle for an array of prizes:  hockey tickets, a hockey jersey, CCA tickets, and UMaine coffee mugs. For more information on the NSSE, please see our website https://umaine.edu/oira/nsse/.  We will be promoting with flyers, tabling, and social media posts.  We are aiming to boost the response rate this year so please spread the word!