Seniors mount New Media exhibitions in virtual space
From a web-based gallery of videos, to a virtual opening surrounded by 3d mountains, to an afterparty conversation around a digital campfire, this year's New Media seniors found unusual ways to celebrate their innovative capstones with their families and classmates.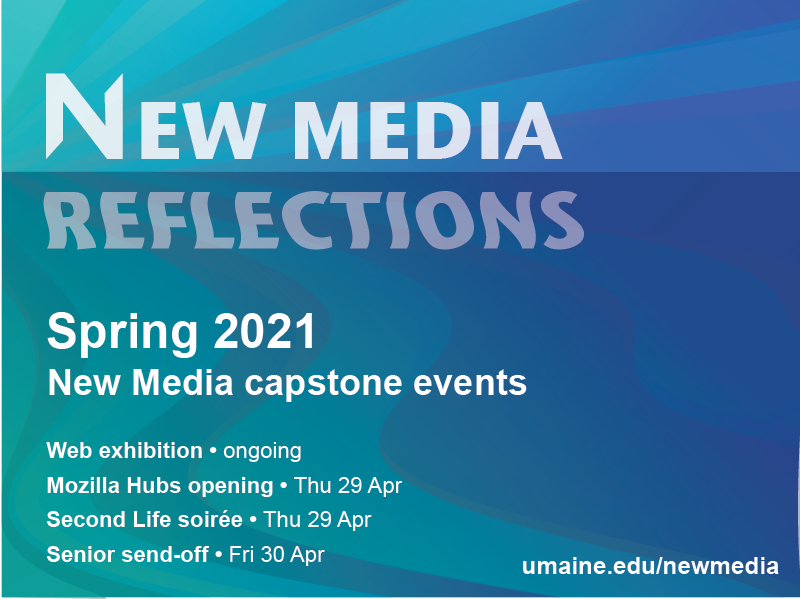 This crop of seniors won eight university research awards and wield cutting-edge technologies from arduino to augmented reality. Undeterred by the lack of a physical venue during the pandemic, the 2021 cohort mounted a number of virtual exhibitions with the support of Intermedia student Thomas Griffith.
To remember the dedication and achievement of this cohort, which worked under extremely challenging conditions and yet accomplished so much this past year, the faculty organized a senior send-off over Zoom. But the New Media program also offered more creative ways to learn about their award-winning projects. A web exhibition lets visitors peruse a short video on each capstone, grouped in themes like Nurturing the Home, Pandemic Education, Managing Stress, Shared Connections, and DIY Innovation.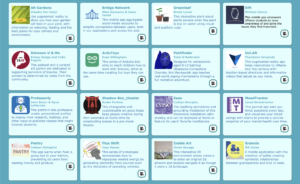 Visitors could also attend a virtual opening for this exhibition in Mozilla Hubs, a VR-like environment that requires nothing more than a browser. Or they could plunge deeper into cyberspace by attending a followup celebration in the immersive platform Second Life.
Griffith, an Intermedia graduate student who is also the teaching assistant for the spring capstone course, custom-built the 3d structures and environments for the Mozilla and Second Life exhibitions. Griffith explained the advantages of each platform during the live events, culminating in a fireside conversation on a virtual island.
Many of these projects propose solutions to our pandemic predicament, from an app that track a user's mental health, to a pop-up immersive screen that projects calming animations, to apps that guide users in touring UMaine's campus or planting a garden.
All three forms of virtual exhibition can be accessed from the 2021 New Media capstone website.