The Landowner Networking Project: Supporting community-based vernal pool conservation on private land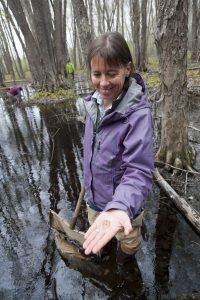 Institution: University of Maine
Sponsor: Senator George J. Mitchell Center for Sustainability Solutions
Project summary:  Private lands provide many public goods (e.g., habitat for wildlife, water conservation, educational, aesthetic, or recreational value), but perceived value to private landowners may be less clear. Achieving conservation goals on private lands thus requires a broader choice of conservation tools and approaches that address the needs and priorities of all landowners. The Maine Vernal Pool Special Area Management Plan (SAMP) was devised to meet this need.
Collaboratively developed by stakeholders at the federal, state, and local level, the SAMP offers a promising mechanism for balancing natural resources conservation with opportunities for economic development. The SAMP differs from other wetland mitigation tools in that it focuses on a completely locally-driven, voluntary process that directly benefits town economies and local landowners.
Once adopted by a municipality, many stakeholders are involved in implementing the SAMP. Each stakeholder assumes varying roles and responsibilities (read this document to see how the plan works), but rural landowners play the most critical role. It is the participation of landowners with qualifying vernal pool habitat who enroll in the program that makes the SAMP a success. Effective SAMP implementation thus requires a better understanding of the localcontext, and particularly of the perceptions and needs of rural landowners.
The research team is partnering with local stakeholders to reach out to rural landowners in order to build and sustain a stronger SAMP network. Their purpose is to design and implement strategies to engage rural landowners, document landowner perceptions and information needs, and identify willing landowners with vernal pools that meet requirements for protection under the SAMP.
The team recognizes that local entities such as planning departments and land trusts have a long history of engagement with private landowners. They will tap into this considerable experience and expertise by partnering with the Town of Orono, the Orono Land Trust and the Orono Economic Development Council to design and implement a landowner communication plan in Orono—one of two pilot SAMP towns.
The short-term goal of successful SAMP implementation in Orono will support the project's long-term vision of providing a model landowner communication plan(s) to share with other towns wanting to adopt a SAMP. The work is envisioned as an evolving process in which engagement strategies will be adapted based on feedback from local partners and participating landowners. The primary goal is making the SAMP work for the towns, for the land trusts and other local entities, and for the private landowners.
Project Update (July 2020)
The project team continues to maintain strong stakeholder relations, forge new relationships, and form a wider and more diverse Maine Vernal Pool Special Area Management Plan (SAMP) implementation network. Over the past year they have engaged with town officials, rural and urban citizens, local and regional land trusts, local developers, and stewardship foresters. The team continues to engage with the two model SAMP towns (Orono and Topsham) while also expanding opportunities to share the benefits and mechanics of the SAMP with new towns and entities interested in the tool, including Kittery and towns in the Mt. Agamenticus-to-the-Sea Collaborative (MTA2C).
The team's work with rural landowners in Orono identified key factors influencing landowner views of the SAMP and of conservation easements more broadly. Preliminary concerns centered on the economics, complexity, and permanence of conservation easements, and SAMP logistics. The team has identified specific adaptations that could promote broader acceptance of the SAMP.
The team shifted potential meeting sites to those most used by rural landowners, namely, areas away from the town's governmental center. Libraries, community halls, churches, and rural neighborhoods were top choices. Given this feedback, researchers had planned an array of local outreach events including a catered lunch and a Big Night amphibian event. Unfortunately, all community outreach was canceled due to the pandemic. Prior to the pandemic, the team had two meetings with town and land trust officials in Kittery and were slated to present to the town council.
The team achieved momentum in town-level engagement opportunities. In the process, they learned that towns and land trusts vary greatly in their capacity to participate in the SAMP process.
The team learned that many towns want to learn by example, and in particular to hear the experiences other towns have had in implementing the SAMP. This supports the importance of a "model town" paradigm to inform future SAMP implementation and to build capacity for local acceptance.
The team's findings have led to development of identified specific tailored outreach materials that may be helpful in improving communications with stakeholder groups that play an important role in successful SAMP implementation. In response, they are creating fact sheets and pamphlets.
The team found that many rural landowners have enrolled their land in Tree Growth and trust the foresters and service providers to assist them with management plans and land stewardship responsibilities. This suggests that engaging this stakeholder group is a priority. The team is working with the Maine Forest Service, the U.S. Natural Resource Conservation Service, and the Maine Dept. of Inland Fisheries and Wildlife, and Maine Audubon to link the SAMP to existing trainings and initiatives.
Lead Investigator
Jessica S. Jansujwicz, University of Maine, Research Assistant Professor, Dept. of Wildlife, Fisheries, and Conservation Biology, UMaine
Team Members
Aram JK Calhoun, University of Maine, Professor of Wetland Ecology, Dept. of Wildlife, Fisheries, and Conservation Biology, UMaine
Carly Sponarski, University of Maine, Assistant Professor of Human Dimensions of Wildlife, Dept. of Wildlife, Fisheries, and Conservation Biology, UMaine
Stakeholders:
Ruth M. Ladd, Mitigation Program Manager, U.S. Army Corps of Engineers
Rod Melanson, Director of Planning Development and Codes, Town of Topsham
Kyle Drexler, Orono Town Planner
Evan Richert, Orono Consulting Planner