The Landowner Networking Project: Supporting community-based vernal pool conservation on private land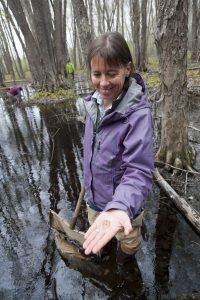 Institution: University of Maine
Sponsor: Senator George J. Mitchell Center for Sustainability Solutions
Project summary:  Private lands provide many public goods (e.g., habitat for wildlife, water conservation, educational, aesthetic, or recreational value), but perceived value to private landowners may be less clear. Achieving conservation goals on private lands thus requires a broader choice of conservation tools and approaches that address the needs and priorities of all landowners. The Maine Vernal Pool Special Area Management Plan (SAMP) was devised to meet this need.
Collaboratively developed by stakeholders at the federal, state, and local level, the SAMP offers a promising mechanism for balancing natural resources conservation with opportunities for economic development. The SAMP differs from other wetland mitigation tools in that it focuses on a completely locally-driven, voluntary process that directly benefits town economies and local landowners.
Once adopted by a municipality, many stakeholders are involved in implementing the SAMP. Each stakeholder assumes varying roles and responsibilities (read this document to see how the plan works), but rural landowners play the most critical role. It is the participation of landowners with qualifying vernal pool habitat who enroll in the program that makes the SAMP a success. Effective SAMP implementation thus requires a better understanding of the localcontext, and particularly of the perceptions and needs of rural landowners.
The research team is partnering with local stakeholders to reach out to rural landowners in order to build and sustain a stronger SAMP network. Their purpose is to design and implement strategies to engage rural landowners, document landowner perceptions and information needs, and identify willing landowners with vernal pools that meet requirements for protection under the SAMP.
The team recognizes that local entities such as planning departments and land trusts have a long history of engagement with private landowners. They will tap into this considerable experience and expertise by partnering with the Town of Orono, the Orono Land Trust and the Orono Economic Development Council to design and implement a landowner communication plan in Orono—one of two pilot SAMP towns.
The short-term goal of successful SAMP implementation in Orono will support the project's long-term vision of providing a model landowner communication plan(s) to share with other towns wanting to adopt a SAMP. The work is envisioned as an evolving process in which engagement strategies will be adapted based on feedback from local partners and participating landowners. The primary goal is making the SAMP work for the towns, for the land trusts and other local entities, and for the private landowners.
Lead Investigator
Jessica S. Jansujwicz, University of Maine, Research Assistant Professor, Dept. of Wildlife, Fisheries, and Conservation Biology, UMaine
Team Members
Aram JK Calhoun, University of Maine, Professor of Wetland Ecology, Dept. of Wildlife, Fisheries, and Conservation Biology, UMaine
Carly Sponarski, University of Maine, Assistant Professor of Human Dimensions of Wildlife, Dept. of Wildlife, Fisheries, and Conservation Biology, UMaine
Stakeholders:
Ruth M. Ladd, Mitigation Program Manager, U.S. Army Corps of Engineers
Rod Melanson, Director of Planning Development and Codes, Town of Topsham
Kyle Drexler, Orono Town Planner
Evan Richert, Orono Consulting Planner