Message from the Director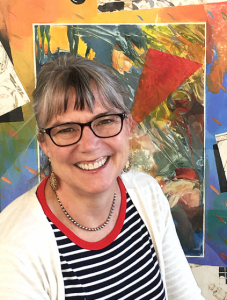 On July 1, 2018, I began my term as the fifth director of the McGillicuddy Humanities Center. Feeling fortunate indeed that I am in the right place at the right time, I take on this responsibility knowing how well my predecessors have positioned the Center. We have an endowment from Clem and Linda McGillicuddy, a dedicated and active Executive Board, a widely-representative faculty advisory board who do not seem to want to "term out," a freshly painted and furnished space, and excellent staff support.
I am committed to supporting faculty and student projects that express and demonstrate how work in the humanities can make life better. I'm excited to see what events and activities are inspired by our annual Symposium, War Without End: a Symposium on the Legacy of World War I. The faculty advisory board is abuzz with ideas in arts, history, literature, and film, and we are fortunate to have the participation of a wide range of faculty, students, and community scholars.
The Maine statehood bicentennial celebrations begin in the summer of 2019. From my perspective, it is important to consider the relationship of the State of Maine to the Wabanaki on whose land colonists built their living. 2020 will be an auspicious time to consider colonization and the enduring presence of indigenous people; while our parent State of Massachusetts marks the 400th anniversary of the arrival of the Mayflower pilgrims at Plymouth, our annual Humanities Symposium will reconsider colonization worldwide.
I feel fortunate to be directing the MHC during these important years.