Clement and Linda McGillicuddy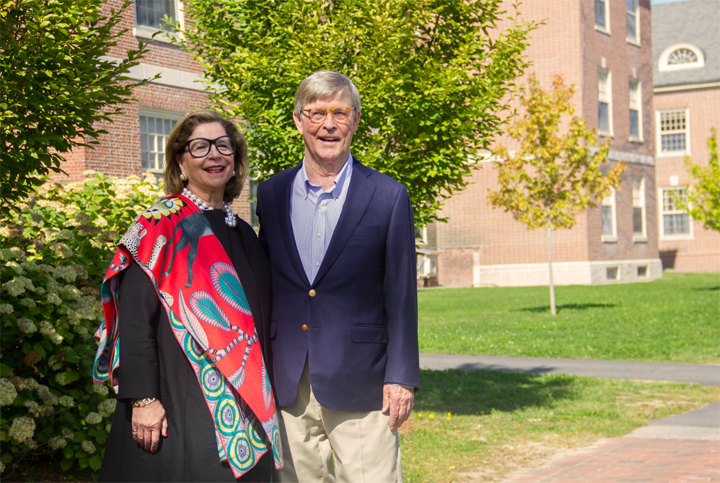 As of summer 2017, the University of Maine Humanities Center has a new name reflecting the generous support of Clement McGillicuddy '64 and his wife Linda of Hobe Sound, Florida and Northeast Harbor, Maine.
The McGillicuddys support the Humanities Center through a fund they established at the University of Maine Foundation. The two met in New York City while working in the computer industry, and are committed to "giving back" to a state that means a great deal to their family.
Clement McGillicuddy appreciates the Humanities Center's diverse activities in Orono and across the state. He is especially appreciative that the Center's outreach extends well beyond classroom learning and opens new horizons for high school students and other Maine citizens. He cites poetry as a long-time, personal interest that is celebrated by the Center, and lauds the Center's former director, Jennifer Moxley, as "a splendid poet and inspirational speaker."
The UMaine alumnus adds that the Center's mission resonates with his own experience as an undergraduate who grew up in Houlton, Maine. "The University of Maine exposed me to many new situations, including an introductory course that required us to pick up and read The New York Times every day. To this day, The New York Times feeds my deep interest in the human condition and how the world works.   Many of my courses at UMaine, unrelated to my major, contributed to my curiosity and created a foundation for lifelong learning."
"The McGillicuddys are champions of the arts and humanities," says Jeffrey Hecker, UMaine vice president for academic affairs and provost. "Their support for the Humanities Center will impact students and faculty, but also countless people of all ages who benefit from the partnerships the center has built with humanities organizations throughout the state. Their commitment to the arts and humanities, especially here in Maine, is inspiring."
Photo above: Clement McGillicuddy '64