General information about math/stats courses at UMaine
We offer classes for students with varying interests and plans. Some students intend to major in mathematics, while others intend to study science or engineering and will take a great deal of mathematics; still others only expect to take the minimum necessary.
This page contains general information that applies to everyone, and there is more specific information available in the pages that follow.
---
Placement
All students entering the university need to be placed into an appropriate level mathematics class. If you only wish to take enough mathematics to fulfil the Quantitative Literacy general education requirement, then you can do so by taking any two of MAT 101, MAT 103 and STS 232.   You may wish to look at our page on How to choose your first mathematics class.
If your intended major requires more mathematics, or if you simply wish to take more mathematics than this, then we need to evaluate your preparation to help place you in the correct class. This is most often done by your taking the ALEKS placement exam, although for many students who transfer in AP credits or college credits from elsewhere this may not be necessary. In particular, if you wish to take MAT 111, 115, 116, 122, or 126 and do not meet the prerequisites through transfer or some other means, then you will need to take the ALEKS placement exam.  ALEKS scoring works as follows: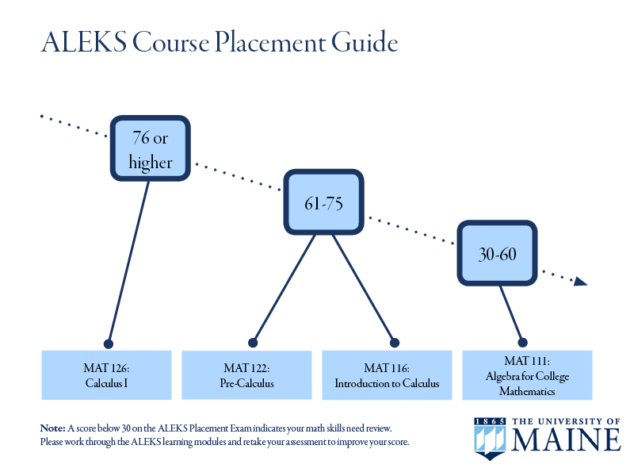 For detailed information about the ALEKS exam, see this page.
---
Getting help
If you are about to take your first class with us, or you would like to review material for any other reason, you may wish to look at our course-prep page, which has diagnostic infromation relevant to our main 100-level classes. This is mostly intended to help you prepare before taking the class, although you may find it helpful at other times too.
Once you are registered in one of our classes, it is a good idea to take advantage of the help we have available for you. This includes your instructor's office hours, and, if your class has a TA, your teaching assistant's office hours. We also have the Math Lab, based in Neville 120, which is a walk-in help room open five days a week for help with any aspects of lower-level math and stats classes. You can find more information about the Math Lab at the link above.
---
Majors and Minors in Mathematics and Statistics
It is a great idea to major or minor in mathematics.  People with quantitative skills find better jobs and live longer.  Our department currently offers a Bachelor of Arts (BA) in Mathematics, a Bachelor of Science (BS) in Mathematics, a Minor in Mathematics, and a Minor in Statistics.  This page contains information about these degrees, and much more.