Undergraduate Programs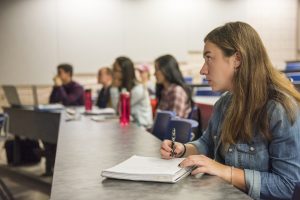 Marine sciences comprise a very rich suite of disciplines that treat the marine environment, marine organisms, and their interactions as well as policy choices in ecosystem-based stewardship embedded in marine and coastal spatial planning. Courses in biology, chemistry, geology, mathematics, and physics form the foundation of an interdisciplinary curriculum that prepares students to analyze critically issues such as environmental change, human impacts on the ocean, and biodiversity as well as to understand fundamental marine processes. The School offers B.S. degrees in Marine Science. Students gain knowledge from a mix of formal classes, laboratories and field trips, the Semester-by-the-Sea program, internships, and a variety of independent research opportunities, all under the guidance of a large, diverse, internationally recognized faculty. We especially showcase the "Integrated Marine Science" series of courses, developed in-house at SMS, that build on each other while they make the basic sciences of biology, chemistry and physics relevant to marine systems. The undergraduate program culminates in a "capstone" project designed individually as a unique research experience for each student in concert with a designated faculty mentor.
The School of Marine Sciences is an active research organization that yearly brings in about $10 million in research funding. The faculty members who will be teaching you don't get their science only from books and journal articles. They write those books and articles. You can read a textbook on your own. What you will get here are insights and experience in how new knowledge is created. Working experience with world-class researchers is exhilarating.
Not sure why you would want an undergraduate degree in marine sciences? Take a look at our summary of careers. We realize that not everyone desires the academic path beyond the undergraduate degree. A marine sciences degree opens many different doors.
Having trouble deciding among environmental sciences programs at the University of Maine? Don't agonize. Instead, choose the one that you think you might like best but be assured that switching between them during the first or even second year is easy by design. UMaine's environmental sciences programs share first-year and second-year course requirements extensively. How could you know your passion before trying it? See related programs for a list, brief descriptions and links.
UMaine maintains a current, searchable database of all course descriptions. Because it is form driven it cannot be linked directly from the course numbers and titles that you access below, but you may access those descriptions directly from the UMaine online catalog.
Marine Science
The B.S. in Marine Science offers excellent preparation for a broad range of careers and a solid foundation for entry into graduate programs. Students receive an interdisciplinary education in marine sciences and have the option either to specialize in Aquaculture, Marine Biology or Physical Ocean Sciences (oceanography) or to obtain a broad overview. B.S. students in their junior or senior year are encouraged to participate in the Semester-by-the-Sea program at the Darling Marine Center (below). Students also conduct independent research projects under the supervision of University faculty as a "capstone" experience. Students from CT and VT who major in marine sciences at the University of Maine may qualify for reduced tuition through the New England Regional Student Program. The Capstone Experience is required of all UMaine undergraduates. The Capstone in Marine Sciences is individualized research in the laboratory, field, computer or library that culminates with intensive experience in scientific writing.
Marine Sciences B.S. – View required courses, regardless of specialization, here or printer-friendly pdf.
Areas of Concentration:
Marine Biology – View the curriculum here. The Marine Biology concentration provides training equivalent to a B.S. in Biology, but with a major focus on marine organisms — in the context of an overall appreciation and understanding of the chemical, geological, and physical environment of the ocean.
Physical Marine Science (Oceanography) – View the curriculum here or download the printer-friendly pdf. The Oceanography concentration provides training in the physical sciences as they relate to processes in the ocean, and it allows students to specialize in a subdiscipline such as marine geology, chemical oceanography or physical oceanography.
Aquaculture – View the curriculum here or download the printer-friendly pdf. The Aquaculture concentration provides training equivalent to a B.S. in Biology, but with a focus on finfish (food fishes and model research species such as zebrafish as well as ornamentals) and shellfish aquaculture, system design and nutrition. Students majoring in aquaculture learn to apply biological, physical and business management principles to solve problems encountered with the production, processing, marketing, and management of aquatic plants and animals. They literally get wet in the on-campus Aquaculture Research Center (ARC) that incubates new commercial programs, currently including a very innovative program that breeds tropical reef fishes, thereby beginning to stem their exploitation. Until global warming goes quite a bit further, tropical fishes won't get away in Maine. Students from CT, MA, and VT who specialize in Aquaculture at UMaine may be eligible for reduced tuition through the New England Regional Student Program.
Fisheries Minor
The School of Marine Sciences together with the Department of Wildlife, Fisheries, and Conservation Biology have put together a fisheries minor that can be integrated with any of these majors. The practical distinction is that students most interested in freshwater fisheries typically come from the Department of Wildlife, Fisheries, and Conservation Biology, whereas students most interested in marine fisheries come from the School of Marine Sciences.