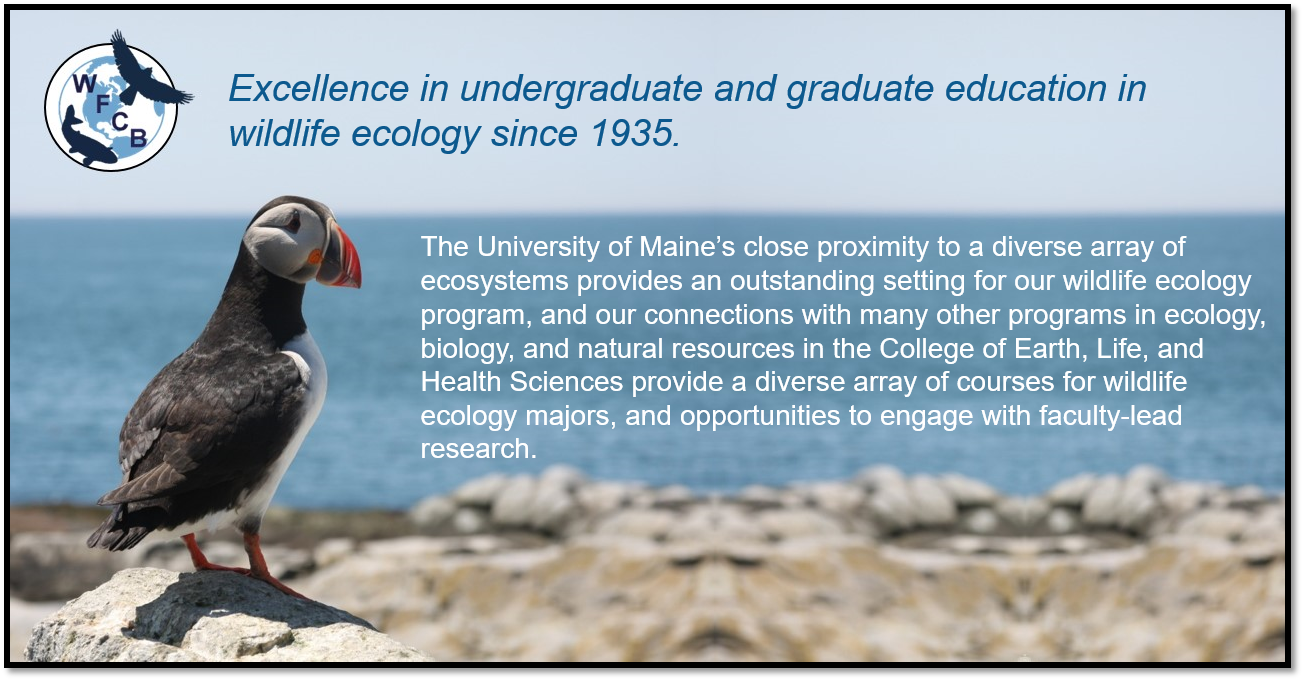 ---
Wildlife In the News
See what faculty, students, staff, and alums are up to
November 22, 2023 – UMaine News
The Windham Eagle interviewed Amber Roth, University of Maine associate professor of forest wildlife management, about humans cohabitating with various animals, including bears and opossums. "There is not much to worry about with an opossum," she said.
October 23, 2023 – Ellsworth American
SOUTHWEST HARBOR — Editors and a photographer teamed up to create "Our Maine: Exploring Its Rich Natural Heritage," a book of essays by 33 contributors that paints a vivid portrait of Maine's wild places and wild creatures, as well as of human impacts and the way the state's heritage has changed.
August 25, 2023 – Sageland Collaborative
We're excited to announce our new Interim Executive Director: Janice Gardner! Gardner has been a Conservation Ecologist at Sageland Collaborative for over five years, leading with both a deep passion for wildlife and a marked ability to achieve large-scale conservation impacts.
June 17, 2023
AUGUSTA — Department of Agriculture, Conservation and Forestry Commissioner Amanda Beal has announced that Steve Walker will be joining the department as director of Land for Maine's Future.
May 30,2023 – The Atlantic, by Alexandra Horowitz
Two new books scrutinize the natural world, and not for what it might offer us.
Silent observers of our lives, trees are on most peoples' radar only at moments of transition or death: We mark springtime's budding and autumn's flamboyance, note somberly the tree felled by a storm or by the tiny, ravenous ash borer. Although emblematic of nature, they nevertheless are seen with the goggles of our human-centered vision, and thus barely seen at all.
May 2, 2023 – Maine Audubon, by Melissa Gallagher
Through recent outdoor learning and hands-on activities, students at the Fairmount School in Bangor are deepening their understanding of watersheds thanks to Maine Audubon's "River in my Backyard" after-school program.
Downeast Audubon talk April 12 (Berigan/Filiberti)
Apr 3, 2023 – Ellsworth American
ELLSWORTH — Downeast Audubon is hosting a talk titled "Migratory Marvels: Understanding Woodcock and Golden-winged Warbler Migration" on Wednesday, April 12, at 7 p.m. at the Moore Community Center in Ellsworth.
Liam Berigan and Emily Filiberti are researchers at the University of Maine studying bird migration using remote tracking technology. Berigan will give an introduction to the biology and life history of the American woodcock and discuss his ongoing research on their migration patterns.  Filiberti will speak about her two-year-long tracking and monitoring of the golden-winged warbler, a species facing acute population decline.
The audience will be walked through the process of tagging and tracking these elusive birds, how the Motus network is playing a pivotal role in understanding migratory pathways, and how this work will ultimately help to inform future management decisions for these species.
Check out other news articles about research being conducted by students and faculty – here!
Check out news about alums – here!