Why Study Wildlife Ecology in Maine?
One of the reasons that the University of Maine (UMaine) has a strong wildlife program is that the state of Maine is such a wonderful place to live for people who enjoy wildlife and the outdoors. UMaine attracts students and faculty from far and wide partly because of our academic strengths and partly because Maine is an outstanding place to be a wildlife ecologist.
Nowhere else in the eastern United States can you find so many millions of acres of forests where moose and bears outnumber people. These forests begin at the edge of campus, with nearly 15,000 acres of university-owned forests, featuring miles of trails for hiking, biking, and cross-country skiing, and extend north into Canada. Sunkhaze Meadows National Wildlife Refuge is located only 10 minutes from campus and is home to numerous wildlife species, including deer, moose, bears, beavers, and bobcats, and offers numerous recreational opportunities, from canoeing and birdwatching to hunting and fishing. The wilderness of Baxter State Park and Katahdin Woods and Waters National Monument–widely regarded to be the most dramatic mountain in eastern North America–-are just a couple hours from Orono.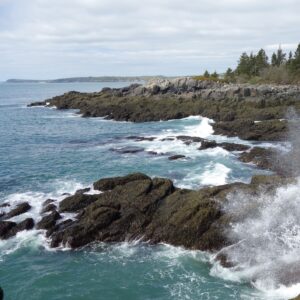 About twenty miles downriver from campus lies the incomparable Maine coast–over 4,000 miles long if you draw a line around all the bays and islands.  The highlight of the Maine coast, the world-famous Acadia National Park, is only 1.5 hours from campus, but most of our coastal studies are focused an hour farther east on Cobscook Bay, in a less populated region near the border with Canada. Here the cold waters of the Bay of Fundy attract large populations of whales, seals, and porpoises, plus puffins and other seabirds, making it one of the richest areas for marine wildlife on the east coast.
If your recreational interests lean toward freshwater sports like canoeing, fishing, and kayaking, you will find Maine's glaciated landscape punctuated by thousands of lakes and 30,000 miles of rivers and streams. The UMaine campus sits on an island in the state's largest river, the Penobscot, and opportunities to paddle a canoe with a bald eagle overhead begin right on campus. Nearby, UMaine wildlife students can borrow canoes at Hirundo Wildlife Refuge, a 2,500-acre UMaine trust property devoted to the protection of wildlife, and explore numerous miles of Pushaw Stream.
Finally, Maine offers incredible opportunities for winter recreation. Snowfall in Maine averages around 108 inches annually, so you'll always find plenty of downhill skiing in Maine's scenic mountains. If you enjoy cross-country skiing, snowshoeing, or tracking wildlife, you will find ample opportunities with thousands of miles of trails throughout the state. No matter what type of activities you wish to pursue, you'll likely find it in Maine.
Wildlife ecology is one of those careers in which it is sometimes hard to distinguish between when you are working and when you are recreating. This happy coincidence is most commonly experienced in a place like UMaine where a first-class academic program sits on the doorstep of a spectacular natural environment.