Fisheries Minor
Fisheries Opportunities at UMaine | Careers in Fisheries | Curriculum
Students not currently in the Wildlife Ecology program but who are interested in fish ecology or management and pursuing a career as a fisheries biologist can complete a minor in Fisheries.  Students can meet course certification requirements for a professional fisheries biologist with one additional course in the sciences.  The fisheries minor is offered by the College of Natural Sciences, Forestry, and Agriculture and is built on the expertise of three units in the college: Department of Wildlife, Fisheries, and Conservation Biology; School of Biology and Ecology; and School of Marine Sciences.
Fisheries Opportunities at UMaine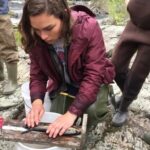 The University of Maine is a teaching and research university with outstanding opportunities for freshwater and marine fisheries education.  There are few places with Maine's combination of 6,000 lakes and ponds, 32,000 miles of rivers and streams, and 3,500 miles of coastline.  With one of the sharpest climatic gradients in the United States, Maine has outstanding cold water and warm water fisheries along with some of the most productive marine fisheries and aquaculture in North America.
Maine's diverse aquatic environment is both an outdoor teaching laboratory and a rich source of opportunities for student internships and professional job experience.  Professionals from the myriad of state and federal agencies, public groups and industry involved in fisheries, the aquatic environment and recreation in Maine bring their experience to the classroom and seminars.  There is more than 80 faculty at the university who teach in the area of ecology and environmental science with many courses relevant to fisheries biology and management.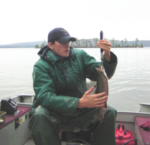 In addition to classroom and research facilities on the Orono campus, the University maintains several research and teaching facilities throughout the state, as well as a fleet of watercraft.  Leading the list are the Ira C. Darling Marine Center, a modern research and teaching facility with research vessels and flowing seawater facilities, and the Franklin Fish Hatchery with its growing capacity for marine and freshwater fish culture.  In addition, students are encouraged to obtain hands-on involvement in active research conducted by University researchers and cooperating management agencies.
Careers in Fisheries
The American Fisheries Society defines a fisheries professional as an individual with specialized education in the sciences and technologies involving the structure, dynamics, and interactions of habitat, aquatic organisms, and humans.  Therefore, career opportunities are varied, including science-oriented careers focused on understanding fish and aquatic ecology, managing fish resources for public agencies, and fish production and utilization for sale by private industry.  Some potential fisheries careers include research support for field or laboratory studies, hatchery or aquaculture production, and management or conservation of aquatic resources.  Examples of agencies, organizations or businesses in Maine that employ fishery biologists or aquatic ecologists include Maine Department of Inland Fisheries and Wildlife, Maine Department of Marine Resources, Maine Atlantic Salmon Commission, Department of Environmental Protection, National Marine Fisheries Service, the University of Maine, aquaculture industry, power companies, and environmental consulting firms.
For more information about obtaining a fisheries minor, please contact:
Dr. William Ellis, Associate Professor of Oceanography and Associate Director
360 Aubert Hall
207-581-4360
william.ellis@maine.edu
---
Curriculum
Ecology Courses

Credits

WLE 200 Ecology or BIO 319 General Ecology or
SMS 300 Marine Ecology
3
WLE 410 Wildlife Population Dynamics and Conservation
3

Aquatic Environment Courses (one of the following)

Credits

BIO 447 Experimental Aquatic Ecology
4
BIO 468 Limnology
3
SMS 302 Oceanography
3

Fisheries Courses

Credits

(WLE 340 or SMS 321 is required plus one additional course from the following list)
SMS 211 Introduction to Aquaculture
3
SMS 321 Introduction to Fisheries Science
3
SMS 422 Biology of Fishes
3
WLE 340/341 Freshwater Fisheries Ecology and Management/Lab
4

Statistics (one of the following courses)

 Credits

MAT 232 Introduction to Statistical Inference
3
WLE 220 Statistical Ecology
4

Resource Management (one of the following courses)

Credits

ECO 377 Natural Resources Economics and Policy
3
EES 351 Energy, Wealth, and Power: A Biophysical Systems View of Nature and Society
3
SMS 230 Introduction to Marine Policy and Fisheries Management
3
WLE 470 Wildlife Policy and Administration
3
Other Fisheries/Aquatic Courses at University of Maine
Note: 500-level courses may be taken by undergraduates with permission of the instructor:
BIO 353 Invertebrate Zoology
BIO 430 Ecology/Syst. of Aquatic Insects
BIO 469 Field Limnology
SMS 320 Techniques in Fish
SMS 402 Adv. Oceanography and Marine Bio
SMS 420 Fish Aquaculture
SMS 467 Fish Nutrition and Feeding
SMS 550 Fisheries Oceanography
SMS 551 Fisheries Management
SMS 553 Institutions and Marine Fisheries Management
SMS 555 Fisheries Management in Cross-cultural Perspective
SMS 562 Fisheries Population Dynamic