Need Help With Summer Employment?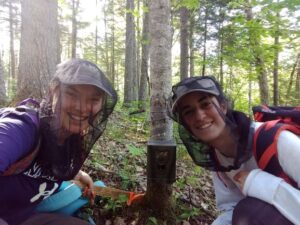 Wildlife Ecology majors at the University of Maine add significantly to their educational experience via summer employment. The department actively assists students in finding and obtaining summer and other employment. Below are examples of agencies, organizations or projects that offered summer employment to University of Maine Wildlife Ecology majors in the past. In most cases, students were field technicians or held positions of a similar level. If a student worked with a particular species in their job or in an allied field that information is in parentheses.
Note: Some students work in the Wildlife Ecology program during the academic year, primarily through work-study and work merit programs.
Arizona Cooperative Fish and Wildlife Research Unit
Atlantic Salmon Commission
College of the Atlantic (marine mammal stranding network)
Department of Biological Sciences, University of Maine (white-throated sparrows)
Department of Plant, Soil and Environmental Sciences, University of Maine (amphibians, weed ecology)
Department of Wildlife Ecology, University of Maine (endangered mussels, fishless ponds, seals, lynx, least terns, fish, amphibians, small mammals, turtles, least bitterns)
Harbor Branch Oceanographic Institute (dolphins)
Holt Forest, University of Maine (small mammals)
Idaho Department of Fish & Game (fisheries)
Maine Conservation Corps
Maine Conservation School
Maine Department of Inland Fisheries and Wildlife (muskie, Swans' Island)
Maine Department of Marine Resources (anadromous fish)
Moosehorn National Wildlife Refuge
New York State Department of Environmental Conservation (environmental educator)
Maine Department of Inland Fisheries and Wildlife (Swans' Island)
Penobscot River Restoration Project
Petit Manan National Wildlife Refuge (seabirds)
Platte River Trust/University of Nebraska (grassland birds)
Rachel Carson National Wildlife Refuge
Sunkhaze National Wildlife Refuge
US Fish and Wildlife Service (Alaska salmon, black brant)
US Forest Service
University of Michigan (fisheries)
USDA (blueberries)
USDA Cooperative Extension
USGS Cooperative Unit Vermont (grassland birds)
Utah Division of Wildlife Resources
Vermont Fish and Game (bats)