Graduate Programs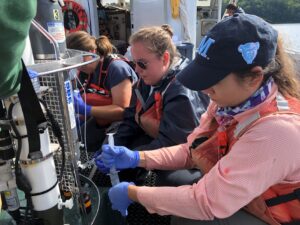 The School of Marine Sciences offers M.S. and Ph.D. programs in Oceanography and Marine Biology, and an M.S. program in Marine Policy, a Professional Science Master (PSM) in Marine Sciences, and a dual (M.S.) degree that comprises one degree in Policy and one in Aquaculture, Marine Biology, or Oceanography. Graduate students are encouraged to take advantage of interdisciplinary opportunities that our program offers while gaining fundamental knowledge and individualized training to achieve successful careers.
Graduate students benefit from the diverse and unique habitats that the Gulf of Maine has to offer for research in Marine Sciences. In addition to these excellent regional research opportunities, the world-wide research activities of SMS faculty provide excellent opportunities for research throughout the global ocean.
SMS offers a wide variety of courses and extensive research opportunities to match graduate students' interests. You can browse SMS's research clusters and individual faculty web pages to learn more about graduate student opportunities. Prospective graduate students are strongly encouraged to contact faculty and graduate students directly to discuss common research interests. Identifying prospective faculty advisor(s) is an essential step towards entering our program. Graduate program learning outcomes can be found here.
Application Process and Criteria
The SMS application process has two essential steps. The first is to submit an application to UMaine's Graduate School. If you are ready to apply, you can connect directly with the Graduate School's Application Page. The SMS Graduate Admissions Committee evaluates the applications based on academic background, previous experience, and fit to the program.
A second essential step is identifying prospective advisor(s) and a source of financial support for your graduate work. We recommend that you take an active part in this step by contacting potential advisors whose interests most closely match your own. We strongly encourage applicants to apply for national fellowships and scholarships to obtain their own research funding. Many of our graduate students are funded by their advisor's externally funded research grants.
There are three sets of materials evaluated in the graduate application: course work, a personal essay, and letters of recommendation. The Graduate Record Exam (GRE) is not required for admittance to SMS graduate programs.
Course work
Suitable course work towards a Bachelor's or Master's degree is required, with a minimum overall GPA above 3.0 for a Bachelor's degree in most cases. While GPA is an important part of assessing performance in past courses, subject matter of those courses and trends over an academic career are also important considerations. Additional course work beyond the formal degree may also be beneficial.
Personal essay
A personal essay describing your academic interests, professional experience, and potential research plans in graduate school is required. In the essay, you should explain the types of research questions and training opportunities that you would like to pursue as a graduate student and how these relate to your past experiences and the research interests of prospective faculty advisor(s) in SMS.
Letters of recommendation
Three letters of recommendation are required from instructors or supervisors who are familiar with your previous academic or professional performance.
Application deadline
SMS has a rolling deadline for graduate applications. Complete applications are reviewed on a rolling basis throughout the year. Most of our applications are received by January 15, following the standard deadline used by many graduate programs at UMaine.
Should you apply for a M.S. or Ph.D.?
Sometimes it is unclear whether to apply for a Masters or Ph.D. degree, especially if you are interested in proceeding through a Ph.D. program. For many students, an M.S. is their intended terminal degree, and we encourage such students to apply to SMS. For students intending to get a Ph.D., it is sometimes a good idea to get a Masters first, and even to get a Masters at a different institution than the Ph.D. Sometimes students start in one degree and shift to the other during their program, and these shifts go in both directions. If the question about applying for a M.S. or Ph.D. applies to you, you should consult with your prospective advisor(s) to help determine which program makes the most sense for you.
If you have questions regarding current applications, contact Dr. Jeremy Rich who is the current chair of the SMS Graduate Admissions Committee (jeremy.rich@maine.edu).