Visit our Community Events Calendar for up-do-date information on upcoming events!
SMILE Boxes Brighten the Lives of MAIER families
(December 2020) This fall the Maine Autism Institute's Family Partnership partnered with the Adaptive Outdoor Education Center (AOEC) to bring more than 75 SMILE Boxes to Maine children and teens on the autism spectrum. SMILE Boxes are designed to support families that include a member on the autism spectrum in exploring new ways to connect with one another through prompts and guided activities. Participating families received a monthly SMILE box filled with fun activities and engaging videos to promote physical activity, social skills, and sensory exploration. [Read full story here.]
The Universe comes to life for MAIER Family Partnership families!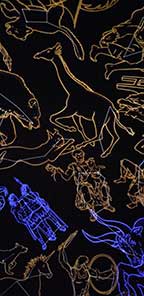 (February, 2020) The Universe became a fascinating place to visit for those attending MAIER's Family Partnership event at the Emera Astronomy Center at UMaine last Saturday. While visiting the Emera Center may be a challenge for families that include a family member on the autism spectrum, Saturday's shows were especially planned to offer everyone a time to let down their guard, be themselves, and learn about space, at their own pace and in their own style. While some kiddos were drawn (and drawn, and drawn) to the interactive exhibits and visual displays in the lobby, others were fascinated by the darkness of the planetarium dome that came to life for two separate showings. (Not to mention the spontaneous light show that arose from our glow-in-the-dark bracelets!)
Polaris featured a friendly polar bear and penguin duo that led the younger group on a space mission to explore the earth and nearby planets, while To Space and Back, took the older group on a journey highlighting the technology that makes space exploration possible while also touching our day-to-day lives on earth. A vision of the current night sky, led by Emera Director Shawn Laatsch, topped off the afternoon. Our thanks to the UMaine students who helped families enjoy the afternoon, the Emera Center for opening their doors to our group, and most of all, to all our families and friends who made this event a fun, playful, and educational afternoon!

MAIER Families Visit with Santa at the Maine Discovery Museum
(December 8, 2019) It was a special day at the Maine Discovery Museum MDM) in Bangor as Santa's Village came alive for children attending the sensory-friendly "My Day to Play" on Sunday December 8th. Thanks to an on-going partnership between the MDM and the Maine Autism Institute for Education and Research (MAIER) at the University of Maine, more than 30 families experienced the excitement and joy of visiting with Santa in an environment designed to support children on the autism spectrum on their own terms.  [Read full story and see more photos from the day]
Courage and Success for MAIER Families at the MaineBound Adventure Center!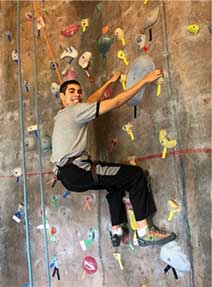 (October 26th, 2019) Saturday, October 26th, was a special day inside the MaineBound Adventure Center at the University of Maine as MAIER Family Partnership (MPF) families gathered to test their courage on the indoor climbing walls. With the support of specially trained staff and volunteers from MaineBound and the Adaptive Outdoor Education Center (AOEC), and the encouragement of UMaine Student MEA volunteers, participants from 4 to 27 years old used their strength and determination to make their way upwards. While some participants came ready and excited to don the climbing harness and begin climbing, others needed to overcome their fears and face this new challenge. Despite some early trepidation, we are happy to report lots of smiles and successes! [Read full story here]
"Outdoors for Everyone" at AOEC
(August 10, 2019) The day began at the Lodge of the Adaptive Outdoor Education Center (AOEC) in Carrabassett Valley with parents and children of all ages being greeted by the staff and volunteers from the AOEC and the Maine Autism Institute for Education and Research (MAIER), co-hosts for MAIER's "Outdoors for Everyone" event. While waiting for the early morning showers to clear, families shared time together in the Arts and Crafts Yurt, creating bird feeders and crafting clay impressions of ferns, leaves, and pines to take home. Soon, however, they were aboard the AOEC van and mini-bus to their chosen outdoor activities for the day, including a nature scavenger hunt, short hikes, and the very popular fishing pond. Steady showers brought us indoors for our "picnic" lunch, ice cream social, and afternoon of games and story time, but spirits remained high despite the adjustments to the planned activities for the day. Read the full story and see more photos of the day here.
Local families gather for a Pizza Party at Pat's
(May 2018) It was a busy Saturday night in May at Pat's Pizza in Ellsworth when local families gathered for a night out with their children at Pat's Pizza in Ellsworth, hosted by MAIER's Family Partnership. Thanks to Jamie King, mom to Dylan, who initiated the idea, ten families had the opportunity to connect with other local families impacted by ASD, learn about MAIER's Family Partnership, and enjoy each other's company in a safe, non-judgmental space. Martha Gladstone and Barbara Clewley, teachers and Doctoral Students at UMaine, kept the children busy with Dr. Seuss-inspired activities and books, and each child chose a Dr. Seuss book to take home. The evening was topped off with ice cream for all and a visit from the Ellsworth Fire Department, who brought their ladder truck for the kiddos to investigate.
Our thanks to Tim at Pat's Pizza, his amazing staff, and the Ellsworth FD for your support with this MAIER FP event! (May 12, 2018)
Twenty-two families join MAIER Family Partnership in January for a Sensory-Friendly Showing of Paddington 2
(January 2018) Movie goers donned their glow-stick bracelets, added snacks to their MAIER drawstring bags, and settled in for the show. The lights were up and the sound was lowered for twenty-two local families that gathered at the Spotlight Theater in Orono for a special FREE Sensory-friendly showing of Paddington 2 on Saturday, January 27th. No one minded the jubilant dance of one young attendee at the front of the theater, and the coming-and-goings and occasional chatter from excited watchers lent a special charm and sense of comradery to families attending.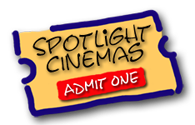 MAIER's Family Partnership hosted this special movie event in collaboration with the folks at Spotlight Cinemas in Orono. Special thanks to Brittany and Rick of Spotlight Cinemas for their willingness to support local families affected by ASD and offer this fun family event in a safe, accepting space. Stay tuned for announcements of future Sensory-friendly showings at Spotlight Cinemas!  (January 27, 2018)
MAIER hosts Outdoor Adventure Day with YMCA of Auburn Lewiston
June 23, 2018. Even a few raindrops could not quell the excitement of the children arriving at the MAIER Family Partnership Outdoor Adventure Day on Saturday June 23rd.  Armed with their colorful sunglasses, event t-shirts, MAIER backpacks and snacks, families set out to explore the activities awaiting them at the YMCA Outdoor Learning and Education Center (OLEC) on Stetson Rd in Auburn.
Nineteen families from mid Maine joined MAIER for this family gathering to enjoy the outdoors and try some new activities, such as archery and gaga ball, all while being supported and encouraged by MAIER and YMCA staff and volunteers. A visit from the local fire department was a highlight for many, and included a demonstration of the fire rescue ladder rising to the treetops! Families came together for a BBQ at noon thanks to the generosity of local community supporters whose donations made this possible and the dedicated volunteers operating the grills and serving lunch. 
This event would not be possible if not for our unique partnership with the YMCA of Auburn Lewiston, so our sincere thanks go out to Steve Wallace, YMCA CEO and Jaime O'Connor, OLEC Director, and their incredible staff Sam and Mike! We offer our sincere gratitude to all the local donors who help make this a free event for families and to our loyal staff and volunteer crew who make it all happen!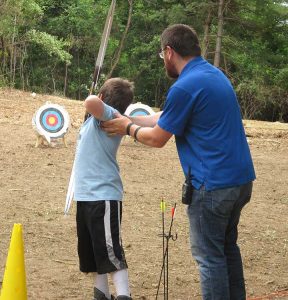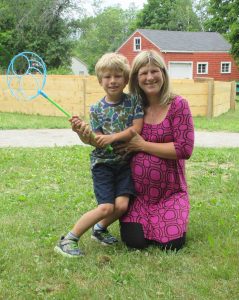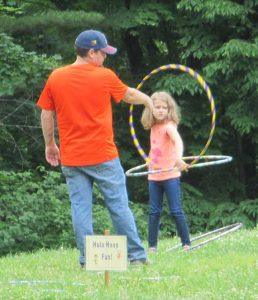 MAIER Collaborates with Local Theater Groups to Bring Autism Awareness to Their Performances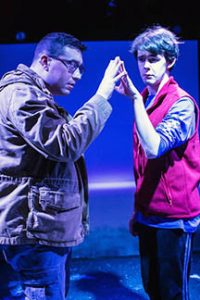 (March/April 2019) Who would have imagined an afternoon or evening at the theater could open your eyes to the world of a teen on the autism spectrum and to the daily challenges and joys parents encounter in that world? Thanks to the SOME Theater Company (STC) in Orono and the Midcoast Actors Studio in Belfast recent productions of "The Curious Incident of the Dog in the Night-time," theatergoers were immersed in the life and sensory experiences of Christopher Boone, a teen on the autism spectrum with exceptional math skills and a desire to become a NASA scientist. As Christopher sets out to solve a neighborhood mystery, his life takes an unexpected turn, revealing the complex family dynamics and emotions of family life and love when it includes a child with autism. [Read full story]
A Visit to Santa's Village
(December 2018) The Children's Discovery Museum in Bangor was transformed into Santa's Village on Sunday December 2nd for the Maine Autism Institute's Family Partnership (MFP) annual holiday celebration for families impacted by autism spectrum disorders (ASD). Santa and his team of elves greeted children of all ages as they entered Santa's Village, cheerfully decorated and humming with activity.
University of Maine Ph.D. students Martha Gladstone and Barbara Clewley gently guided children to visit with the MFP's sensitive Santa, who was well tuned to the sensory challenges of those with ASD, and playfully engaged siblings who joined them. UMaine student volunteers dressed as Santa's elves led holiday craft activities at the Village, guiding youngsters with both patience and humor. Children choose their favorite "fidget" toy from Santa, and MAIER presented each family with a winter themed book to take home. [Read full story]
MAIER's Family Partnership Climbers shine at Maine Bound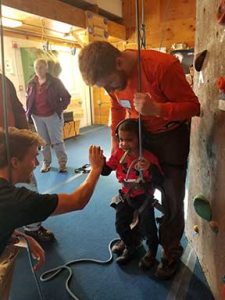 (November 2018) Twelve MAIER families gathered at the Maine Bound Adventure Center on Sunday November 18th to challenge their courage and their strength on the center's climbing wall in an event especially for families impacted by autism spectrum disorders (ASD). With the help of volunteers specially trained to assist persons with physical or cognitive differences, kiddos of all ages (and some parents as well) donned their climbing shoes and harnesses and faced the challenge head on, while family members and volunteers stood by to cheer and encourage their progress.
Parents noted the encouragement and support the whole family received from staff and volunteers. One Mom summed up the experience this way: "That was such an awesome, supportive environment today. It's an activity we never would have tried because of all the unknowns (Would he like it? Would he try it? How would we weather all the stares from a meltdown and negative talk?) We didn't have to sweat any of that today, everyone there was wonderful and we got to try something new as a family." [Read full story]
"Our Day to Play" at York's Wild Kingdom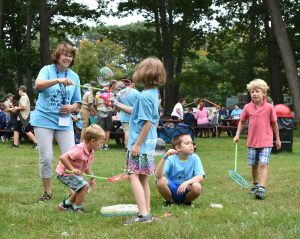 (September 2018) Saturday September 15th, was a special day at York's Wild Kingdom as more than 75 Maine families affected by autism gathered to make some new friends while enjoying a day at the Park. The early morning fog didn't keep families from gathering early in the day at the picnic area to start the day together as they awaited the opening of the Zoo and amusement rides.
While each family went off to enjoy the day in their own way, it was heartening to see the folks greeting one another throughout the park, kiddos identifiable in their "Our Day to Play" t-shirts and MAIER backpacks. MAIER staff, UMaine students, and volunteers were on hand to assist families with snacks, an animal scavenger hunt, and other activities at the picnic area when a break from all the excitement was needed.
A "Visit to Santa's Village" for MAIER's Holiday My Day to Play!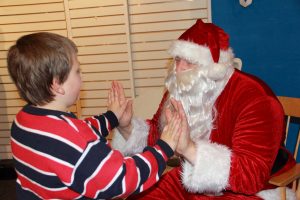 (December 2017) Thirty-two families joined MAIER's Family Partnership at the Maine Discovery Museum on December 3rd for some special holiday fun at "My Day to Play."   Children with ASD and their siblings entered Santa's village to visit with Santa, at their own speed and comfort level, and encouraged and supported by a very special (and sometimes silly) Santa and his dedicated elves. Thanks to Felicia Kasprzak, MFP parent and photographer extraordinaire, families received a digital photo that captured their child's visit and wonderment. Children attending received their very own MAIER string backpacks filled with Christmas surprises and a gift from the jolly old elf.
Families shared their excitement with MAIER staff and expressed gratitude for the opportunity this annual event provided for their families. One parent told us they had driven over 90 minutes for this special event but it was "so worth the trip" to see the joy and excitement on her son's face. Others mentioned the fun of exploring the Discovery Museum, in addition to Santa's Village, at a time when other families attending would understand and accept the challenges of visiting public places with a child with autism. Museum staff and volunteers supported the families in their explorations and led activities that included making holiday decorations and greenery to take home. Smiles emerged over the afternoon and laughter could be heard throughout the Museum!
Our thanks to the staff of the Maine Discovery Museum for partnering with us for a third year to bring this holiday event to families in the area. The Museum during "My Day to Play" events is the perfect setting for families to explore in a safe and sensory-friendly environment, so check the MDM website for "My Day to Play" events in 2018! Thanks as well to our special elf "Buddy" Tommy, UMaine student volunteers, Martha, Barbara, Bri, and Karissa, and MFP parents Roy Ulrickson III & Felicia Kasprzak, for the important roles you played in making this event a fun-filled afternoon for area families! (December 3rd, 2017)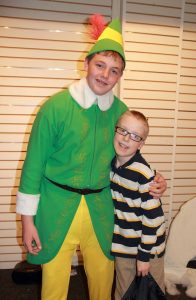 Auburn Lewiston area families enjoy an "Outdoor Adventure Day"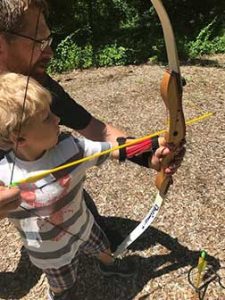 (June 2017) The Auburn Lewiston YMCA's Outdoor Education and Learning Center was abuzz with activity on Sunday June 25th when local families impacted by autism joined the MAIER Family Partnership and AL YMCA for an "Outdoor Adventure Day." Children were greeted with a variety of activities led by YMCA & MAIER staff and volunteers, and families gathered to share a BBQ lunch at noon.
Twenty families, including children, teens, and adults on the autism spectrum and their siblings, joined in the activities. The field filled with bubble blowing fun and hula hooping, and a spontaneous volleyball game ensued with players of all ages. Families headed down the wooded trails to explore their skills at archery, an obstacle course, and a low ropes course, all supervised by YMCA staff and volunteers. Children searched for pinecones, moss, and acorns for the Nature Scavenger Hunt, studied their finds with their new magnifying glasses, and collected prizes for their finds. [Read full story]
MAIER Family Partnership teams up with Waldo County YMCA for "Swim & Gym" event!
(April 2017) Area families arrived promptly at 2 o'clock with bathing suits in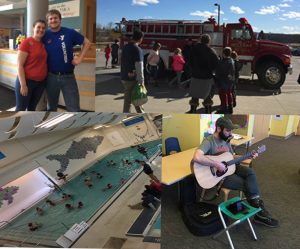 hand to enjoy a special afternoon of swimming and play at the Waldo County YMCA in Belfast.  Hosted by the Maine Autism Institute for Education and Research Family Partnership, this afternoon was all about family fun and togetherness, with special supports, accommodations, and activities for children impacted by autism spectrum disorders and their siblings.
The warm water of the therapy pool was a hit, along with the obstacle course, parachute, and riding trikes in the gym. Visitors to the community room were greeted by sensory and quiet activities, refreshments, and goodie bags, all the while being serenated by the gentle guitar music of a YMCA volunteer, John. The afternoon culminated with a visit from the Belfast Fire Department ladder truck!
Special thanks to all the families who joined us on Sunday, and a grateful "job well done!" to the WC YMCA and their incredible staff, especially Carolyn Steeves, Aquatics Director at the YMCA, who helped make this event possible. Thanks go out to our faithful UMaine student volunteers, Martha, Olivia, Madi, Chelsea, Katrina, Jenica, Emily & Lena.  Your playful attitude with the children and assistance to the families attending was much appreciated!
During the month of April the WC YMCA will be offering several special swim times for families impacted by ASD. If there is good attendance, they will consider making this a regular part of their program. So join them in the warm water of the therapy pool, if you can, on Tuesdays 4-5pm, Wednesdays 6:30-7:30pm, or Fridays 2-3pm. Cost is free to members of the Y, and $10 per session for the whole family! Check out their flyer FMI. 
Holiday Fun at My Day to Play!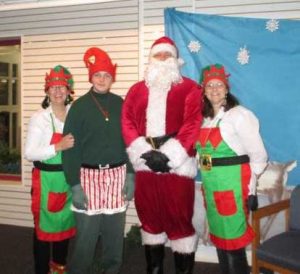 (December 2016) Sunday December 4th was an exciting day at the Maine Discovery Museum when the MAIER Family Partnership collaborated with the Museum to host a special Holiday "My Day to Play" for families impacted by ASD.
More than 18 local families joined us to enjoy Museum and holiday activities designed especially for them. Museum staff and MAIER MFP joined forces to offer families attending tips and fun activities for managing holiday stress and events, and MAIER and the invited guests shared a variety of information important to families impacted by ASD.
As a special surprise, children were invited to journey to Santa's village – including a visit with the jolly old elf and a children's book to take home in their new MAIER backpacks! Thanks to our loyal Santa and his elves for their sensitivity and encouragement of the children as they ventured in. Smiles and "hi-fives" were seen as many warmed up to the experience.
Heartfelt thanks to the Museum staff and the many volunteers who made this event possible: MFP families, UMaine students, and community volunteers. Special thanks to Connor Archer, for sharing his Courageous Steps Project with those attending. Connor works diligently to increase understanding and acceptance of ASD in our communities, and Courageous Steps offers support to individuals impacted by ASD and the programs that serve them. FMI on this unique project, visit their website.
The Maine Discovery Museum hosts My Day to Play twice monthly throughout the year. This dedicated time is open only to children with ASD and their siblings and families, and offers special programming and an opportunity for families to connect. FMI about this program visit their website or call the Museum at (207) 262-7200.
For more information about the Maine Family Partnership or any sponsored activities, contact Donna Doherty at MAIER.
Phone: 207-581-2468       Email: donna.doherty@maine.edu
"Our Day to Play" at York's Wild Kingdom On September 17th was a huge success!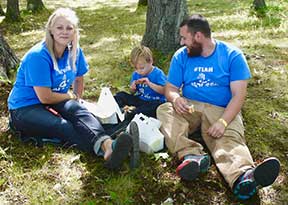 (September 2016) Seventy families from across the state gathered at York's Wild Kingdom on September 17th for "Our Day to Play" hosted by MAIER's Family Partnership. Children with ASD of all ages, armed with their yellow "VIP" bracelets and their families, fanned out around the zoo and amusement park to enjoy the animals, test their courage on the amusement rides, and experiment with new foods. Thanks to York Hospital and the Camp Card of NE crew of helpers, families regrouped for a free picnic lunch together in the pine grove before heading out for more afternoon fun. Families had the opportunity to participate in an "ID a KID" event sponsored by Krista Nadeau of Prudential Insurance Company, who offered complimentary child identification kits to families who participated.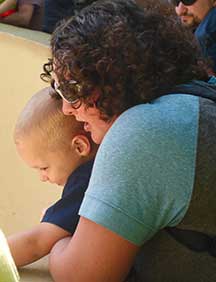 Parents and Grandparents who attended the event shared how much this event meant to their families. One parent wrote to us about their experience: "Our two children, who are non-verbal on the spectrum, had fun, and we as a family were able to spend time together, which is sometimes very hard to do with our already busy routine. Thank-you for the opportunity to just enjoy ourselves at York's Animal Kingdom."  Another wrote, "I accompanied my little grandson to the event and he could not stop telling people that it was his "BEST DAY EVER!" The day also provided an opportunity for families to meet MAIER staff and volunteers and to learn more about the work of MAIER. Families received a copy of our Maine Family Guide to Autism Spectrum Disorders and other surprises (did we mention bubbles?!!).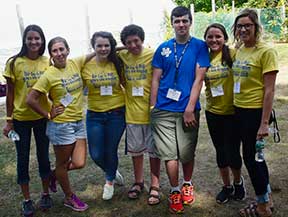 This day could not have been possible without the cheerful, willing group of volunteers who greeted and assisted our guests throughout the day: Cindy Ziobrowski and her crew from Camp CARD NE, the University of Maine Communication Science and Disorders students: Karissa, Madi, Alison, Marissa, Sarah, Lauren, Katrina & Chelsea; and MAIER Staff & other volunteers: Deborah, Skye, Karen, Shannon, Shilo. Special thanks to our volunteer coordinator, Susane Boulette who kept them all coordinated!
Finally, our heartfelt thanks to Susan Abbiati, MFP Leader and parent extraordinaire, who worked tirelessly from the very beginning to plan and make this day possible. And kudos to Sue's family, Joe, Tony, and Larry, for their unending energy, help, and enthusiasm throughout the day! 
We are extremely grateful to the staff of York's Wild Kingdom, especially Amy Wheeler, Park Manager, for partnering with us for this special event. Thanks to the York Hospital for providing a delicious picnic lunch and to our other local sponsors for their support in making this day possible: Walmart Distribution Center #7014, Lewiston, North Berwick Family Medicine, P.A., York Hannaford, and Lobster in the Rough. (September 17th, 2016)