"Outdoors for Everyone" at the Adaptive Outdoor Education Center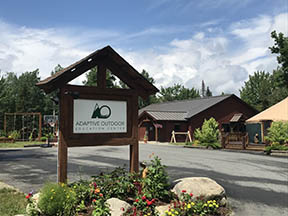 August 10, 2019
Fishing at Moose Bog was the highlight of the day for many of the kiddos attending the MAIER Family Partnership event at the Adaptive Outdoor Education Center (AOEC) in Carrabassett Valley on Saturday, August 10th. Others appeared to delight in the trunk full of silly costumes, glasses, and hats brought in for afternoon play at the Sugarloaf Outdoor Center. And who would imagine the quiet that would ensue from this boisterous group as they focused all their concentration on balancing noodle bits on their arms, heads and shoulders during game time? It was all in fun as families attending the "Outdoors for Everyone" event for families impacted by autism adapted to the ever-changing weather during this day-long event.
The day began at the AOEC Lodge with parents and children of all ages being greeted by the staff and volunteers from the AOEC and the Maine Autism Institute for Education and Research (MAIER), co-hosts for the day. While waiting for the early morning showers to clear, families shared time together in the Arts and Crafts Yurt, creating bird feeders and crafting clay impressions of ferns, leaves, and pines to take home. Soon, however, they were aboard the AOEC van and mini-bus to their chosen outdoor activities for the day, including a nature scavenger hunt, short hikes, and the very popular fishing pond. Steady showers brought us indoors for our "picnic" lunch, ice cream social, and afternoon of games and story time, but spirits remained high despite the adjustments to the planned activities for the day.   
Our heartfelt thanks to all those families who braved the uncertain weather to join us for the day! You proved the Outdoors ARE for Everyone! And thanks to all our cheerful volunteers for the day, Jason, Shilo, Richelle, and Jarod!  We are especially grateful to our new friends at the AOEC, Bruce and Annemarie Albiston, and Kayla and Brina, for sharing your beautiful space and joining us in making this a memorable day for MFP families. For more information about AOEC and their adaptive recreational programs, visit their website.