MAIER FP Climbers Shine at MaineBound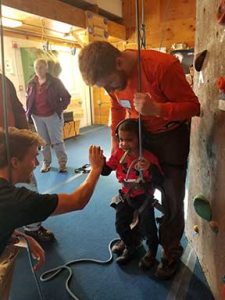 (November 2018) Twelve MAIER families gathered at the Maine Bound Adventure Center on Sunday November 18th to challenge their courage and their strength on the center's climbing wall in an event especially for families impacted by autism spectrum disorders (ASD). With the help of volunteers specially trained to assist persons with physical or cognitive differences, kiddos of all ages (and some parents as well) donned their climbing shoes and harnesses and faced the challenge head on, while family members and volunteers stood by to cheer and encourage their progress.
Parents noted the encouragement and support the whole family received from staff and volunteers. One Mom summed up the experience this way: "That was such an awesome, supportive environment today. It's an activity we never would have tried because of all the unknowns (Would he like it? Would he try it? How would we weather all the stares from a meltdown and negative talk?) We didn't have to sweat any of that today, everyone there was wonderful and we got to try something new as a family."
MAIER wishes to thank all those who made this first-ever event such a success for families, especially Kayla Miner from the Adaptive Outdoor Education Center (AOEC) and Chris Bartram, Coordinator of Maine Bound. We want to thank the volunteer climbing instructors at Maine Bound who were amazingly patient, accepting, and frequently humorous, putting families at ease in this new environment for most of those attending. Thanks as well to our MAIER work-study student, Brianna O'Leary, and the student MEA group, Jarod, Rebecca, Jenna, Ellie and Emily, led by their advisor, PhD student, Martha Gladstone.  These students were instrumental in the success of the afternoon though their ongoing support to families through playful activities to keep them busy and happy while waiting for their climbs. There was lots of smiles and laughter going around.
This fun event was hosted by MAIER's Family Partnership (MFP) program in partnership with the AOEC Horizon Alpine Climbing program and Maine Bound Adventure Center at the University of Maine. Maine Bound offers an adaptive climbing program twice a month throughout the academic year in partnership with AOEC. FMI on this program, visit the AOEC website: https://www.adaptiveoutdooreducationcenter.org/climbing 
The AOEC has also opened registration for their 2019 Horizons Ski Program at Carabbassett Valley. FMI and to register, check out their website.