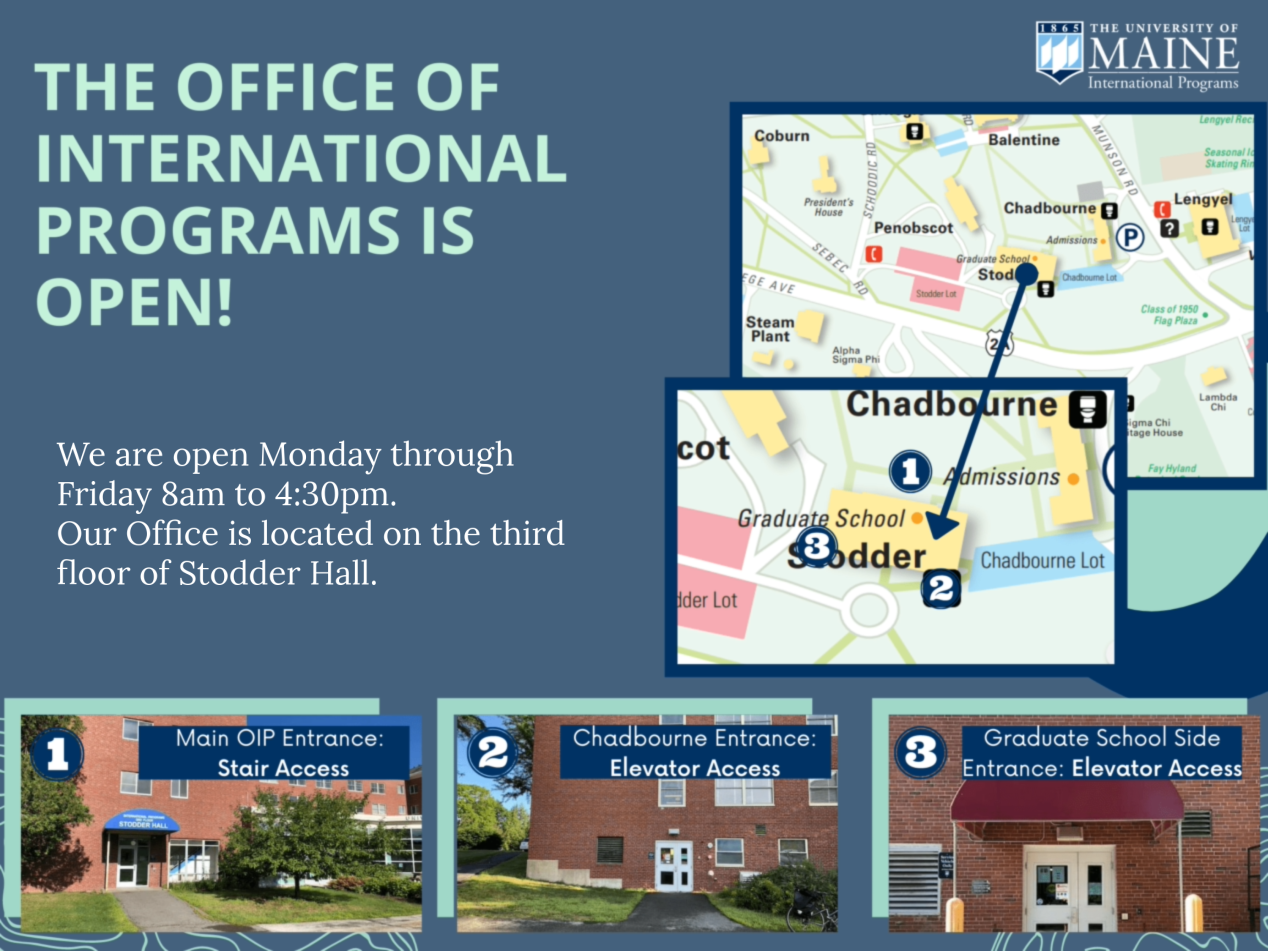 Visit The Office of International Programs
Stodder Hall Location
[googlemaps https://www.google.com/maps/embed?pb=!1m18!1m12!1m3!1d2826.2925031057484!2d-68.67500638430059!3d44.89704507912773!2m3!1f0!2f0!3f0!3m2!1i1024!2i768!4f13.1!3m3!1m2!1s0x4cafb13146536541%3A0x2591b5e06293c249!2sStodder%20Hall!5e0!3m2!1sen!2sus!4v1582656368598!5m2!1sen!2sus&w=500&h=350]
Find directions from your starting location : Directions
Visitors Parking
Campus Map of Visitor Parking at the University of Maine. Visitor permits are available at:
MaineCard Services, 130 Memorial Union.  Business hours 7:30 – 4:00, Monday though Friday.
Bear Necessities, Alfond Arena.  Business hours 9:00 – 4:30, Monday through Friday.
The Visitor Center in Buchannan Alumni House.  Business hours 8:00 – 4:30, Monday through Friday.
UMaine Police Department  at 81 Rangeley Rd.  Open 24 hours a day, 7 days a week.
Contact Information
Address
5775 Stodder Hall, Room 300
20 Stodder Drive
University of Maine
Orono, ME 04469-5775
Phone: (207) 581 – 3437
Fax: (207) 581 – 2920
E-mail Addresses
International Admissions: internationaladm@maine.edu
Study Abroad: studyabroad@maine.edu
Immigration Questions: umaineimmigration@maine.edu
Office Hours
Monday through Friday 8:00 a.m. to 4:30 p.m.
Emergencies after Business Hours
Call the UMaine Police Department at 207-581-4040 for immediate assistance. The police can reach OIP staff at home if needed.