Update Your Address
If you are a J-1 scholar or otherwise a visitor to UMaine and do

NOT

have a MaineStreet account please

click here

to update your address
Students with a MaineStreet account:

We have new software that is programmed to recognize your mailing address as your US address and pull that information directly from MaineStreet. Please follow the instructions provided below to update your mailing address through your Student Center.
PLEASE NOTE: The address that you enter must be where you are living; it cannot be an on-campus office address
Step 1: Go to mycampus.maine.edu and sign in using your @maine.edu username and password
Step 2: Click on the MaineStreet icon under the LaunchPad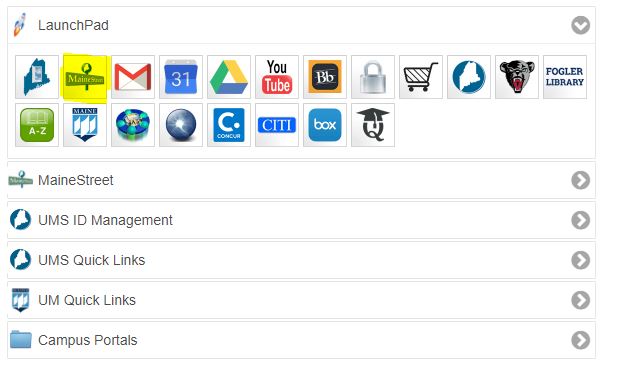 Step 3: Click on "Student Self-Service" under "Menu"
Step 4: Click "Student Center"
Step 5: Scroll down to the "Personal Information" section (near the bottom of the page) and click on "Your Home Address" which is in the "Contact Information" box. Click the "edit" button next to your previous address and update all fields. Click "OK".
Step 6: Select "Mail" in Address Types box. You can select other options, if you would like. But making sure that your mailing address updated is the most important one with regard to your immigration status.
Step 7: Click "Save"
Step 8: Click "OK"