LEED Certification: What It Means (On and Off Campus)
LEED Certified buildings are an important part of sustainable development around the world. Buildings becoming more sustainable can result in energy saving, safe structure, and enhancing the community standards. These buildings are an important part of addressing climate change and accomplishing ESG goals. These buildings really support more equitable communities as well. 
There are four levels of LEED certification, Certified, Silver, Gold, and Platinum based on the number of points that one receives. These points and credits come from addressing the carbon, energy, water, waste, transportation, materials, health, and indoor environmental quality of a building, Platinum being the highest and most sustainable, while Certified is still acceptable but not a perfect building. 
Though many buildings on the University of Maine campus are old, we have five buildings on campus that are LEED certified. The Advanced Structures and Composites Center, the Wells Conference Center, the New Balance Recreation Center, the Foster Center for Innovation, and the Offshore Wind Laboratory all are internationally recognized by the U.S. Green Building Council as LEED-certified buildings. 
The Advanced Structures and Composites Center was the first LEED Certified building on campus in October of 2006. It had 40% of materials manufactured regionally and 15% of materials were extracted regionally. The building has an optimized energy performance of 35% and has daylight & views for 90% of occupied spaces. All composite wood and fiber products are safe resins and all sealants meet the LEED emission standards. 
The LEED Silver-certified buildings are the Foster Center for Student Innovation, the New Balance Student Recreation Center, and the Wells Conference Center. All three buildings have energy-saving designs compared to conventional buildings similar to it, the buildings also have a huge amount of water use savings. Many parts of the buildings have recycled materials used throughout and many buildings have recycled the waste that came up in the building. Another point of pride for the buildings is the use of daylighting techniques to discourage energy use and encourage students' happiness. 
The LEED Gold-certified building on campus is the Offshore Wind Laboratory, which has energy savings of 31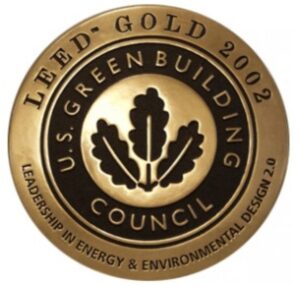 % through many different energy savers. The potable water use is reduced by 47%, and 40% of the total building materials were recycled materials. The project diverted 95% of on-site generated construction waste. The project also utilized refrigerants and HVAC equipment that minimizes ozone depletion. 
These buildings are an important part of the sustainability at the University of Maine, as time will go on, more and more buildings will become certified. The University of Maine strives to reach more sustainable options and the Office of Sustainability is always looking for a new way for encouraging and incorporating sustainability into the community. If you're curious about ways to get involved with LEED certification, look into getting your home certified, your cities LEED for cities, or the on-demand courses that Leed gives to encourage community involvement.
Office of Sustainability. "LEED Certified Buildings – Office of Sustainability – University of Maine." Accessed February 17, 2022. https://umaine.edu/sustainability/initiatives/leed/.
"LEED Rating System | U.S. Green Building Council." Accessed February 17, 2022. https://www.usgbc.org/leed.