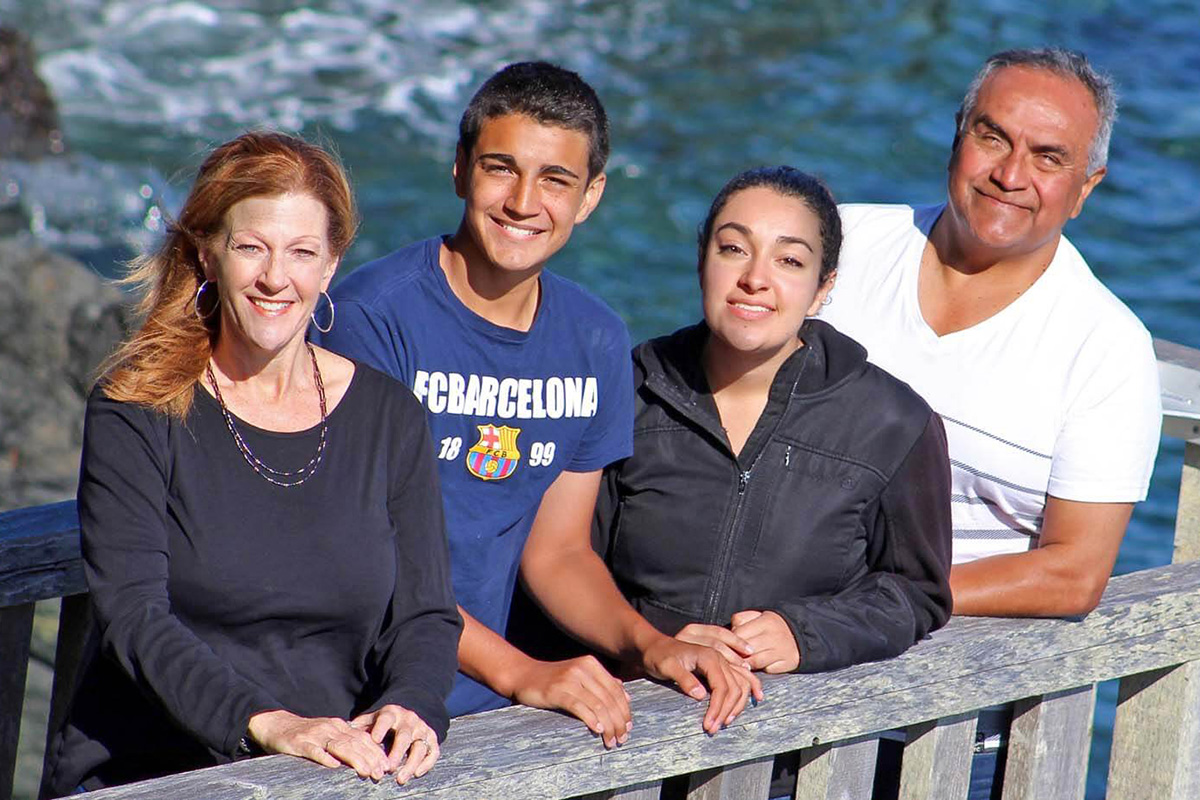 Family channels grief into gift to support UMaine's hazing prevention research
When Jolayne Houtz remembers her son, Sam Martinez, words like "adored," "gifted," "warm" and "athletic" come to mind. 
"The thing I always remember about Sam was that he was really loyal," Houtz says. "He always wanted to be there for his friends if they were having a hard time. Just always supportive and kind."
Growing up near Seattle, Sam played trombone in his high school band and loved sports — baseball, basketball, and his favorite sport: soccer. Houtz says he had a knack for knowing right where the ball would be and where to go on the field. He also coached youth soccer and taught skiing.
"I would pick him up from practices, and I would see all the little kids clustered around him. They really looked up to him," says Houtz.
When Sam went to college at Washington State University, Houtz and her husband, Hector Martinez, didn't feel like they had much to worry about. They weren't concerned when Sam opted to pledge to the Alpha Tau Omega fraternity. Their son was a responsible, caring and bright young man with his whole life ahead of him.
Then, one night in November 2019, Sam died of alcohol poisoning at a fraternity initiation ritual. More precisely, he had become a victim of hazing.
Sam Martinez's story is sadly more common than many people realize. According to public records, the United States has seen at least one death from hazing every year since 1959.
University of Maine professor of higher education Elizabeth Allan's research has uncovered some other uncomfortable truths about hazing. The landmark 2008 National Study of Student Hazing led by Allan and former UMaine colleague Mary Madden found that 55% of college students involved in clubs, teams and organizations experience hazing, defined as "any activity expected of someone joining or participating in a group that humiliates, degrades, abuses, or endangers them, regardless of a person's willingness to participate." According to that study, nearly three in four students (73%) involved in fraternities and sororities experienced hazing in order to join or maintain membership in these organizations. In up to 95% of hazing cases, students did not report it. More recent research has shown that about 70% of students are aware of hazing happening at their school.
Houtz and her husband recently made a gift to support Allan's work by establishing the Sam Martinez Hazing Prevention Fund at the UMaine College of Education and Human Development. The family's hope is that the donation — $362,400 over four years — will save lives by creating more transparency around hazing and the cultures that promote it.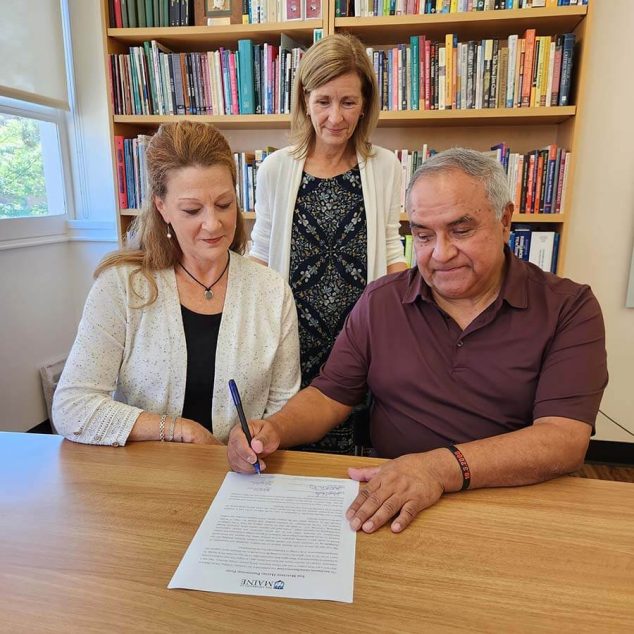 "We're tremendously honored to partner with Dr. Allan and StopHazing.org, and we hope this gift supercharges their research," says Houtz, referring to the organization that Allan founded to serve as the primary home of her research-to-practice efforts to prevent hazing.
Several UMaine alumni and students work with Allan at StopHazing.
"She's the nation's leading hazing prevention researcher, and she and her team have such a depth of knowledge and expertise," Houtz says.
Allan and Houtz started working together a couple years ago when the Houtz-Martinez family was pushing for legislation in Washington State to require more transparency and education about hazing. StopHazing provided expertise for two bills that eventually passed the Washington State Legislature and were signed into law. The first, known as Sam's Law, updated the definition of hazing and required colleges and universities in the state to provide education about hazing to students and employees. It also made training available to families and volunteers and required institutions to publicly report hazing incidents. The second bill made hazing a felony when it results in serious injury or death.
For Houtz, a former journalist who now works for the University of Washington, transparency is key to ending hazing.
"I've been a reporter and public health communicator my entire adult life. When Sam told us that he was going to pledge this fraternity, I did my homework and didn't come up with anything concerning," she says. "Only later did we find out that this was a bad chapter of a bad fraternity with a long history of complaints about everything from parties getting out of hand to serious criminal activity like assaults, rapes and hazing."
"The story of what happened to Sam Martinez and his family is unfortunately familiar," says Allan. "Parents who have lost children to hazing will often say they did their due diligence when their child comes to them and says, 'I'm thinking of joining this organization.' But information that could have saved their child's life just wasn't available publicly."
The University of Maine Foundation helped facilitate the gift from the Houtz-Martinez family.
Allan and StopHazing plan to use the funds to support ongoing research on the impact of transparency laws like those passed in Washington. Right now, fewer than 10 states have such laws on the books. However, the bipartisan Stop Campus Hazing Act introduced in the U.S. Senate, where Sen. Susan Collins is a co-sponsor, and House of Representatives in September would make transparency around hazing incidents a requirement nationally and make the data reported consistent from institution to institution.
"Not only will that lead to more information, but it will make it easier to analyze. So, we can see exactly what's happening in terms of patterns, trends over time among different types of institutions or groups on college campuses. That, in turn, will inform hazing prevention," says Allan, who has also provided expertise to lawmakers working on the federal legislation.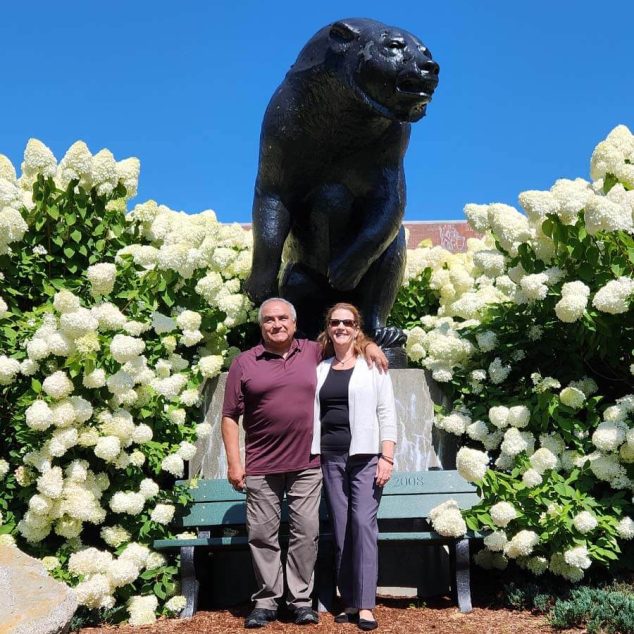 Houtz and Hector Martinez have also made a gift to the University of Washington's Information School, where students are building a hazing prevention database to collect data about hazing incidents on college campuses and make it easily searchable. Allan and the StopHazing team have consulted on that project and formed a collaboration with students, faculty and staff at the University of Washington aimed at increasing transparency and preventing hazing from happening in the first place.
The more information students and families have about when and where hazing occurs, Houtz says, the better equipped they will be to make informed decisions about the type of organizations they want to join or be involved with.
"People still don't take hazing seriously, or they don't understand what it is. We see the issue bubble up in the media when there's a serious incident or death, but no one is connecting the dots about the toxic tradition of hazing and the rituals that are harming our young people," Houtz says. "That's outrageous, and it's 100% preventable."
"The best way I know to put a stop to it," she says, "is to shine the light of day on hazing, to bring it out from the shadows to help prevent any more tragedies."
Hazing prevention resources are available on the StopHazing website. UMaine's hazing policy and additional anti-hazing resources are also online.  
Contact: Casey Kelly, casey.kelly@maine.edu