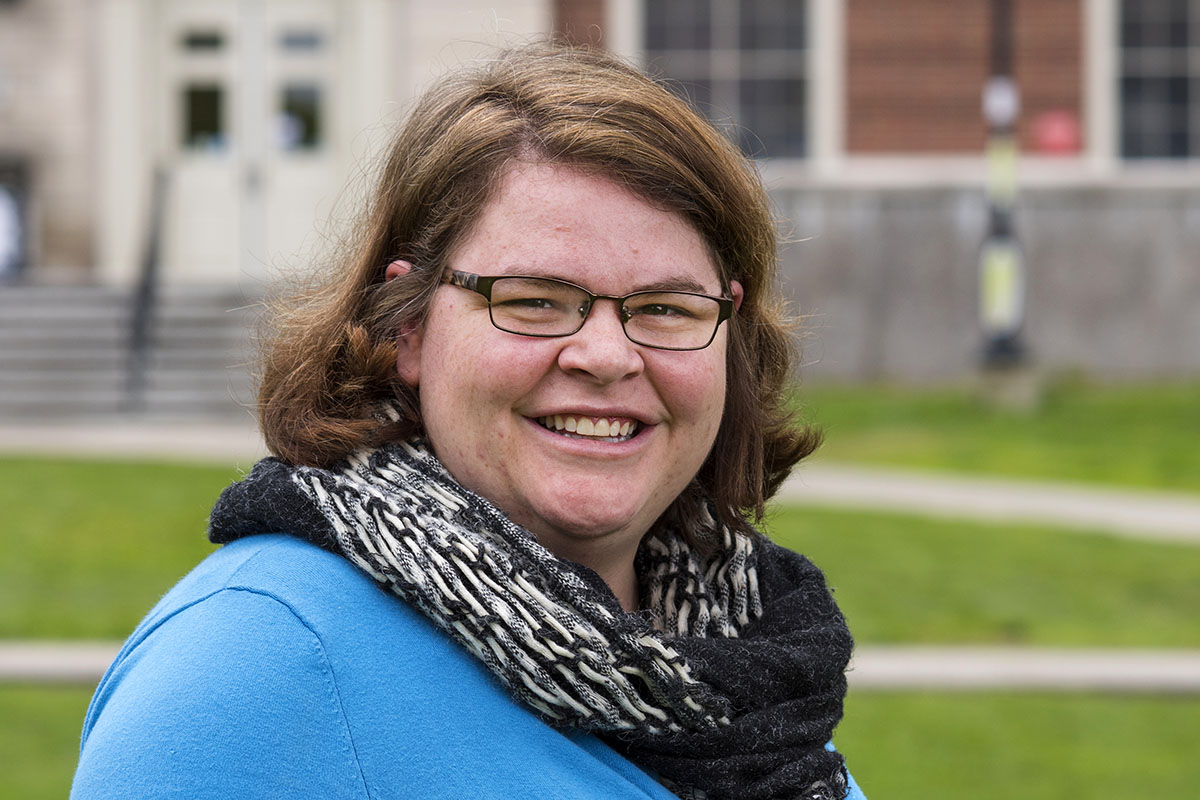 Biddle receives 2023 UMaine Presidential Public Engagement Achievement Award
Associate professor of educational leadership Catharine Biddle, whose work focuses on ways that rural schools and communities respond to social and economic change in the 21st century, is this year's University of Maine Presidential Public Engagement Achievement Award honoree.
Biddle joined the College of Education and Human Development in 2015. Her rural education research, which involves undergraduate and graduate students, has enhanced school-community relations, helped change K–12 educational paradigms and influenced the focus of rural education research nationwide. In particular, her collaboration in research-practice partnerships results in long-term changes for communities, including improvements in school climate, student attendance and achievement, and the formation of new local coalitions of nonprofits dedicated to addressing these issues.
Biddle collaborated on a Washington County research-practice partnership to address the need to provide services and trauma-responsive education in schools focused on children's exposure to — and healing from — adverse experiences associated with substance use, poverty and other challenges facing families. She helped to secure $1.5 million in funding to co-design a pilot program, Transforming Rural Experience in Education, in three Washington County elementary schools, from 2017–21.
The jointly designed approach to trauma-responsive practice, which refined the centering of the student voice as a primary vehicle for healing, has since been replicated in multiple school districts nationwide and is the subject of a book, "Trauma Responsive Schooling: Centering Student Voice and Healing," co-authored with Mark Tappan and Lyn Mikel Brown.
The pilot program led to the formation of the Rural Vitality Lab, a cross-institutional partnership between Colby College and UMaine focused on conducting research to support the development of healthy ecologies for youth in Maine and beyond. Biddle now works in partnership with additional community development groups such as the Midcoast Community Collaborative to address rural vitality, including trauma-responsive practices in support of student success in schools.
In addition, for the past two years, Biddle has worked with a team of researchers in partnership with the National Rural Education Association (NREA) to craft the 2022–2027 National Rural Education Research Agenda. An outcome of this collaboration was an invitation for UMaine to host the New England Rural Education Hub, part of the Rural Schools Collaborative's national hub network. Biddle directs the New England hub, launched last fall as a national model for rural university-community partnerships. She is also a three-time recipient of the NREA Best Research Award.
For more information about the 2023 Presidential Awards, go to UMaine News.