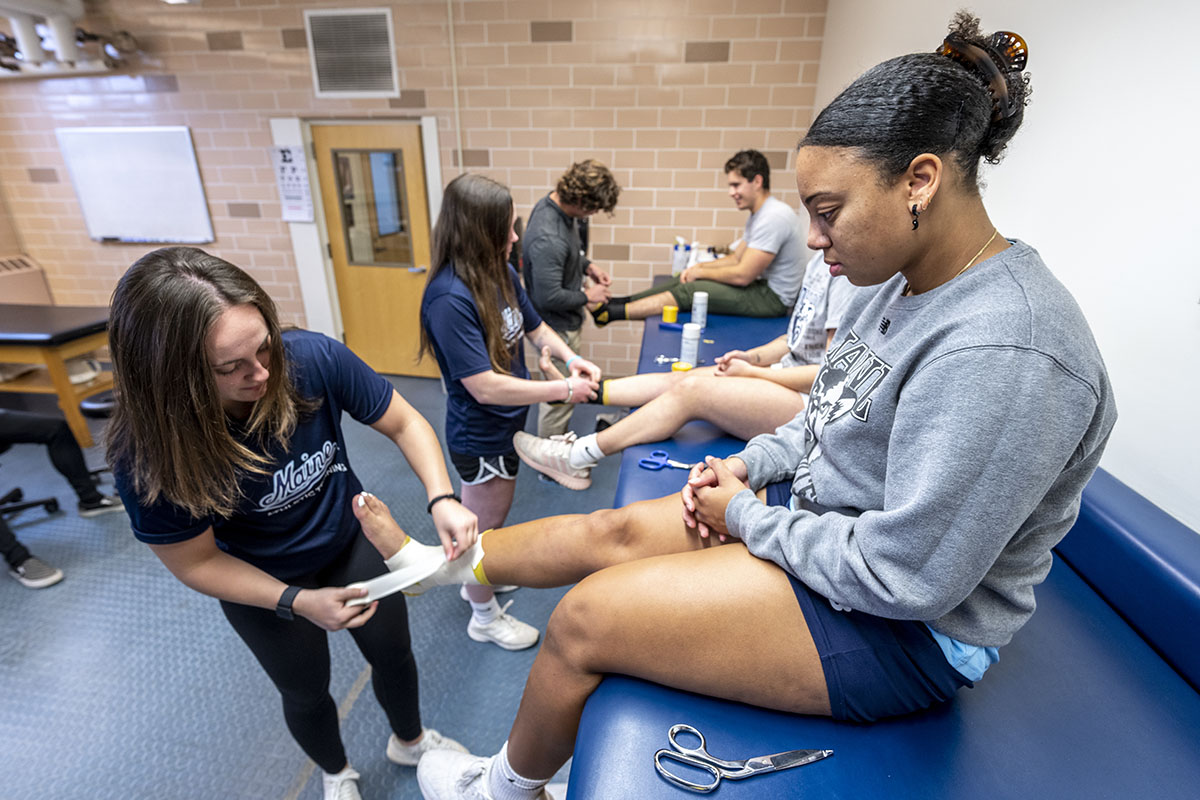 UMaine's Master of Science in Athletic Training earns CAATE accreditation
The Commission on Accreditation of Athletic Training Education (CAATE) has granted accreditation to the University of Maine's new Master of Science in Athletic Training (MSAT) program through the 2030–31 academic year.
As previously announced, UMaine's undergraduate athletic training program, with a long and distinguished history of producing certified athletic trainers, is transitioning to a graduate program in order to continue meeting CAATE's educational standards. Achieving accreditation means that MSAT graduates will be eligible to sit for the Board of Certification for Athletic Trainers (BOC) national credentialing exam, just as graduates of the undergraduate program have been eligible to do for more than 40 years.
The accreditation process included a comprehensive review of the program, including a self-study report submitted to CAATE earlier this spring.
"This is a major milestone for our program," says associate professor of physical education and athletic training Christopher Nightingale, the MSAT program coordinator. "CAATE has given our master's program its stamp of approval, so our incoming graduate students and prospective students know that when they come to UMaine they're getting the highest quality instruction and opportunities to succeed in the athletic training profession."
Students in the program will be able to utilize the state-of-the-art Wes Jordan Athletic Training Complex in Lengyel Hall. MSAT students will also have access to diverse field experiences at Maine's only NCAA Division I institution, as well as smaller college and high school athletic programs, rehabilitation clinics and other health care facilities. The master's program will also feature an immersive clinical education experience for students during their final semester, which can be completed anywhere in the United States while they complete their final courses remotely.
The U.S. Bureau of Labor Statistics says jobs in athletic training are growing faster than those in other industries.
UMaine's athletic training program is housed in the College of Education and Human Development, which also has several CAEP (Council for the Accreditation of Educator Preparation) approved teacher preparation programs. The college is developing an accelerated 3+2 program that will allow undergraduate students majoring in kinesiology and physical education to earn a bachelor's degree and MSAT in five years rather than the traditional six.
More information about the MSAT is online.