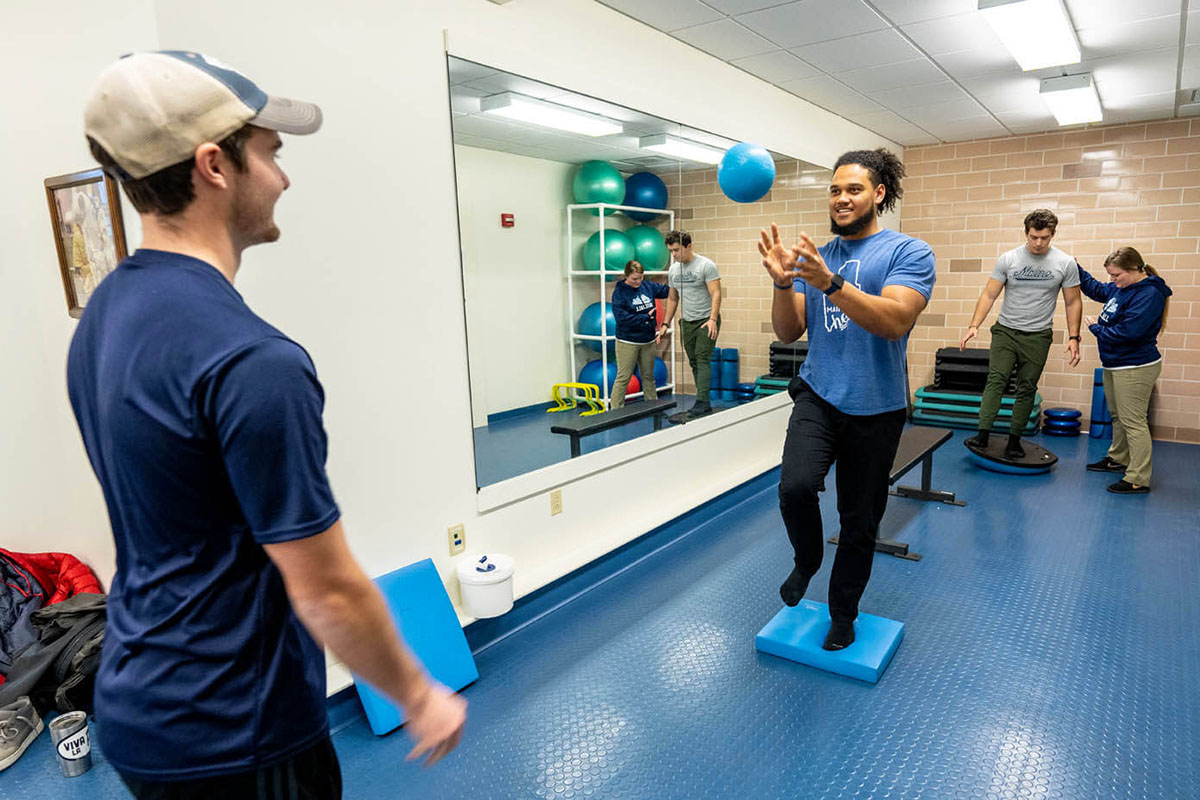 UMaine launches new master's program in athletic training
The University of Maine's College of Education and Human Development is now offering a Master of Science in Athletic Training (MSAT) degree that prepares students to join the growing allied health profession providing acute care, evaluation, treatment and rehabilitation, as well as prevention from injuries and illness.
Students who complete the new master's program will be eligible to sit for the Board of Certification for Athletic Trainers (BOC) national credentialing exam. UMaine has long offered a bachelor's degree in athletic training that allowed graduates to sit for the BOC exam. However, the Commission on Accreditation of Athletic Training Education (CAATE) recently changed its standards to require all new athletic trainers to have a graduate degree in order to practice.
"We're excited to transition our program to the graduate level, so we can continue to prepare athletic training students to become certified professionals," says Robert Lehnhard, director of the School of Kinesiology, Physical Education and Athletic Training at the College of Education and Human Development. "As the state's only NCAA Division I institution, with abundant access to fitness and recreation opportunities in our backyard, UMaine is one of the best environments imaginable to get real-world, hands-on experience in the field."
Students in the program will learn at the state-of-the-art Wes Jordan Athletic Training Complex in Lengyel Hall, as well as in diverse field experiences with sports teams, rehabilitation clinics and in other health care settings in Maine and beyond. During their final semester students will complete an immersive clinical education experience that can be done anywhere in the United States, while completing their final courses remotely.
According to the U.S. Bureau of Labor Statistics, jobs in athletic training are growing faster than those in other industries. Traditionally, athletic trainers are employed to work with high school, college and professional athletes. As the profession grows, career opportunities include working in industrial or occupational safety, in doctor's offices specializing in sports-medicine and related areas, and with researchers studying body movement and injury prevention and recovery.
"We hear from former students all the time about how our undergraduate program gave them the foundation to be successful athletic training practitioners in different settings and working with diverse populations," says MSAT program coordinator Christopher Nightingale, an associate professor of physical education and athletic training. "As we become a graduate program that is still our primary goal, and we hope to give students even more opportunities to succeed after graduation."
For undergraduate students interested in athletic training, the College of Education and Human Development is currently developing a 3+2 program that will allow students majoring in kinesiology and physical education with a concentration in exercise science to earn their bachelor's degree and MSAT in five years rather than the traditional six years.
More information about the MSAT is online.
Contact: Casey Kelly, casey.kelly@maine.edu