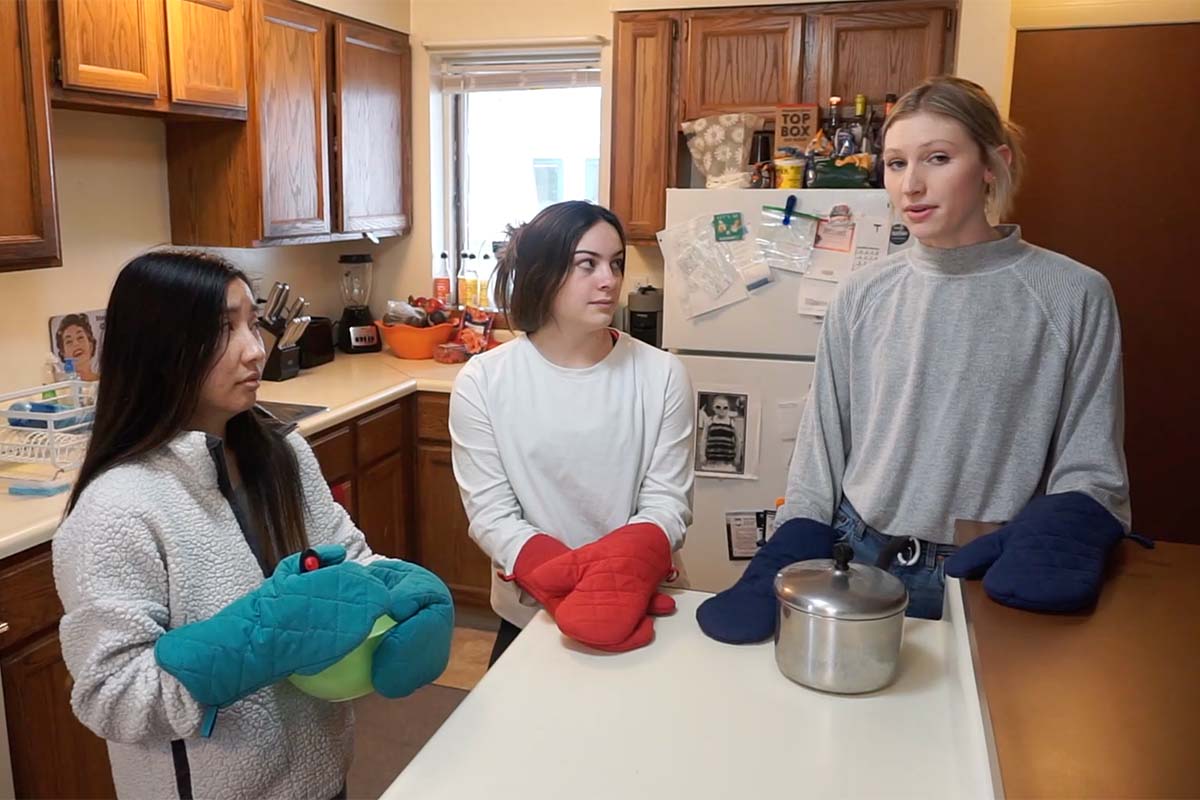 UMaine student athletes star in educational video comparing talking about sex to talking about cooking
What if we taught people about cooking the way we teach people about sex? That's the premise of a new video starring University of Maine student athletes.
"Some people might tell you that hunger and eating is a normal desire, and cooking is just a way to satisfy it," says UMaine baseball player Ryan Turenne, who opens the short video standing in front of his refrigerator.
The video then cuts to softball player Emma Larke in front of her kitchen stove.
"But it isn't," says Larke.
"Cooking is dangerous!" says women's ice hockey player Taylor Leech.
"It's scary!" says basketball player Solomon Iluyomade.
"It's bad!" adds softball's Kya Enos.
"You shouldn't do it!" says football player Shawn Page.
The tongue-in-cheek video is meant to convey a serious message about the need for better, more positive sexuality education. "A Recipe for Disaster: Talking About Cooking the Way We Talk About Sex" was written and produced by UMaine professor of family relations and human sexuality Sandra Caron, and stars members of the student group Athletes for Sexual Responsibility, which Caron advises.
"It's good that we don't really talk about cooking this way, but oftentimes it is how we talk about sex when trying to educate young people," says Caron. "Too often people think keeping information from youth and using scare tactics will make them act responsibly. But research shows that doesn't work."
The video was filmed, directed and edited by professor Caron's niece, Rachel Caron, who recorded all of the scenes at apartments of various Athletes for Sexual Responsibility members.
In one scene, three members of the UMaine cheer team stand in the kitchen of the apartment they all share, wearing oven mitts on their hands.
"Sure, you can try to do it safely and wear protection," says Samantha Reilly.
"To try and stop something bad from happening," says Maddie DeMoranville.
"But the probability is still high that something bad will happen," says Megan Wright.
"It isn't even worth it!" all three say together.
Caron developed Athletes for Sexual Responsibility in 1990. The unique, semester-long peer education program trains student athletes to present a variety of workshops. The group has produced other videos in the past, as well as posters and educational materials on topics such as rape awareness, smart sex, and drinking and dating.
"College athletes struggle with the same sexuality issues as regular college students, including pregnancy prevention, sexually transmitted diseases, dating, sexual assault and rape," says Caron. "What we try to do with this group is have them be role models for their peers, exploring and engaging them on positive alternatives and appropriate sexual behavior."
Although most of the nearly 7-minute video features the humorous dialogue of student athletes riffing on what it would sound like if people talked about cooking the way they talk about sex, the video does end on a more serious note.
"So after hearing all this, do YOU want to cook?" asks Turenne.
"No, you don't because it sounds terrifying, right?" says Reilly.
"That's why we need to change the narrative," Iluyomade says.
"We need to educate, not scare," says Page. "Because guess what folks?"
"People are going to cook," says Larke.
"We need to make sure they do it safely," says UMaine field hockey player Riley Field.
"A Recipe for Disaster" was featured for a week on the sex education video website, sexsmartfilms.com. It is also available on YouTube and the Athletes for Sexual Responsibility website.
Contact: Casey Kelly, casey.kelly@maine.edu