Diversity Resources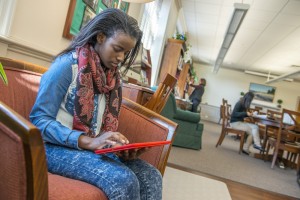 ---
University of Maine Links Dealing with Diversity
There are many organizations and departments that assist students with diversity issues at the University of Maine. The following are links where you can find information about some of these organizations and departments. Students can also learn about activities and groups that are available to join at the University of Maine, plus general information about diversity that will be helpful.
---
Outstanding Resources for ALL Groups
These comprehensive resources include topics of interest to a variety of diverse populations. Each site will allow you to find helpful information for many of the specific populations that are highlighted on this web site. The information that is contained covers a variety of topics including job listings, information about career planning and development issues, scholarships, and colleges. Besides career information, there are links to excellent web sites covering lots of issues related to diversity.
---
There is a wealth of information available in the following links. Click on any of the links and you may find jobs, career information, resume referrals and postings, or internships. Some links will offer information about scholarships, colleges, and professional organizations with student membership. Along with this information you can find information about businesses and other organizations with special interest in the African American population. If you are just looking for some interesting sites about the news, sports, or other entertainment, some of the sites offer these, too.
---
These links will give you information about Asian culture, the 50 best and 20 worst companies to work for, and various Asian Americans professional organizations. Also available is the opportunity to search for jobs, either bi-lingual jobs in Asia or jobs in the United States, internships, and scholarships. There are places where you can post resumes along with some general information about writing a resume plus job interviewing tips.
---
The links that follow will allow students to explore Franco-American culture. Here you will find information about books and newspapers that are written by or for people of Franco-American descent. Along with other interesting topics, information about the language and the history of the Franco-American people can be found in these internet sites.
---
Out for Work – Career Strategies for LGBT Students,
a PowerPoint Presentation
The following links contain a variety of information. In them you can find information on employment concerns, job listings and internships available with progressive companies as well as a listing of companies with benefits for gay and lesbian employees. There is information available for financial aid, gay and lesbian friendly communities, help with relocation, professional organizations, and a link for gay, lesbian, and bisexual teachers. Within these sites you can also find information on issues such as health, news, politics, and entertainment.
---
The international resources offer job listings for many countries around the world. The sites contain information about resumes, cover letters, and interviewing. There are tips for working abroad and also opportunities available for internships or volunteering in many different countries. The resources also will allow you to explore some of the countries' cultures.
---
The resources available for the Latino/Latina population encompass many subjects. There are job listings, resume postings, and information about job fairs. You will find information about interviewing, careers, and professional organizations. There are sites that have information about college life, scholarships, fraternities and sororities, and links for teachers. Cultural resources are also available from many of the following sites.
---
The Native American resources contain a lot of information. The sites have information about jobs, internships, colleges, educational programs, and financial aid. Along with this career relevant information you will find some interesting resources about books, sports, politics, news, tribal histories, and other general information.
---
People with Disabilities Resources
There are a wide variety of resources available for people with disabilities. The following links feature places that offer equipment which facilitate accessibility. There are links to organizations that deal with specific disabilities. You can find some information about jobs in the federal government and in the private sector. There are also links that are relevant for college students with disabilities.
---
The following links contain information about a number of different subjects. The sites have information about various careers, the military, career planning, resumes, and interviewing. There are job listings and resume posting sites. You can also find information about childcare and some other things that are of concern to working women. Among the sites you will be able to find top companies for women to work for and women's related organizations. General information about subjects such as health and entertainment is also available.
---
Career Resources for Muslim Students
---