Van Buren
Welcome to Van Buren!
According to Maine an Encyclopedia, "Van Buren is a town in Aroostook County, incorporated on February 11, 1881 from Van Buren Plantation.  Named for the eighth U.S. President, Martin Van Buren, the area was a haven for Acadians escaping the British oppression of 1755. In 1791 they settled near Keegan, a village just north of the main settlement, to farm and work in the lumbering industry. A model "Acadian Village" is near Keegan village."
The population today is about  2,038 at the 2020 census (Wikipedia). Located at the junction of Route 1 and 1A, it calls itself the "Gateway for the St. John Valley".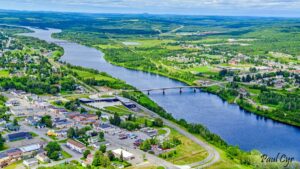 Activities
Acadian Village 879 Main St, Van Buren, ME 04785 | (207) 868-5042 

Home to the Living Heritage Society of Van Buren, Village Acadien is on the National Register of Historic Places and has been recognized as a Historical National Landmark.

Maine Emblem Moose Statue Dufour Dr, Van Buren, ME 04785

You won't want to miss this life-sized bronze statue of Maine's most famous mammal. A great stop for a Maine-themed photo opportunity!

Van Buren Ice Rink 5 Champlain St, Van Buren, ME 04785 | (207) 868-3395

Outdoor ice rink in Van Buren!

Michaud, Fortunat O., House

[231 Main Street] Built between 1911 and 1917, the Michaud house is a remarkably intact Queen Anne style frame residence. It was made for local merchant and former state legislator Fortunat O. Michaud.
Dining
Tasty Food 232 Main St, Van Buren, ME 04785 | (207) 868-3011

This dairy bar serves up a variety of tasty summer treats, as well as food such as pizza, subs and sandwiches, salads, hot dogs, etc!

Additional dining options can be found in nearby Madawaska!
Lodging
Aroostook Hospitality Inn 95 Main St, Van Buren, ME 04785 | (207)

484-6200

Family run inn that prides themselves on treating their guests as part of their family!

For more lodging options, visit nearby Madawaska!
Shops & Services
Oullette's Trading Post 200 Champlain St, Van Buren, ME 04785 |

(207) 868-2727

This gas station and convenience store offers a wide variety of products, and it also serves as a wild game tagging station!

More shops & services can be found in Madawaska!